Sports can be cruel at times and Usain Bolt, the most celebrated and successful sprinter of all time, will definitely agree with it. The Jamaican, who has won every Olympic and world 100m and 200m since 2008 with the exception of the 100m at the 2011 Daegu world titles, finished third in his last competitive race at the IAAF World Athletics Championship in London on Saturday (August 5). The defeat was his first in a global-championship 100m.
LEGEND: @UsainBolt runs his final ever 100m race. 😢🙌

Olympic Games 100m:
🥇🥇🥇

World Championships 100m:
🥇🥇🥇🥉

Greatest Ever. 🇯🇲🐐 pic.twitter.com/cnFoOr5u5D

— SPORF (@Sporf) August 5, 2017
US sprinter Justin Gatlin, who was banned twice for doping and had lost the 2015 world final by a hundredth of a second to Bolt, avenged his loss by ruining the Jamaican's farewell party as he finished at the top of the podium followed by his compatriot Christian Coleman and Bolt.
The stunned fans took a while a while to realise that the fastest man was overpowered in his last race but soon started chanting, Usain Bolt! Usain Bolt!.
And as expected, tributes pour in from all the quarters for the greatest sprinter of all time. Gatlin, who was booed for his past conducts, also paid his tribute by saying: "It is Bolt's last race. It is an amazing occasion. We are rivals on the track but in the warm-down area, we joke and have a good time. The first thing he did was congratulate me and say that I didn't deserve the boos. He is an inspiration."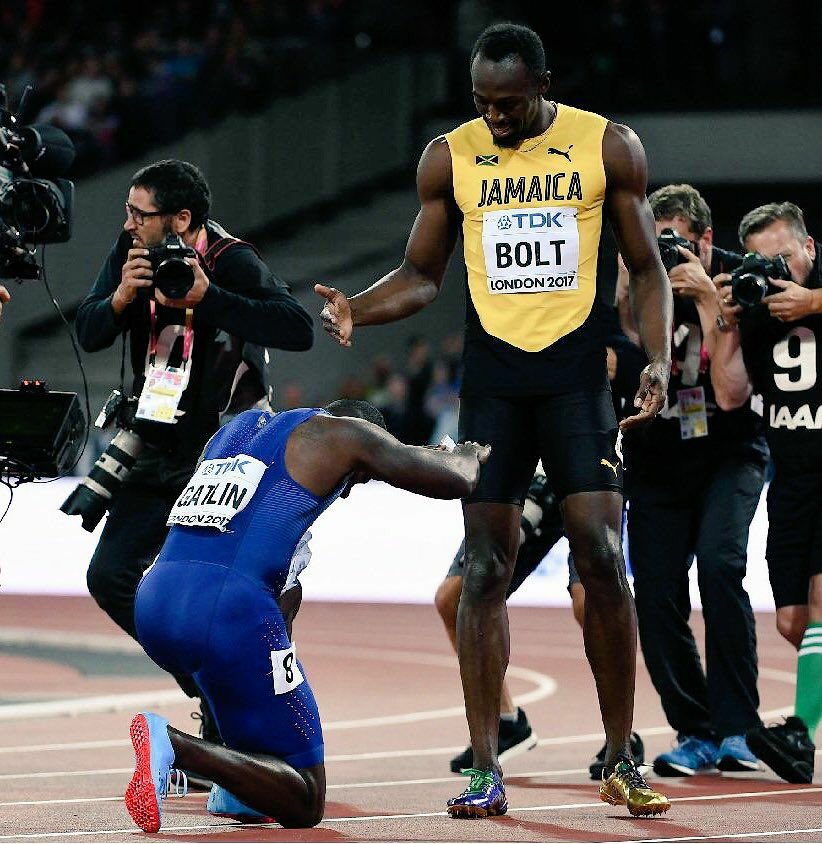 Here is how Twitter paid the tribute to the retiring legend:
Walk good legend @usainbolt the greatest!! 🇯🇲 https://t.co/0FB1NXjqwN

— Chris Gayle (@henrygayle) August 5, 2017
That has really annoyed me!!! Usain Bolt is a legend!! #WorldAthleticsChampionships

— James Taylor (@jamestaylor20) August 5, 2017
Bolt ⚡️⚡️⚡️

— Ryan Sidebottom (@RyanSidebottom) August 5, 2017
You made millions of fans happy and smiling, being an example for everyone: thank you @usainbolt ! #bolt #London2017 🇯🇲 pic.twitter.com/DujTlRtFzN

— Paulo Dybala (@PauDybala_JR) August 5, 2017
When #UsainBolt used to participate in the race, the competition used to be between other players for 2nd and 3rd spot.

— Godman Chikna (@Madan_Chikna) August 6, 2017
In August in London….
1948: Don Bradman dismissed 2nd ball in his final inns.
2017: Usain Bolt loses out on a Gold in his final 100m race.

— Mohandas Menon (@mohanstatsman) August 6, 2017
Irksome to see the great Usain Bolt bow out with defeat to a serial drugs cheat. #Gatlin #London2017 pic.twitter.com/frcV5YRWaz

— Piers Morgan (@piersmorgan) August 6, 2017
So even the mighty are mortal. #UsainBolt can finish with someone in front of him! Right time to finish then. Goodbye to the greatest.

— Harsha Bhogle (@bhogleharsha) August 6, 2017
A pure honour chatting to without doubt the best athlete the World will ever see @usainbolt #legend pic.twitter.com/NVMdpt1RJZ

— Iwan Thomas MBE 🍔 (@Iwanrunner) August 5, 2017
Now the career of Usain #Bolt is finally complete.

Defeat was the only thing that was missing, the most enduring experience for the soul

— Tancredi Palmeri (@tancredipalmeri) August 5, 2017
Justin Gatlin beats Usain Bolt in his last ever race. The worlds reaction #100mFinal pic.twitter.com/V7u0chXFAS

— Jamie Collins (@J_Collins1987) August 5, 2017