After witnessing several biographical movies of their beloved cricketers in the recent past, the fans are all set to see another biopic albeit it would not be based on a cricketer.
The last couple of years have seen biographical movies on MS Dhoni and Sachin Tendulkar taking the country by storm and this time a movie is coming out which is based on the life of perhaps the most decorated cricket's trainer of this the nation, the man who gave this cricket-obsessed country its favourite son – Sachin Tendulkar.
By now you all would have figured it out that we are talking about none other than Mumbai's famous coach Ramakant Achrekar.
National Award-winning filmmaker Pramod Purswane has directed the docudrama on the life of Achrekar which will be released on December 3.
And while the movie will certainly reveal several secrets of Achrekar's life, it has one more special attraction. The flick, likely to be titled 'Sir', as suggested by Tendulkar will have the former cricketer talk about how his coach played a crucial role in making him the most sought after cricketer in the world. The batting legend will also share most of the stories about his guru.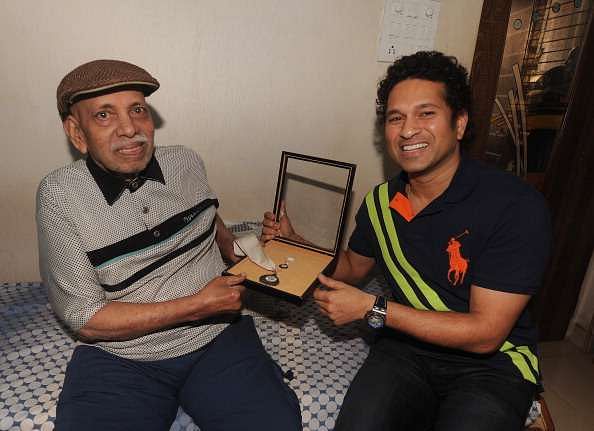 Not only that Achrekar's other famous students – Pravin Amre, Chandrakant Pandit, Amol Mazumdar, Atul Ranade will also share some anecdotes about their mentor.
"It is our tribute to one of India's legendary coaches. The heart of the film is about Sir (Achrekar)," Purswane told Sportstar.
Purswane said that through his project, he wants to show how the famous coach supported his students not only in improving their game but also financially.
"It is not a biography because here we tell a story on how Achrekar supported his wards despite financial difficulties. It is rare in today's times where youngsters like Sarfaraz Khan struggle just because there are no Achrekars to help them out," director Pursawne explained to Sportstar.
And to prove his point, he has shown the story of former India Under-19 star Sarfaraz Khan.
"The idea was to show how a promising youngster like Sarfaraz, hailing from a lower-middle class family, struggles because there is no one to help him out. That's how we are connecting the story with Achrekar Sir," Purswane said.
The director also said that his film contains clips of Harbhajan Singh, Zaheer Khan and Yuvraj Singh.
"They all share their experiences with Sachin and as Sachin shares his childhood, it all comes together. We can see what Sachin gave for the nation has a huge connect with what 'Sir' brought to him," the director said.
Also Read: (Sachin Tendulkar urges everyone to contribute to girl child's cause)
Get the latest news and updates from Indian Premier League, ICC World Cup 2019, Match Prediction & Fantasy cricket. Follow SportzWiki for all cricket news, WWE News & Sports News.
Prince Singh
An avid sports lover, i always wanted to pursue a career in football. But just like the millions out there i did not put in the hard work needed to achieve my dream and now i have become a fan instead of the player. Anyway, writing for sports has kept me closer to this field. One more thing, yours sincerely is a die-hard Liverpool fan. You will never walk alone.
Related posts
Three Candidates Who Can Replace Shashank Manohar From ICC Chairman's Post
International Cricket Council Chairman Shashank Manohar, who is also a prominent Indian lawyer, has served for governing body for over four years. He will step down from his post after his second-term ends later this year. Shashank Manohar was elected as ICC's chairman unanimously in…
Kumar Sangakkara Reveals The Double Toss Incident During 2011 World Cup Final
The ICC Cricket World Cup 2011 final experienced a surprising incident as the captains were involved in the double coin toss. Recently, the then Sri Lankan captain Kumar Sangakkara, who finished as the runners-up, opened up about that incident. MS Dhoni-led India and Kumar Sangakkara-led…