India have all but sealed the third Test in Melbourne after reducing Australia to 258 for 8 at stumps on day four as the hosts chase an improbable target of 399.
Rishabh Pant and Mayank Agarwal started the proceedings with bat and they looked positive right from the start. Debutant Agarwal once again targeted Nathan Lyon and hit him for two sixes in an over. However, before he could reach his second fifty in the game, Pat Cummins made him chop one on to the stumps. With that wicket, Cummins also completed his five-wicket haul after his stunning four-wicket haul on the previous day,
Read More – Best Batting Average in IPL 2009
The right-arm pacer took one more wicket when he dismissed before Josh Hazlewood accounted for Pant.  That wicket also brought about India's declaration towards the end of the first hour of the day, leaving Australia with a mountain to climb.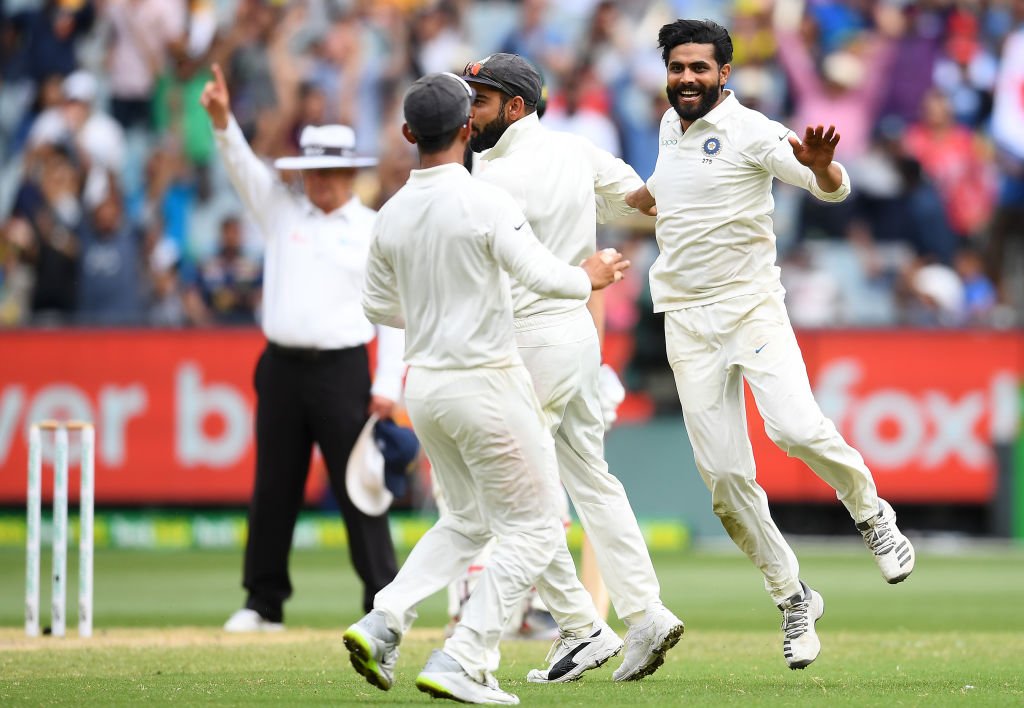 Australia once again failed to start well as Aaron Finch looked clueless against the incoming delivery. Jasprit Bumrah soon ended his painful stay at the crease, sending him back for 3. On the other hand, Marcus Harris managed to keep his wicket intact against the fast-bowlers but Jadeja got him just as he had in the first innings, caught at short leg.
Also Read – Most Wickets in IPL 2009
Usman Khawaja and Shaun Marsh stopped the rot for a while before Mohammed Shami had Khawaja LBW with a ball that kept low and beat his outside edge with some movement. With that wicket, Australia found themselves three down for 63. Marsh and Travis Head then provided the hosts' innings with some much-needed solidarity by adding 51 runs in quick time.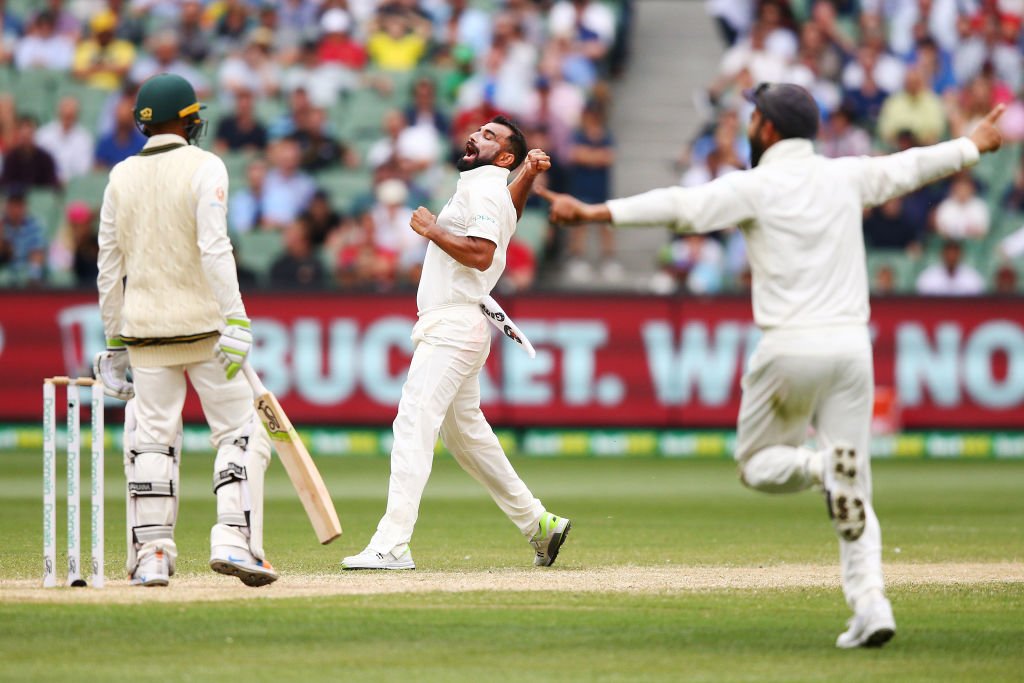 However, Australia lost another wicket at a crucial juncture with Bumrah accounting for Marsh on 44. The hosts kept on losing wickets at regular intervals and never looked in contention to save the game let alone winning it. India could have wrapped up the game on day four itself but Pat Cummins' stubborn fifty denied them the win for the time being.
Here is how Twitter reacted to the day's play:
C'mon, get through the day lads!! #rainalldaytomorrow

— Mitchell Johnson (@MitchJohnson398) December 29, 2018
The hardest thing to accept is the way we've lost our wickets in this test. Little application shown which has been the "road map" for the most successful batsman of the series. #Pujara #AusvInd

— Tom Moody (@TomMoodyCricket) December 29, 2018
India have claimed the extra half hour to go for the win. Crowd today is 19,855 meanwhile #AUSvIND

— Daniel Brettig (@danbrettig) December 29, 2018
https://twitter.com/Surana9Naveen/status/1078869493403783168
Ed Cowan on Finch: "Basically – set up to fail. An accomplished middle order player who opens batting in one day cricket and all of a sudden pops up at the top of the order. It's a crazy selection. Do we ever hear from Trevor Hohns saying I got that wrong? No." #AUSvIND

— ABC Grandstand (@abcgrandstand) December 29, 2018
1. Steve Smith
2. Tim Paine#AUSvIND pic.twitter.com/S4wugMk7dK

— Sagar (@sagarcasm) December 29, 2018
I won't accept India as the No 1 team in the world until they've proven themselves in the Ashes.#AUSvIND

— Greg Baum (@GregBaum) December 29, 2018
Pant to Paine : He loves talking, that's the only thing he can do.
Only talk talk and talk
You don't need anything to do get him out boy..😂😂#AusvInd

— Nawaz Ahmed (@ImNawaZz) December 29, 2018
MCG announcing people attending Day 5 will receive a gold coin donation.#AUSvIND

— These Daves (@cricketflog) December 29, 2018
It's been a massive year for Tim Paine, thrust into the Test captaincy at a time of crisis. He finishes the year as his team's 2nd-highest run scorer (493 runs at 35) behind Khawaja (732 at 41) and has greatly helped restore the team's image. Well played 👏 #AUSvIND

— Glenn Mitchell (@MitchellGlenn) December 29, 2018
Bowlers from NSW are better batsmen than the actual Batsmen from the rest of Australia. #AUSvIND

— JJK (@72jjk) December 29, 2018
Virat Kohli to Umpires on Rishabh Pant sledging Tim Paine#AusvInd pic.twitter.com/5n1TC9xa17

— A myth (@Imit4510) December 29, 2018
For Cummins to be the highest scorer for Aust in the match tells me CA should sign him to a multi-year central contract ASAP @mramsey37 ! #AusvInd

— Daniel Brettig (@danbrettig) December 29, 2018
Shocked that both Marsh Brothers could fail in the same innings. #AUSvIND

— Titus O'Reily (@TitusOReily) December 29, 2018
1. The Accidental Prime Minister
2. The Accidental Captain #AUSvIND #AUSvsIND pic.twitter.com/cq5OhxcCvu

— चौकीदार घास लेट (@Ghaslate) December 29, 2018
Bradman averaged over 110 in Shield cricket. Just another batsman who couldn't fuckin' translate this into test cricket. #AUSvIND

— Swearing Sports AUS (@SwearingAUS) December 29, 2018
Tim Paine to Australian team #AUSvIND pic.twitter.com/UmigOK2QVm

— Rafale Kumar (@goon_liberal) December 29, 2018
Not picking Cummins for Governor-General looking more foolish every day. #AUSvIND

— Titus O'Reily (@TitusOReily) December 29, 2018
*If it rains*

Virat: What a day ☹️

Shastri: Whaaat a Day 🥃#AUSvIND

— Rishabh Srivastava (@AskRishabh) December 29, 2018
Get the latest news and updates from Indian Premier League, ICC World Cup 2019, Match Prediction & Fantasy cricket. Follow SportzWiki for all cricket news, WWE News & Sports News.
Related posts
David Warner Loves The Abs Of Virat Kohli
If fitness is now considered as a major factor in the Indian team, it is because of Virat Kohli. In reigns of Sachin Tendulkar and Virender Sehwag, it was not a major factor for performance. Since the skipper has taken charge of leading the team,…
IPL 2020 Auctions: One Player Each Team Should Target
The auctions of the Indian Premier League is less than one month away. The eight teams have revealed the list of retained and released players. There were some surprising released players by the franchises. However, all the teams must have done their homework and they…