McLaren have named their driver line up for the new season when they partner with Honda, who will be supplying engines to the British team. Fernando Alonso, who was courted all through the last season will partner 34 year old Jenson Button after the team decided to name the former World Champion as the second driver going for experience in place of Kevin Magnussen.
McLaren had kept taken the decision to name their driver line up after the completion of last season and it was expected that Kevin Magnussen, the Danish rookie would be the second driver alongside Fernando Alonso. Alonso had left Ferrari after another season where the Italian team were not up to the mark set by the Mercedes team.
The British team had faced a lot of flak by former drivers and commentators for taking time in making a decision about the line-up. There were rumours of Button moving away from Formula One if he did not secure a contract with McLaren with Mark Webber encouraging the Brit to move to other forms of car racing.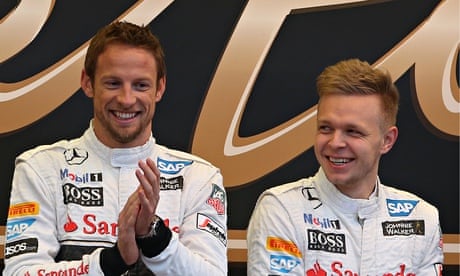 McLaren Chairman Ron Dennis was leaning towards retaining the Dane, Magnussen but the delay in naming the line-up has worked in favour of Button. The two drivers were even in qualifying pace as Button won the qualifying battle 10-9 but had scored almost double the points compared to Magnussen in the season.
McLaren would be considered as a formidable team for next season, not only because of their new line up which consists of probably the best driver in the grid at the moment, Alonso but they also will be using Honda engines, leaving the partnership they have had with Mercedes for years.
The double World Champion had one season at McLaren in 2007 before he joined Ferrari in 2010, this season was Ferrari's worst season in 21 years but they still managed to finish above McLaren who themselves had one of their worst seasons despite starting the season with both Magnussen and Button on the podium at the Australian Grand Prix.
The 33 year old Alonso has reportedly signed a two year deal with an option for a third year for £25.5 million a season while Button has signed a one year deal reportedly worth half the £12 million he was making last season.
There is no news about the fate of Magnussen but McLaren might sign him up as a reserve driver for next season.
Picture courtesy: The Guardian & BBC Sport