The internal process to cut down more talents from WWE roster continues, these days, owing to the coronavirus pandemic. The newest member to join this list is a former UFC Heavyweight Champion. WWE has reportedly released Cain Velasquez from the current deal, making him the latest free agent around the pro-wrestling circuit.
It was noted on the latest episode of Wrestling Observer Radio that Cain Velasquez who was signed to a "giant contract", was trimmed down from the talent roster.
WWE Unhappy With Cain Velasquez For Spoiling Ronda Rousey Return?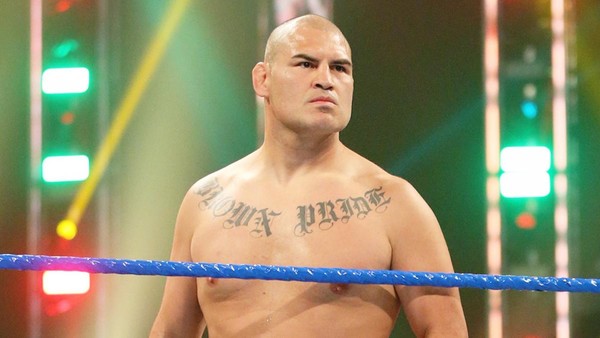 He was not being used since WWE Crown Jewel on October 31, 2019, in Saudi Arabia which was the only match he participated on TV, overall. Cain was said to be under a multi-year deal with WWE which won't be in effect, anymore.
Top 10 Money In The Bank Contract Cash-In Moments In WWE History
There's no confirmation is available on why WWE parted ways with a mainstream star like Cain Velasquez. But the insider belief is he was released due to the recent coronavirus-related budget cuts which have already taken up jobs of more than fifty employees in the company.
Another issue could have been Vince McMahon getting angry with the Mexican Superstar after what transpired, last month.
Back in early March, Cain Velasquez visited the WWE Headquarters in Stamford, Connecticut along with Ronda Rousey, at the same time. Cain tweeted a photo of them form the WWE HQ which was not supposed to get leaked out.
That incident reportedly made WWE Chairman Vince McMahon upset. The Observer noted that Vince "freaked out badly" over that the photo was leaked by Cain, unknowingly.
Originally, Cain Velasquez Cain made his pro wrestling debut back in August 2019 at AAA's TripleMania XXVII. He also competed at the AAA event in New York City in September.
After signing a WWE contract during 2019 fall, he made the in-ring debut at Crown Jewel PPV on Halloween only to suffer a quick loss to then-WWE Champion Brock Lesnar.
It was likely that his second match at the WWE live event would have happened from Mexico City in November of last year. But the card changes and he was pulled off the show starting the speculation that he was dealing issues with his knee.
Back in February, it was noted that Cain Velasquez had undergone knee surgery, and was feeling healthy. He was set to attend the WWE Performance Center to prepare for his next match, but that won't be happening following this release.