Live Blog: Rio Olympics 2016 – Day two Dipa Karmakar qualifies for vault finals
That is it from day two….Thank you for following us…
Later in the evening we will bring the Day three live blog….stay tune with joins… good bye .. have a good day..
Michael Phelps wins his 19th career Olympic gold. The U.S. men's team to victory in the 4×100 metres freestyle relay.
Juan M. del Potro defeated Novak Djokovic 
World number one Novak Djokovic was dumped out of the Rio Games in the first round on Sunday by Argentina's Juan Martin del Potro, a shock result that reduced the Serb to tears as he left the court.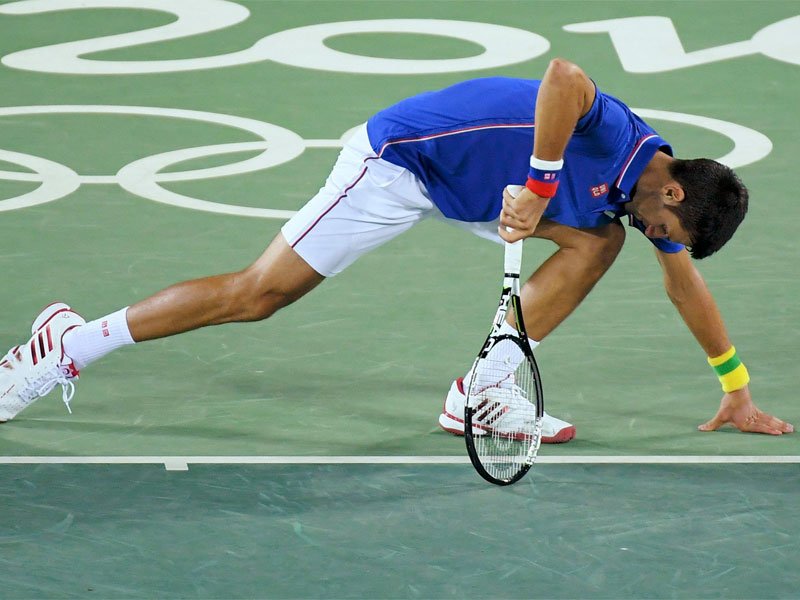 Dipa Karmakar qualifies for vault finals in
Dipa managed to perform her much-appreciated 'Produnova' vault cleanly to secure 14.850 points after two attempts. On  the eve of indipendence day Dipa will play her final.
Dipa had ended sixth after the third of five sub-divisions. Overall she finishes at 38th position.
Dipa secured 7.000 on difficulty and 8.1 on execution in her first attempt
Tennis man update: Spain Rafael Nadal notched up a 6-2, 6-1 victory over Argentina's Federico Delbonis at the Rio de Janeiro Games, back at full strength, however. And he will not, he also insisted, discuss the problematic tendon sheath in his racket-wielding arm for the rest of the event
Tennis : Williams sisters lose in Olympic doubles for 1st time against Czech Republic's Lucie Safarova and Barbora Strycova 6-3, 6-4.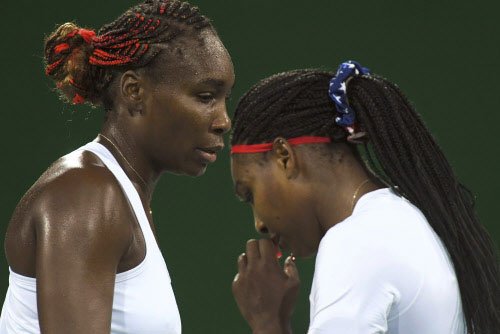 Dipa currently 6th in Vault, 27th in all-round. 2 more subdivisions left in qualification
There are 2 subdivisions to be held at 2 am & 5 am IST. Then we will know Dipa Karmakar's final result
Women's Qualification – Subdivision 3: There are 2 sub divisions left. Dipa Karmakar currently 6th in vaults. Top 8 qualify
Women's Qualification – Subdivision 3:  With  a score of 51.655, Dipa Karmakar is at 27th spot now
Women's Qualification – Subdivision 3: Dipa Karmakar placed 21st; avg score of 51.665 after 4 apparatus. Vault: 15.100, Uneven Bars: 11. 666, Balance beam: 12.866, Floor: 12.033
Women's Qualification – Subdivision 3: Dipa Karmakar scores 12.033 in floor exercise. This is her last rotation. She also suffers a -0.300 penalty
Dipa Karmakar is performing the floor exercise in her last rotation
Archery quarterfinal women's team result: Bad news for India. Russia beat India in shoot off, pocket the match and are through to the semis. India women's team loses 23-25 to Russia in shootout to crash out of the competition
Archery update: Russia comeback to win the 4th set 55-53 and draw level 4-4. Shootout to decide the winner
Archery update: India win 3rd set 53-50 to take 4-2 lead against Russia
Archery update: India lose the first set 48-55 against Russia. Ordinary stuff by Indian archers in 2nd half
Archery women's quarterfinal update: Russia start the first set with a total of 28 from three arrows. Pressure on INDIA now
Archery women's quarterfinal: India will take on Russia in archery team's quaterfinal.
In uneven bars, Dipa scores 11.666. Not a good one from her.
Dipa is sixth in Vault after 2 attempts. Scores of 15.100 and 14.860.
Women's Qualification Gymnastics – Subdivision 3: Dipa Karmakar is fourth after rotation 1. Her scores are 15.1 and 14.6. Dipa Karmakar performs the Produnova! A good performance from her
Archery Women quarterfinal: South Korea are through to the semis with a 5-1 win over Japan
Women's Qualification Gymnastics – Subdivision 3: Dipa Karmakar scores 14.850 in vault
Artistic Gymnastics have begun. Dipa Karmakar will soon be in action.
Deepa all set to perform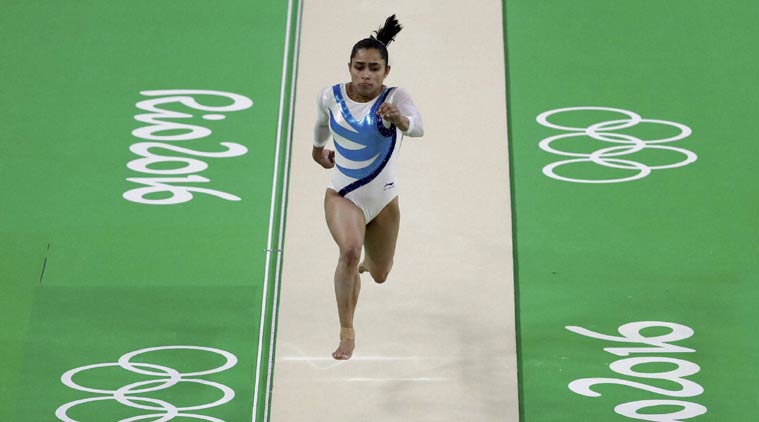 Archery women team quaterfinal result: Chinese Taipei beat Mexico in shootout (26-25) to enter Women Archery team semi-final
Tennis woman single: Serena Williams defeated Daria Gavrilova 6-4, 6-2 to enter 2nd round
However, Dipa, who is India's first female gymnast at an Olympic Games, is more excited than concerned about performing the vault at the Rio Games. "I believe that practice makes perfect, and then it is not difficult anymore," she said. "My coach, (Bisweshwar Nandi) ensured that I practised extensively. In the last three months I did 1000 repetitions of the move," she said. "Now it is the easiest vault for me.The Produnova — a handspring
The Produnova — a handspring double-front somersault — has the highest degree of difficultly for a women's vault, a 7.0, and only five women in the world have attempted it in competition. The difficult vault has already led to a horrific injury of French gymnast Samir Ait Said after she broke her leg on the vault in men's qualifying event on Saturday.
Dipa was the first Indian female gymnast to win a medal at the Commonwealth Games in Glasgow 2014 and followed it up with bronze at the Asian Championships in Hiroshima. She also reached the final round of the 2015 World Championships and finished fifth.
Dipa Karmakar earned her Olympic berth by garnering a total score of 52.698 points and finishing fifth in the Glasgow Gymnastics World Championships.
India will shortly meet Russia in the women archery quarterfinal and gymnast Deepa Karmakar will start her Olympic campaign.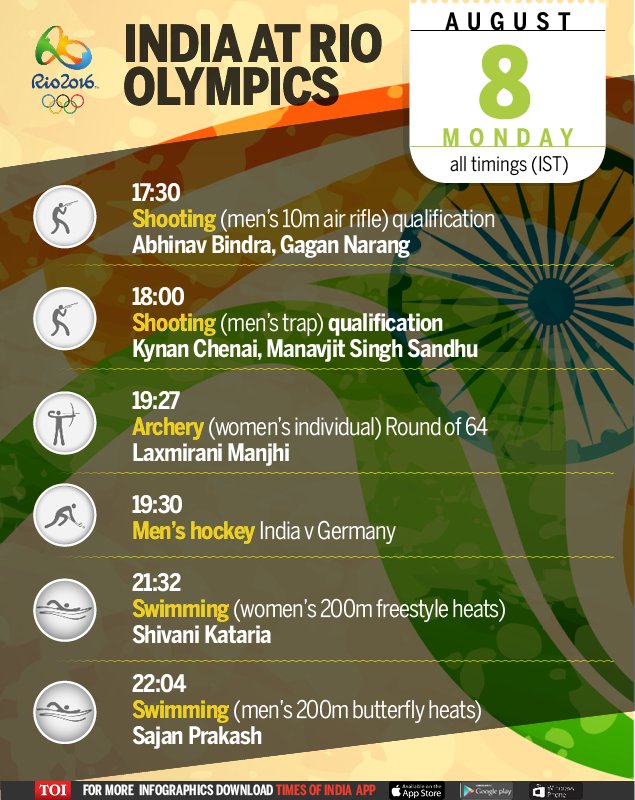 Good news for Nepal: 13-year-old Gaurika Singh, youngest athlete at #Rio2016, has won her 100m backstroke heat
Russia development: WADA retesting all samples of Russian Paralympic athletes
Men's Trap Shooting Day One: After Day 1 of Men's Trap qualification India's Manavjit Singh Sandhu at 17th and Kynan Chenai at 19th position
EVENTS TO COME! Dipa Karmakar will make her bow at Rio Olympics 2016 at 11 PM IST in the Artistic Gymnastic event. That will be followed by the Women's Archery quarter-final where India takes on Russia.
Men's Trap Shooting Update: After Day 1 of Men's Trap qualification India's Manavjit at 15th, Chenai 18th. Manavjit Singh Sandhu, Kynan Chenai manage 68, 67 on Day 1
Archery quarterfinal: India women will take on Russian Women team  at Archery quarter-final which will start time is 11:45 pm  (IST)
Men's Trap Shooting Update: 3rd series underway in Trap Men's Qualification, Manavjit now at 14th, Chenai 19th
"Russia to appeal to CAS over International Paralympic Committee's decision to bar Russia team from Rio Games" – Russian sports minister
Women Hockey: India comeback from two goals down to play out 2-2 draw with Japan in their opening match.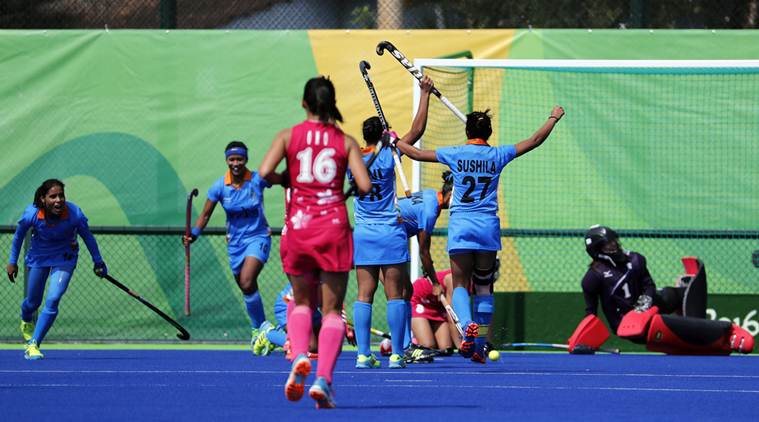 Big news: Russian athletes have been banned from competing at the Rio 2016 Paralympics following the country's doping scandal
Hockey update: India dominate third quarter as they score two goals, and save one. It's level at 2-2. The fourth quarter  will be vital for both team.
Sachin Tendulkar meets IOC President Tomas Bach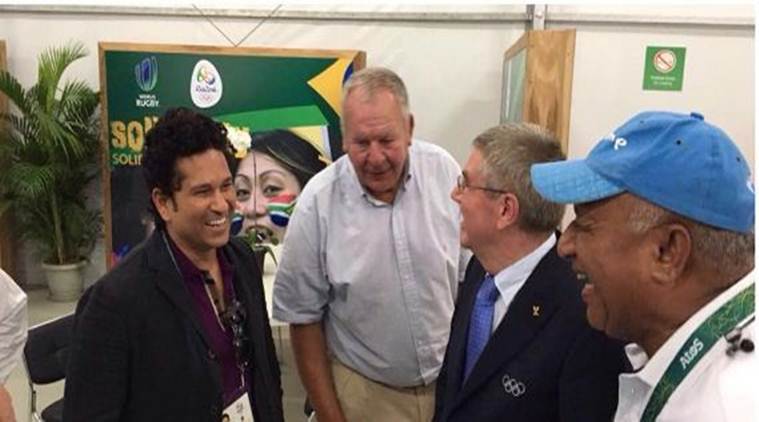 China wins the first Gold medal: Zhang Mengxue wins China's first gold medal of the Rio Olympics 2016 winning the women's 10m air pistol title. 
Hockey update: Indian women team equalised the scoreline 2-2 with Lilima Minz tapping in the second goal in the third half.
Men's Trap Shooting Update: Manavjit Singh Sandhu moves to 12th place with 46 points in two rounds.
Men's Trap shooting Update: Kynan Chenai shoots 22 in the second round. Manavjit Singh's second round is still underway. Two more rounds to go after this. The Indian shooters need to buck if they are to make the semi-finals
Hockey update: Indian women team get a penalty corner but failed to convert it into a goal.
Shooting Men's Trap Qualification: Manavjit Singh Sandhu jumps to 12th with 46 points in two rounds, Kynan Chenai is 16th with 45 points
A look at how the Indian Women's #Hockey Team lineup in this historic clash versus Japan at #Rio2016! pic.twitter.com/GzW7kMJ21t

— Hockey India (@TheHockeyIndia) August 7, 2016
Hockey update: India Rani Rampal opens scoring for India. The score line is 2-1 in Japan's favour.
Hockey update: End of first half, India 0-2 Japan in Pool B women's hockey match
Shooting men's trap update: Manavjit Singh Sandhu is at 20th position with 5 points in the second round of the men's trap qualification.
Kynan Chenai moves to 20th position after shooting 13 points in the second round of the men's trap qualification
Hockey update: Japan extends their lead with a goal late in the 2nd quarter. Nakashima  scores the goal
Shooting men's trap update: Kynan Chenai is at 23rd position after shooting 11 points in the second round of the men's trap qualification
Hockey update: A bit frustrating period for India right now. Sort of a cagey affair but Japan look dangerous as and when they get forward. India relying on counters but end up losing possession.
Rowing update: Second day of rowing postponed due to weather problems
Hockey updates: End of Quarter 1 – India 0-1 Japan
GOAL!! Japan take the lead via an astute penalty corner. Nishikori the scorer. Japan 1-0 India.
Women's hockey: Indian women are in action. They are confronting Japan. Indian women makes their Olympic after 36 years.
Very windy today. Affecting archers. India shd remember london 2012 and conquer mental demons. Imp they keep nerve in QF. @IndiaToday

— Boria Majumdar (@BoriaMajumdar) August 7, 2016
#Rio2016 :#Archery::
Indian women's team qualify for Quarter Finals !!#IND beat #COL by 5-3 pic.twitter.com/xGZc3WHPdv

— Prasar Bharati (@prasarbharati) August 7, 2016
Women's Archery Team Event: India v Columbia Round of 16:
India win the Round of 16 by 5-3 points. India will play in quarter-final.
After set 3 both team are tied at 3 points each.
Colombia wins the second. Back to 1-1. And loose arrows from India really.
India takes opening set after Colombia blew their comfortable lead away.
India take on Colombia in what should be a stroll for Deepika led Indian team.
Heena Sidhu in action in women's 10m air pistol qualification:
Heena Sidhu scored an overall 380/400 but that wasn't enough to guarantee a spot in the final, as she finishes 14th.
BOOM! Heena Sidhu finishes 14th. Needed to be in top 8

— Gunner (@Nicks103) August 7, 2016
#RioWithTOI It's getting difficult for Heena Sidhu to make it to final round as 4th and last series is underway

— TOI Sports News (@TOISportsNews) August 7, 2016
Heena Sidhu improves to 23rd with 85 points in the first series in women's 10m air pistol qualification
After a bad opening day performances on day one, the Indian athletes will look for an inspiring show on the second day. The focus will be on India's first women gymnast Deepa Karmakar.
Football update: Host Brazil confronts Iraq looking to rebound from a disappointing opening draw in Group A  against South Africa at the men's football tournament while defending champion Mexico faces newcomer Fiji to try to pick up its first win in Group C.
Tennis update: All the stars are coming out for Day 2. From No. 1 seeds Novak Djokovic and Serena Williams, to 2008 gold medalist Andy Murray, 2012 gold medalist Andy Murray and more.
Amazing athletes, energy and pride we all share with each other promoting the best of the game = @Olympics ❤️? pic.twitter.com/PqH1ReNMVA

— Novak Djokovic (@DjokerNole) August 7, 2016
Rowing:
Racing has been delayed by 1 hour – first start at 9:30am in Brazil. Further information to follow at 9:00am #rowing #rio2016

— World Rowing (@WorldRowing) August 7, 2016