After spending over a decade in the WWE, Paige is finally leaving the company on July 2nd of this year. Being a popular female superstar who has the capability of making an in-ring comeback, her departure comes as full-on shocking news for the fans.
Being the first-ever NXT Women's Champion and the youngest WWE Divas Champion, certainly helped Paige to gain some devotees while her colorful lifestyle can also be credited for the same. After all, she remains the only WWE Superstar cum professional wrestler to receive a full-length feature film based on her life.
This certainly indicates that Paige did also get romantically involved with different male personas over the year and some of those relationships even featured on the WWE Total Divas TV show. For those who don't know, the UK-born female wrestler had alleged affairs with four separate WWE names and this article is about highlighting those relationships.
Paige Fought To Do Something On WWE TV Before Getting Released
After entering the NXT fray in 2010 by signing a developmental deal, Paige found a love interest in Corey Graves. The two were under the same learning tree and thereby grew interested in each other. In fact, they have also performed in multiple NXT house shows.
Rumors around these two started roaming despite the fact that Corey was then happily married with three children. To date, no one of the two has admitted to having an affair that got vanquished probably after Paige moved along with another WWE talent.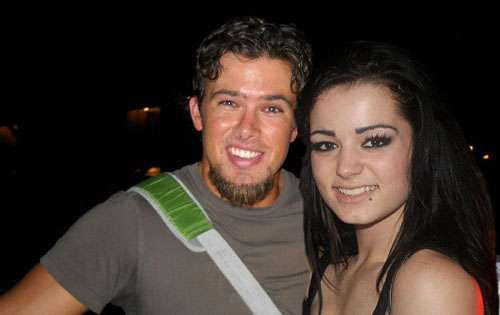 This particular talent was Brad Maddox who was a referee cum an on-screen official on WWE television for some time. During his heyday with the company, she managed to enter a serious relationship with the Diva, real name, Saraya Knight-Bevis. The two met in 2010 and became fond of each other but they have never been public about their hook-up.
Paige once suffered an MMS scandal while being with the WWE
But it was eventually highlighted through a leaked video scandal where Paige was caught in compromising positions with Maddox and current WWE Smackdown Superstar Xavier Woods. The New Day member was allegedly seeing the anti-Diva after the latter's main roster entry in 2014. The two were caught in gaming sessions or backstage fun segments but until that video footage leaked, their affair was in a hidden state.
Moving on, perhaps the most controversial WWE Diva in the WWE history got romantically involved with one of the most controversial male WWE Superstars in Alberto Del Rio. Despite their 14-year-age gap, Paige and The Mexican Aristocrat took their relationship to a serious stage and thought of marrying each other.
Their relationship made headlines around 2016 for all the wrongful reasons. Paige even proposed to the former WWE Champion at a WWC Show but for the sake of both of them, the not-so-happening relationship came to an end in early 2017.