WWE superstar Paige had the toughest phase of her life during 2016-17 when she was in a relationship with Alberto Del Rio. All bad things happened to her one after another that almost ruined her career. The neck injury caught up with her ending her career. But the worst of them all happened when her sex tape leaked on the internet that became an infamous scandal.
In Pictures: Ravishing Russian WWE Star Lana Talks About Social Media & TV Shows
In Pictures: Former Impact Wrestling Sensation Scarlett Bordeaux To Join WWE?
Thankfully, Paige has been able to overcome all the odds that made her life miserable and be on a safe track. Although she can't wrestle anymore, she can still be around the WWE as the company managed to give her backup roles, now and then. For now, she is out of TV programming. But we should expect her to be back, sooner.
In Pictures: The Rock Married His Long-Time Girlfriend Lauren Hashian
Meanwhile, in an interview with Fox News, Paige spoke about her sex tape that leaked a couple of years ago. She revealed to be so upset that it gave her anorexia as her hair starts to fall out. More details from the bad phase are out in this particular conversation where she got candid and also talked about being a role model for all the global fans.
WWE Superstar Paige Net Worth And Salary
7 Controversial Facts From WWE Superstar Paige Life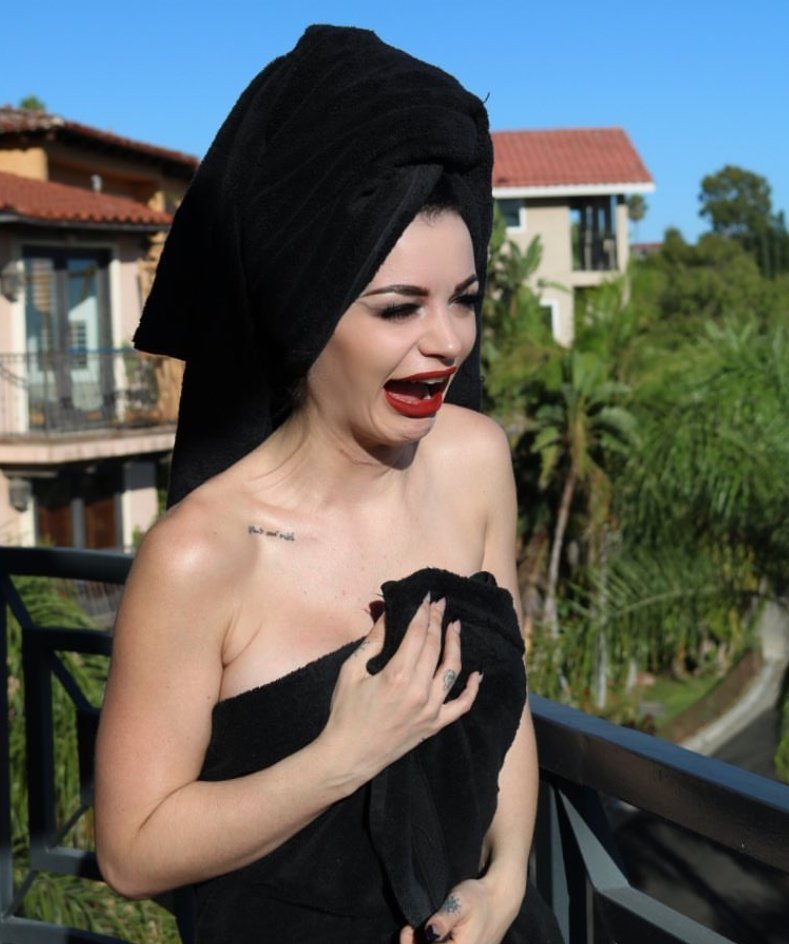 Reacting to the sex tape leak, Paige went through the horrible experiences, as stated below, (courtesy 411mania.com)
"Obviously, it's very hard to stay positive when you have something that's so publicly humiliating to yourself and then still to this day, this was over two years ago now. I did suffer a lot. I did. Just emotionally because at the time I was having my neck surgery too, and I had stress-induced anorexia. I lost all my hair. I had some really horrible thoughts. I had to go to therapy. It took me a while to get over because obviously, no woman wants to go through that. But at the same time, I was like, "OK I can't change this." Same with me not being able to wrestle. I can't change this. There's nothing I can do about it. So why am I still dwelling on it? It happened. People have seen it. Like I can use this to help others now, you know? And it really does because I don't look at it as a mistake.
Everyone's done that kind of stuff and it happened a long time ago when I was young and dumb and stuff happens and then you know, unfortunately, it was released but I'm just like, "Hey, it is what it is. I can't change it." And so now I'm going with the Bella Twins and we went to a woman's hostel place, with kids and stuff, like I get to go talk to kids about it, I'm just like, "Hey, like never do something when it comes to your phones." Because like this is a different world nowadays.
Like things come out and things happen so I was like, "You have to think twice before you make the same kind of mistake as I did." So now I get to use it and utilize it on a different platform and help others with it. So I'm like it's a horrible thing that happened, but now it's a tool to help the next generation of people you know?"
Paige Denied Of Having Any Plastic Surgery In Her Career
The two-time Divas Champion continued saying that she turned her back from the good pieces of advice she was getting from her well-wishers. But doing one after another mistake made her realize what she was doing. Paige could understand that she is role-model to her fanbase and she was not presenting herself in a model-esque manner. Later, suggestions from closer people and her work helped her to be back in good spirits,
"I didn't listen to my family, my friends. My work was trying to help me, constantly trying to reach out, and I completely just blocked it all out because I was in such a bad place, and this little girl just managed to make me snap out of it. I was like, "Wow I'm a role model and what I'm doing right now is not very role model-esque." So I was like I want to have this little girl look at me in the future and be like, "Wow, look what she overcame. Not what overcame her."
Randy Orton Reveals His Wife Lied To Family About Dating Him
So I was just like OK. After that, I was like, "I need to get my life together." So I did. I reached out to WWE and they gave me all the help that I needed when it came to therapy with everything you know emotionally and substance and everything — they helped me and that was like a few years ago. So now I feel like I'm stronger than ever. And yeah. It was all thanks to that little girl just looking at me and just being like, "You're it for me. Please don't mess up your life." So yeah, it's the fans man who did it. They did it. Yeah, a couple of years later here we are! Getting the movie out there! Feeling healthy and happy!"
Nikki Bella Hints To Come Out Of Retirement On Latest Post
Becky Lynch Calls Out Stephanie McMahon For A Match, She Responds
Rey Mysterio's Son To Go Heel Betraying Him In Future
Following this rough patch, Paige was back on the road with the WWE in 2017 after Survivor Series. She created a faction consisting of Mandy Rose and Sonya Deville that took over the women's division. When she was crawling her way back to the top, neck injury ended her career, forever. On the night after Wrestlemania 34, Paige announced retirement from pro-wrestling since doctors won't allow her to compete with a broken neck. Here's her current reactions are on the tragic incident,
"Yeah, so I sustained an injury. It's just wear-and-tear from wrestling for so long, and since I was so young, so it happened. And so I end up having surgery, having three screws put in my neck, and then I came back after a year and I just tried to do stuff that I wasn't able to do anymore and I didn't realize that until obviously after the fact. So I end up getting an injury into my neck again and then, unfortunately, I had to retire for injuries so I don't get paralyzed.
Go behind the scenes of @RealPaigeWWE's fun appearance on @WJHonFOX with Fred Savage, courtesy of #ThisWeekInWWE on @WWENetwork! pic.twitter.com/jJxVllP9W1

— WWE (@WWE) August 30, 2019
But it's all looking up! Because WWE was just like, "Yeah but we want to keep you around! You can't get out of here that easy." So they ended let me do the general manager role which was so fun, and then they ended up giving me the opportunity to be a manager for two female Superstars Kairi Sane and Asuka. So I'm enjoying life. New chapter."
Get the latest news and updates from Indian Premier League, ICC World Cup 2019, Match Prediction & Fantasy cricket. Follow SportzWiki for all cricket news, WWE News & Sports News.