There've been some back and forth rumors around Ronda Rousey and her return to the WWE, in recent times. Now, it again appears that the UFC Hall of Famer could be inching closer to a return to the squared circle as she was spotted in another training session.
The former Impact Wrestling promotion star "Cowboy" James Storm posted a picture on Twitter after the completion of a training session with Ronda Rousey and her husband, Travis Browne. As per the comments from Storm, he was invited "to do a little wrestling around" with the couple residing in LA.
Ronda Rousey Takes Shot At Becky Lynch While Playing WWE Battleground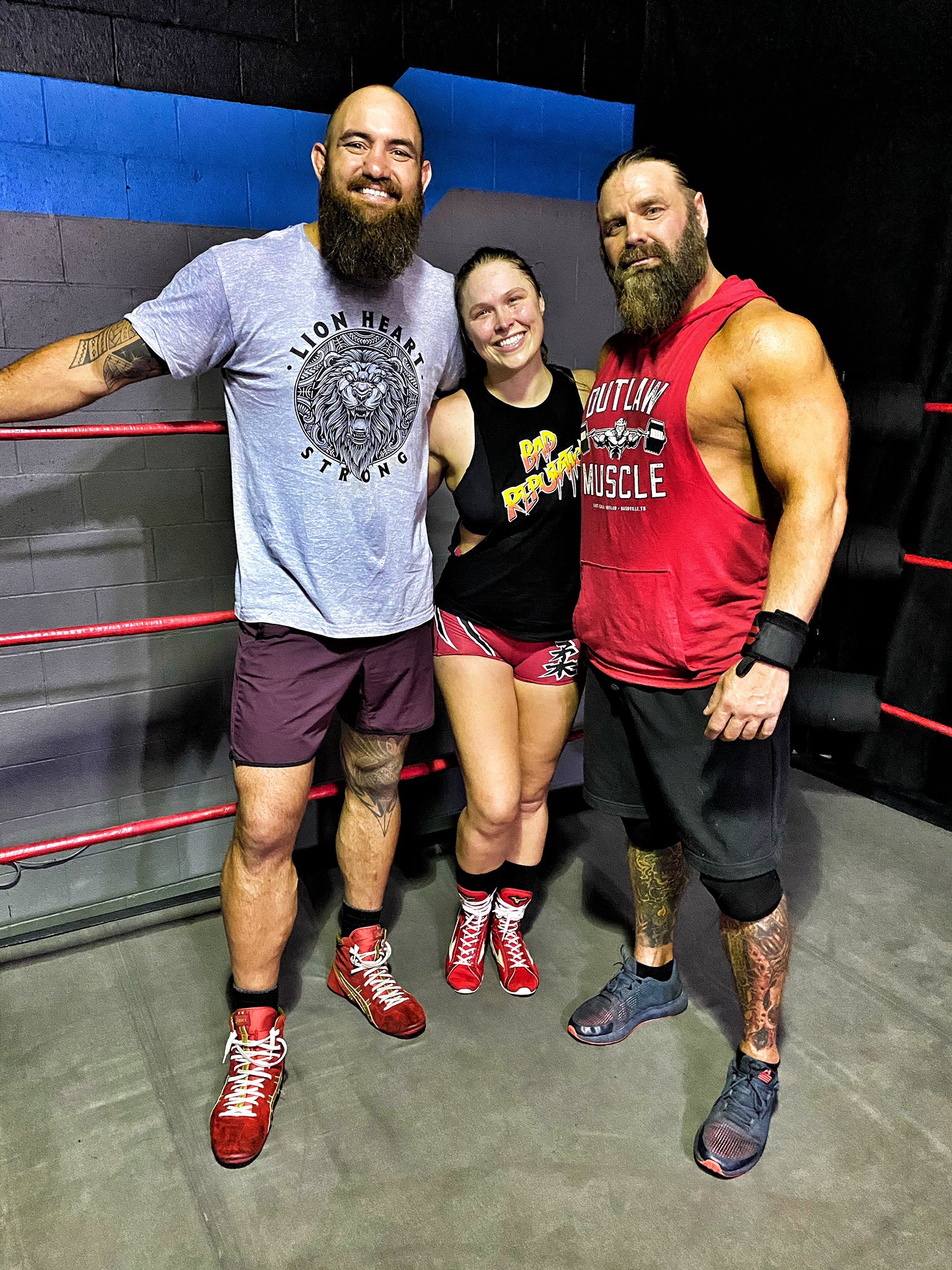 Storm wrote in his tweet that except for WWE Hall of Famer Kurt Angle, nobody respects the pro wrestling business like the way Ronda Rousey does.
"Big thanks to @rondarousey & @travisbrownemma for the invite to do a little wrestling around. I've met a lot of people that come from different sports but none besides @therealkurtangle that have the respect for pro wrestling like she does."
Ronda Rousey hasn't been seen in a WWE ring since WrestleMania 35. She lost the RAW Women's Title, and broke her finger in the process, on that night. Plans were there for her to show up on RAW the next night, but those were canceled due to the injury. Now fans are eagerly waiting for the much-anticipated return to happen.
Ronda Rousey's WWE Return Imminent?
WWE provided a timespan of the expiry of her current contract when her hiatus had begun. Based on that, it was expected that we could expect her to come back for one last stint before the contract runs out. But there's no confirmation on whether it happens. Paul Heyman recently talked about the situation.
While speaking to the New York Post, the former Raw Executive Director discussed Ronda Rousey's current situation. He said that it's always assumed that his contract is up in April 2021. But WWE extended her deal, or perhaps was able to work out something else with her,
"That's another funny thing about people who don't discuss their business in public forums. Everyone presumes that Ronda Rousey's contract expires at a certain time. I don't understand why people don't realize that perhaps, just perhaps, Ronda Rousey's contract has been extended or she has worked out a new deal and it would not benefit either WWE or Ronda Rousey to go public with that information. But why wouldn't people understand that it would be kept secret?"
Before this training session with Storm, Ronda Rousey was also spotted training in the ring with Teal Piper. Natalya also teased training with a mystery person which is supposed to be none other than the Baddest Woman On The Planet which makes sense. It seems that WWE is trying to wrap up the ongoing around the former Raw Women's Champion, as much as possible.
Get the latest news and updates from Indian Premier League, ICC World Cup 2019, Match Prediction & Fantasy cricket. Follow SportzWiki for all cricket news, WWE News & Sports News.