As if his previous tweets regarding Mahendra Singh Dhoni were not enough to attract controversy, Harsh Goenka, the chairman of RPG Enterprises and the brother of Rising Pune Supergiant owner Sanjiv Goenka, has come up with another tweet that is bound to raise some eyebrows.
Harsh Goenka had faced the ire of the fans across the country when he had taken a dig at the former Rising Pune Supergiant skipper by applauding new captain Steve Smith and calling the Australian the 'king of the jungle' after his match-winning knock in the season-opener against Mumbai Indians.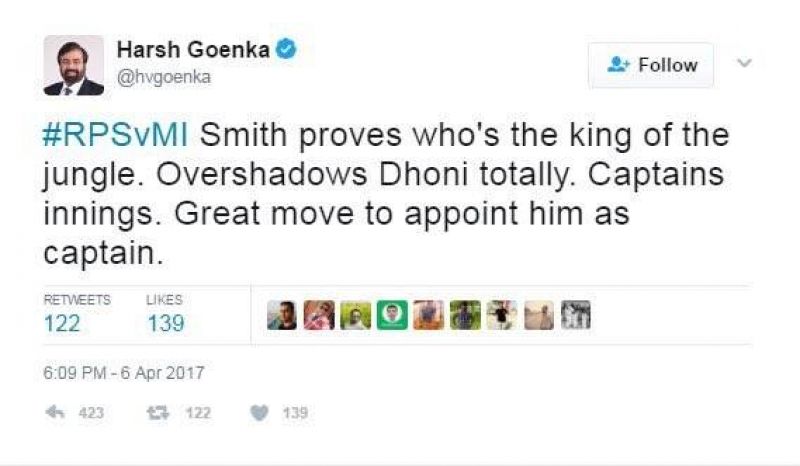 Later, he took another shot at Dhoni after the former India skipper managed just 5 runs off 11 balls in the defeat to Kings XI Punjab.
Not taking Dhoni's name directly, he had tweeted:
https://twitter.com/hvgoenka/status/850688162615656448?ref_src=twsrc%5Etfw&ref_url=http%3A%2F%2Fsportzwiki.com%2Fwp-admin%2Fpost.php%3Fpost%3D106629%26action%3Dedit
And this time, he has come up with a tweet that surely looks like another dig aimed towards Dhoni. After Rahul Tripathi led the Supergiant to a brilliant win over Kolkata Knight Riders on Wednesday (May 3), Goenka took to Twitter to praise all the players who have played an important role this season. Tripathi scored a blistering 93 off just 52 balls as Steve Smith's men chased down the 155-run target with 4 balls remaining. The win was Pune's sixth in ten matches and they are now looking well-set to make it to the playoffs.
Praising the team for their good performance this season, Goenka tweeted:"Great thing about #RPS – a new hero every game -Tripathi, Stokes, Smith, Tahir. Peaking at the right time."
https://twitter.com/hvgoenka/status/859830830360928261
But one notable absentee from the list was Dhoni who had single-handedly led the side to a stunning win over Sunrisers Hyderabad last month. Chasing 176, the Pune-based outfit were 2 down at 87 when Dhoni walked into bat. Soon, Rahul Tripathi and Ben Stokes departed too, leaving Dhoni with the huge task of guiding his team to the win and the right-handed batsman responded in style. The 35-year old, whose strike rate was 87.14 prior to that match, remained unbeaten on 61 off just 34 balls and hit a four off the last ball when his side needed two to help his team beat the defending champions.
The innings had won praise from all over including, Goenka but the brother of the franchise owner, it seems, just loves to grab the headlines.