Mumbai Indians fielding coach Jonty Rhodes has always embraced the Indian culture and it now becomes even more evident as he performed a puja recently.
The legendary South African fielder, now part of Mumbai Indians' coaching staff Jonty Rhodes performed puja for his daughter India Jeanne Rhodes at Pejawar Mutt in Santacruz, Mumbai. Dressed in traditional Indian attire when visiting the temple, Rhodes was all smiles as he enjoyed the puja for his daughter who he named India because of the country's rich culture and geographical diversity.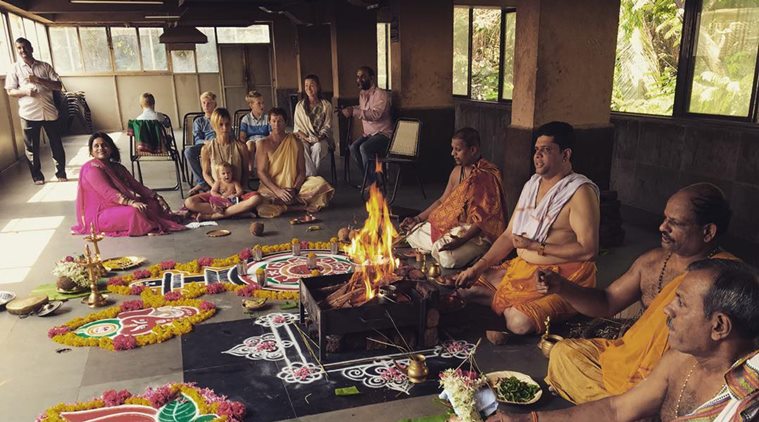 "I have spent a lot of time here. What I love about India is that it's a rich mix of culture, heritage and tradition. It is a very spiritual country, very forward-thinking nation. I really like that combination. You have to have a good balance of life," he had said last year.
He also recently visited a temple in Tamil Nadu with his children.
The former South African cricketer seemed made a life-long connection with India after he named his new-born daughter India Jeanne Rhodes last year.
His wife Melanie gave birth to a baby girl at Surya Mother and Child Care Hospital in Santacruz on 25th April 2015. The baby delivered through water birth was born at 3.29 in the afternoon, and weighs 3.7kg.
"What we really like about India is that everyday we discover something new about this country. As people, we like discovering things about yourself and that's hopefully what she (the baby) will also discover," Rhodes said then. He also claimed his wife had no issues with naming their daughter after a country.
Former New Zealand pacer Dion Nash also named his daughter India.
Meanwhile, Rhodes known for his spring-like actions on the field is becoming increasingly disappointed with his team's sloppiness and dropped catches in recent matches.
Whenever the Mumbai fielders drop catches the television cameras quickly pans to Rhodes, and his expressions are always priceless – he seems baffled.