One of India's most successful openers in international cricket, Gautam Gambhir played a vital role in India's rise to the pinnacle of Test cricket in 2010. The southpaw is known for his fighting spirit and he had  played numerous innings which justify his nature. Gambhir, who played a major role in helping India win the T20 and 50-over World cup, has scored more than seven thousand runs in the longest format of the game with an impressive average of over 51. It's very unfortunate that such a talented player is currently out of form due to his inconsistent performances
Here we take a look at three major Test records featuring Gautam Gambhir.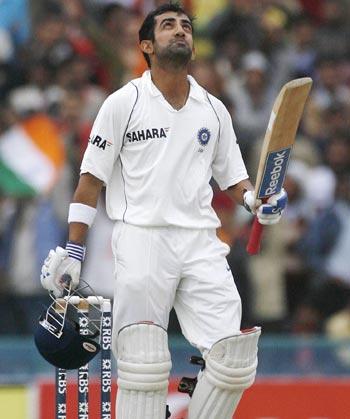 Only Indian batsman to score five consecutive Test centuries
Gambhir had scored five consecutive Test matches for India from March 2009 to January 2010. He scored his five consecutive Test centuries against New Zealand (2), Sri Lanka (2) and Bangladesh (1). Overall, Gambhir is only the fourth player in the world to achieve this marvelous feat in Tests. Other three who have achieved the same feat are Don Bradman (6), Jacques Kallis (5) and Mohammad Yousuf (5).