Out of favor Chelsea midfielder, Cesc Fabregas has vowed to fight for his future at the club despite falling down the pecking order with new boss Antonio Conte.
Premier League winner midfielder, N'Golo Kante, who arrived at Stamford Bridge this summer from Leicester City, was preferred by the Italian boss in Chelsea's season opener against West Ham on Monday, leaving Fabregas on the bench.
The Spain international, who played a starring role in Chelsea's successful Premier League campaign in 2014, has not played 90 minutes for the Blues since being sent off  in a pre-season friendly against Liverpool. And remaining in the match against West Ham is yet another reminder that he is not wanted by Conte.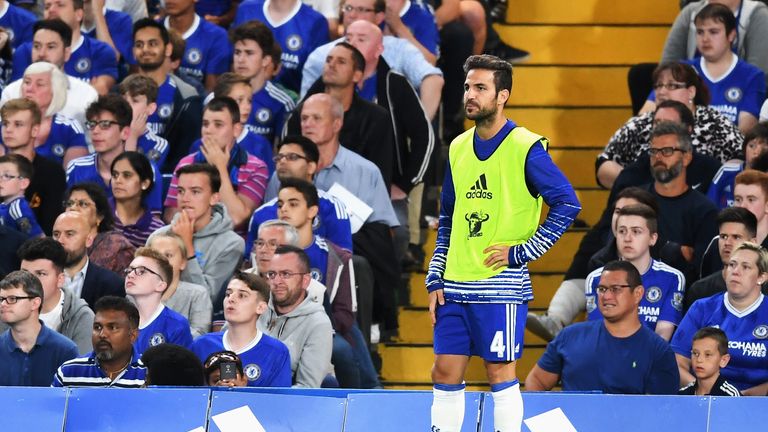 However, according to reports in The Sun, the midfielder still wants to remain at Stamford Bridge and a move away from Chelsea is highly unlikely this summer.
As quoted by The Sun a source said: "Cesc knows it is a fiercely competitive industry and is happy to stay and fight.
"He was happy that the team won on Monday."
Meanwhile,Conte has also said that he is pleased with the Spaniard's attitude despite not featuring in the games.
"Cesc is a Chelsea player. I'm happy about him, for his attitude in training. You must know, when you are a great team like Chelsea, it can happen.
"I have to take decisions for each game to choose the starting XI. In Fabregas' situation, he wasn't in — but that could happen to any of the players. It is important to see always the right attitude because we must fight this season.
"We have to stay together in every situation so the shape can improve and I can change all the situations. I took this decision but, in the next game, we don't know. I can change it or not. I repeat, the team comes before all.
"When a coach takes a decision there's always a reason — but I would prefer to keep it to me."