Zlatan Ibrahimovic has called on Manchester United to continue fighting in the Premier League after leading them to the EFL Cup.
The 35-year-old scored twice to help Jose Mourinho's side beat Southampton 3-2 in a dramatic finish at Wembley. The trophy is United's second after winning the Community Shield in August, when Ibrahimovic scored on his debut against Leicester.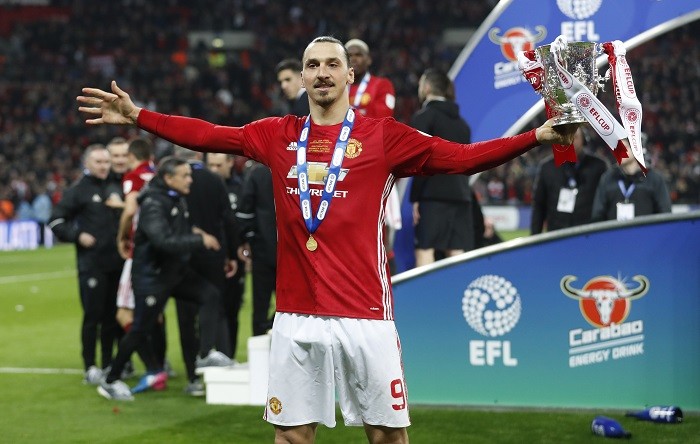 United are in the Europa League round of 16, FA Cup quarter finals and sixth in the Premier League. And Ibrahimovic has set his sights on more silverware before the end of the season.
He told MUTV: "We have to continue. From the five trophies at the beginning of the season, we have two.
"There is three left. So we go for the three and let's see at the end of the season how many trophies we collect."
Ibrahimovic was Manchester United's man with the Midas touch, dragging them from a mire of mediocrity with his 25th and 26th goals of the season, as he secured his first success in England.
He is the leader of this developing United side, no argument brooked as team-mates stood back to let him send a 19th-minute free-kick past Southampton keeper Fraser Forster from 25 yards – although the effort was within reach of the giant stopper.
And in the closing moments, when Wembley looked for a match-winner to decide a thrilling final and prevent extra time, it was Ibrahimovic who found space among tiring Southampton defenders to power Ander Herrera's cross past Forster from six yards.
It was a goal that cements his cult status among United fans and confirms Mourinho's masterstroke in luring him to Old Trafford in one of the greatest free transfers the Premier League has seen.
United looked jaded as they were in Europa League action in Saint-Etienne on Thursday, while Saints had a two-week break – Zlatan helped refresh tired legs.