Jose Mourinho's Manchester United managed to step into the next round of the Europa League after a 1-0 victory over Russian outfit FC Rostov at the Old Trafford earlier this week.
They won the tie 2-1 on aggregate and were drawn with Anderlecht, a Belgian outfit in the quarter-finals of the competition as Jose Mourinho looks to move into the final of the Europa League to give himself a chance to qualify for the Champions League next season.
The Red Devils are unbeaten in the league since December but they have not been able to move up the points table from the 6th palace.
They are currently 6 points off Liverpool in the 4th place and though they have played 2 games less, they will have to be at their best to finish in the top-4 come the end of the season.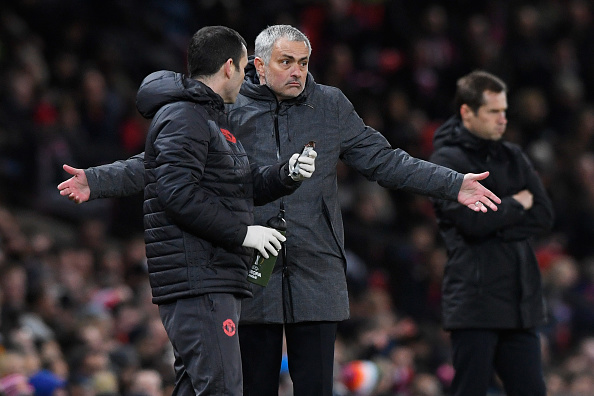 The victory over Rostov will give them plenty of confidence for the rest of the season but the loss against Chelsea at the Stamford Bridge in the FA cup earlier in the week will surely have affected the mentality of the whole squad.
So this news piece from the Sun does not come as a surprise to most of the fans of the club.
Tempers were flaring high in that FA Cup game and the loss at the end would have hurt each and every member of the club and according to a story run by the English media outfit, Manchester United manager was involved in a training ground bust-up with one of the backroom staff.
The Portuguese manager has a long list of such fights with players and the staff in the past and this time, Mourinho targeted fitness specialist Carlos Lalin.
The report suggests that Mourinho and Lalin were involved in a furious row which turned serious very quickly.
It was also reported that Ricardo Formosinho, another member of the backroom staff had to get involved to separate the two involved.
Here is the story:
Here is a statement from this report from the Sun:
'The Manchester United manager and fitness specialist Carlos Lalin had to be separate after a furious row before Wednesday's mid-day session began.'
'Things became so heated between them that scout Ricardo Formosinho, who compiles the dossier on opponents for United, stepped in to ensure it went no further.'
This bust up reportedly took place on the day before the FC Rostov game and the fact that United went on to win that game will give the fans some relief.