Liverpool's title challenge might have received a huge blow after a shocking 3-2 loss to Swansea City but the Reds have something to cheer about from the match as they have now become the first team to reach the 50-goal mark this season.
Jurgen Klopp's men have now scored 51 goals in 22 Premier League matches this term and are followed by Arsenal who have scored 48 goals, having played a game less. League leaders Chelsea (45), second-placed Tottenham Hotspur (43) and Manchester City (41) are the other teams to cross the 40-goal mark in the ongoing season.
The Reds, who have struggled defensively throughout the season, have now conceded 27 goals in the league which clearly indicates why they are struggling to keep pace with Chelsea despite having such a dangerous attack line.
After a goalless first-half, Swansea striker Fernando Llorente pushed the Reds on the backfoot by scoring a brace inside seven minutes after the restart. Three minutes later, Roberto Firmino reduced the deficit with a header which was Liverpool's 50th goal in the league. The Brazil international then scored with a sublime half volley to bring the hosts level, before Gylfi Sigurdsson scored the winner 16 minutes from time.  The win was Swansea's first-ever league win at Anfield and the three points have helped them to move out of the relegation zone.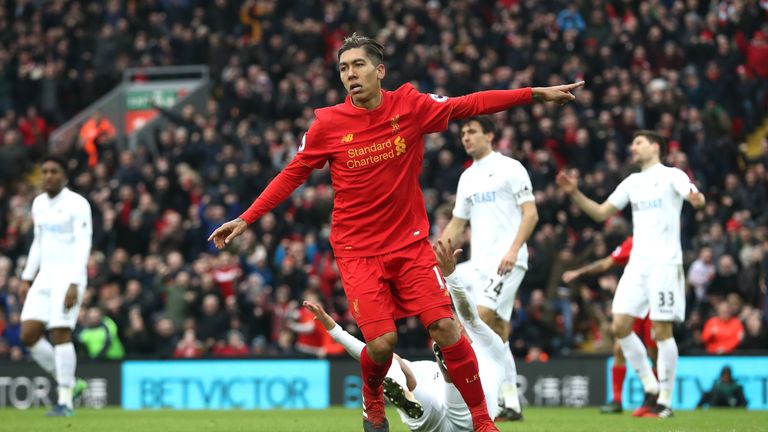 Firmino is now the top goalscorer for Liverpool in the league with ten goals for his side while Sadio Mane, who is currently playing in the Africa Cup of Nations, in second with nine.
The defeat also saw Liverpool's 16-match unbeaten streak at Anfield coming to an end. This was also only the second time Liverpool have conceded three goals under Jurgen Klopp at home. The defeat leaves Liverpool seven points behind leaders Chelsea, who now have a game in hand, at home against Hull on Sunday.