Manchester United Greatest XI of All Time
Manchester United is without-a-doubt one of the most successful clubs in the history of English football. They are not only successful but one of the most valued sports team on planet earth. United have a worldwide fan following and has attracted fans on global level. Also known as Red Devils there home ground is Old Trafford situated in Manchester, many amazing players have worn the red outfit over the years and have become immortal in the club's divine history.
Manchester United is one of the most supported team worldwide and some of the best talents in football have played on Old Trafford. Throughout the club's rich history, United's wonderful managers like Busby and Ferguson had managed to build a team which won almost all the silverware and showed dominance on English and world football for decades.
And therefore choosing only XI players out of the pool of all the wonderful and talented players is undoubtedly a challenge but let us try and look at the Manchester United greatest XI of all time.
Goalkeeper – Peter Schmeichel (1991-1999) (Denmark)
Peter Schmeichel was not only a shot stopper but he was an icon, with his remarkable reflexes, physique and presence of mind he was the ultimate pillar of the Red Devils for almost a decade. His ability to intercept each and every cross in the box by charging in and building the confidence of the team by his vocal presence is still remembered. He was voted the best goalkeeper in the world 2 times in 1992 and 1993; Schmeichel was the captain of the 1999 United team which won the Champions League and therefore the Treble. And with 42% clean sheet record he is without any doubt one of the best goalkeepers of all time.
DEF: Denis Irwin (1990-2002) (Ireland)
Denis Irwin also referred by Sir Alex Ferguson as 'Mr Dependable', played his last eleven seasons on the left side at Old Trafford. He was a brilliant tackler and was amazing in maintaining positions, he was also maestro in passing and crossing from both the legs. He gave the Red Devils boost in the back by taking the authority and giving assurance, he was also a clinical striker with the ball and for numerous seasons was the in charge of set pieces like free kicks and penalties. He was bought by United from Oldham Athletic in 1990 for £625,000 and Alex Ferguson regarded him as his best ever signing.
Irwin appeared 296 times in Premier League for United and helped the team to win 7 League Titles, 3 FA Cup, 1 League Cup and 1 Champions League. He was still the first choice left back in Manchester United line-up even in his mid-thirties.
DEF: Gary Neville (1992-2011) (England)
Gary Neville played only for Manchester United in his entire career and therefore he is referred as a one-club man. He can't be called a maestro or a genius but his loyalty and his consistent form make's him one of the best United player ever. Neville is known for his amazing marking, tackling and positioning, after Dennis Irwin left United, Neville became his successor and justified the spot.
He retired in 2011 and became one of the longest serving players for United only behind Ryan Giggs. During his time at Old Trafford he won 8 Premier League titles, 2 Football League cup, 3 FA Cup, 3 FA Community Shield, 1 Intercontinental Cup, 1 FIFA Club World Cup and 2 UEFA Champions League.
DEF: Rio Ferdinand (2002-2014) (England)
Rio Ferdinand was bought by Manchester United in the summer window of 2002 for £30 million from Leeds breaking the transfer record. A tasteful, viable, lightning speedy focus half who wedded the opposing coarseness he had procured at Leeds to the exceptional physical and specialized endowments supported by West Ham in 12 seasons at Old Trafford. Amid the first part of his career at Old Trafford it appeared to be at times as though the game came excessively simple for him and he could depend on his pace to get him free.
As he started to ease off, especially after Bellamy's goal in the 2009 derby at last made him realize that he wasn't as sharp as he had once been, his magnificent reading of the game was improved by a more noteworthy control. It satisfied Ferguson if not the individuals who had been enchanted by his style and once harboured any expectations of him as an English Beckenbauer. Ferdinand during his time at United won 6 Premier League medals, 1 FA Cup, 5 Community Shield, 1 UEFA Champions League and 1 FIFA World Cup.
DEF: Bryne (1951-1958) (England)
Byrne was the skipper of Manchester United from the 1955–56 seasons onwards. He led the side through the incredible Busby Babes time, playing at left back in customary style. He was earlier placed at wing half and outside left and it was a demonstration of his adaptability that, being right sided, he ought to have been an achievement in an assortment of positions. He was never viewed as the most skilled of footballers. His defending could be suspect and his aerial capacity was portrayed as no better than normal, yet his unfathomable hard working attitude and footballing insights permitted him to position himself and respond to danger quickly.
Inventively, he was likewise proficient at making forward runs and joining assaults during a period when full-backs were relied upon just to remain back and safeguard. Maybe his best resource was his capacity to motivate players with his magnetic authority. He died in the Munich air disaster and more than a large portion of a century after his passing, he is still viewed as one of Manchester United's most prominent skippers. He earned group League winner's awards in 1952, 1956 and 1957.
MID: Duncan Edwards (1952-1958) (England)
As far as all-round capacity, Duncan Edwards may be United's most noteworthy player ever. Solid, quick, an incredible tackler, talented on the ball, he was the stand out, admitted Bobby Charlton, 'who made me feel mediocre'. The lethal 1958 Munich plane accident give his life the ax, and burglarized football from one its brightest prospects. He was just 21.
However he had officially played a bewildering 177 matches for Man United. God just knows how he'd be recalled on the off chance that he had existed. Roy Keane, forceful however ailing in ability contrasted with Edwards, is the store player for this position.
MID: Bobby Charlton (1956-1973) (England)
Right up 'til the present time, Bobby Charlton is the symbol of Manchester United, Also for good reason. With 758's official appearances, 249 goals scored and long rundown of individual awards (the Ballon d'or among them), there is no doubt that he is the best English and Manchester United player, and he put all his ability in the administration of United, for 17 long seasons. His spot in this group is altered, and will remain so for quite a long time to come. Paul Scholes will need to fulfill himself on the bench.
MID: George Best (1963-1974) (Northern Ireland)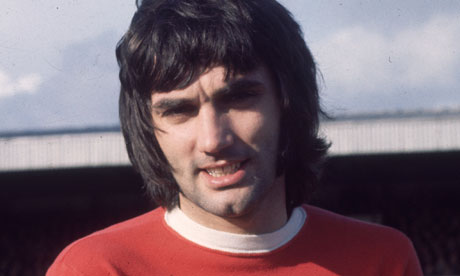 The Red Devils has had what's coming to it of value wingers, and none as great as George Best. Without anyone else's input he dribbled past way so easily among a larger number of defenders than Beckham, Ronaldo and Giggs consolidated. His inconceivable equalization and spryness permitted him to run circles around rivals freely.
He won the Ballon d'or in 1968 and justifies this place more than any other person. David Beckham may have been a superior crosser, however Best was the prevalent player in all different regards.
MID: Ryan Giggs (1990–2014) (Wales)
Ryan Giggs is one of the most decorated players in English football history, he hold Manchester United club record for highest number of appearances. After making his debut in 1990-1991 seasons he became a regular player of the team from the next season. Ryan Giggs is known for his playmaker role in the heart of United's midfield and has proved it often during his time at Old Trafford.
His ball control, pace and ability to provide wonderful cross and assist is known by everyone. Giggs managed to score 114 goals in the 672 appearances for United, he won 13 Premier League Titles, 4 FA Cup, 3 Football League Cup,9 FA Community Shield, 1 UEFA Super Cup, 1 FIFA Club World Cup and 2 UEFA Champions League. He also has numerous individual awards and records to his name.
ATT: Eric Cantona (1992-1997) (France)
Eric Cantona the King courageously won United games and trophies with his urgent, and frequently virtuoso, match-winning goals. His method, vision, speed and power, joined with his capacity to discover the net when it truly mattered made Cantona the most famous player at Manchester United for a several years. Eric was voted Premier League Player of the Year on two separate occasions, Cantona was more than simply a footballer. An era of young men in Europe grew up putting their neckline up. Since Cantona did it.
One of the coolest players ever to grace the football pitch, the man Eric Cantona personified style. Such a distinction with Wayne Rooney – who truly needs to clean up his propensity for losing all his form for a large portion of the season if he wants to be included in Manchester United greatest XI of future.
ATT: Denis Law (1962-1973) (Scotland)
Denis Law is the only Scottish player to win the Ballon d'or, he is United's best striker ever. No one with the exception of Bobby Charlton has scored a larger number of goals for Manchester United than Denis Law. For sure, Law's goals were as significant to the achievement of United in the 1960's as anything George Best and Charlton did. In the later years, wounds took away his deadly edge but anyhow in his day, he was legitimately named The King by the Red Devils supporters.
In honor his undeniable contribution for the club, a bronze statue of Law, standing in between Best and Charlton, still welcomes any individual who approaches Old Trafford. Indeed in this way, Had Ruud van Nistelrooy played a couple of more years for United, he may have won this spot.
Manager – Sir Alex Ferguson
Pic courtesy – Getty, Telegraph and Manchester united official website