Mario Balotelli cannot be far from the news, if he isn't scoring or not scoring for his club on the field, he must do something that will bring him in the news. Mario Balotelli has a history of doing some rather crazy things which have led him into hot soup, with police, managers or the public.
This time around he posted a picture on his Instagram account of Super Mario, not himself but rather the game character, the picture of Super Mario had a heading.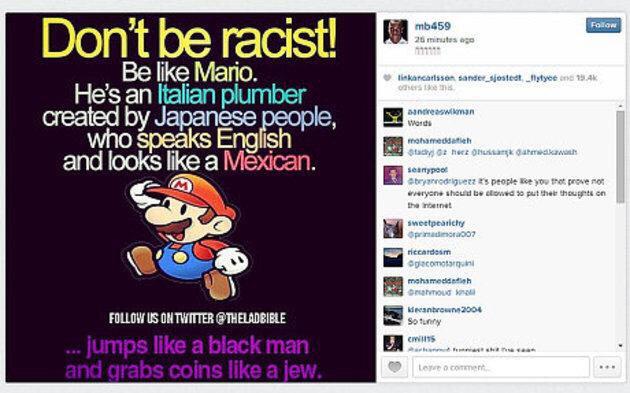 "Don't be a racist!"
"The text read: "Be like Mario, he's an Italian plumber, created by Japanese people, who speaks English and looks like a Mexican."
It finished: "He jumps like a black man and grabs coins like a Jew."
This led to a huge backlash on Twitter and Mario has apologized for his post.
"I apologise if I've offended anyone.
"The post was meant to be anti-racist with humour. I now understand that out of context it may have the opposite effect.
"Not all Mexicans have a moustache, not all black people jump high and not all Jewish people love money.
"I used a cartoon done by somebody else because it has Super Mario and I thought it was funny and not offensive. Again, I'm sorry."
Mario could be facing a 5 match ban from the FA for his post as it was deemed to be racist.
Here are some of the other controversies Mario has found himself in over the year.
March 2010: Shirt Swapping
Mario was only 19 then and he was already getting his groove on, playing for one of Italy's biggest clubs, Inter Milan, so what does he do when he is called onto a comedy show? Why he puts on a Jersey of course! Not just any jersey, Mario was presented an AC Milan jersey, the fierce rivals of Inter Milan and Mario being Mario put on the jersey with a big smile. The Inter fans weren't best pleased but he did sign for AC Milan, so it wasn't all bad, he was a childhood AC Milan fan.
March 2011: Darts
Mario had by now signed for Manchester City under his father like figure Roberto Mancini, he had already been sent off twice since signing in 2010 and had already crashed his car, he was to now throw darts at a youth team player and club officials had to have a word with Balotelli, who escaped without any sanctions.
October 2011: Fireworks
As stated, either Mario provides fireworks on the pitch and if all that fails, he would do the same off it. Fire engines were called to the striker's home in Chesire in the early hours of the morning, it took 4 fire-fighters and they needed 2 water jets to douse the fire in his home. The police decided not to take any action against Balotelli, stating that this was an accident.
December 2011: Richards fight
Well, not exactly a fight but Mario Balotelli and Micah Richards were involved in a training ground bust up, which is weird since they both were team mates. The duo had to be separated and Mancini had to play peace maker by stating that it was much ado about nothing and the pair had moved on.
January 2012: School is cool
Mario Balotelli visited a school, not surprising since many Premier League players do a lot of social activities for the various cities they play for but Mario went to the Manchester Xaverian College so that he could use their toilets.
He parked his Bentley and entered their premises, before he talked to the students in the canteen and then went into the teachers' staff room.
Those were just some of the incidents which have been recorded, there have been a lot of other stories of Mario giving away £2000 to a homeless man, leaving his car at the airport since it had collected a lot of parking tickets in Italy and getting pulled over by the police with £5000 pounds in the front seat of his car and being questioned by police as to why he had that much money there
His reponse?
"Because I am rich".
Super Mario.
Quotes courtesy: BBC Sport
Pictures courtesy: BBC Sport, IB times & Manchester Evening News.