Liverpool face a do or die game against Basel in the UEFA Champions league on Tuesday night, the English team have to win the game against Basel or they will see the Swiss team go through as runners up in the group stage and Liverpool will be eliminated from the competition in which they made a return to after being out for almost 5 years.
A similar scenario was in play in 2004 when Liverpool needed to beat Olympiakos at Anfield by a 2 goal margin and it was Steven Gerrard who scored a screamer in the last minute of the game which sent the Merseyside team through, they went on to win the title that season. Liverpool have been in indifferent form but are unbeaten in their last 4 games, which included a tame 0-0 draw against Sunderland at Anfield on Saturday. The fans will be hoping that Liverpool do provide more in attack as a draw will not be enough for the team this time around. Steven Gerrard should start after he was named on the bench against Sunderland, though he did play a part in the game.
It is pretty simple for Basel, all they need to do is avoid defeat and they will qualify from the group, the Swiss team had defeated the English team in the reverse fixture and are confident of knocking out their more illustrious opponents from the group stage. Basel have only lost 1 game in their last 7 games and have won their last 2 games, which should give them the confidence needed to go into this game.
Team News:
Steven Gerrard was rested against Sunderland and should start against Basel, he was missed in the Sunderland game as Liverpool barely created any meaningful attacks but you could see that the Basel game was playing on their minds. Liverpool still are missing Balotelli and Sturridge with injuries, so Rickie Lambert should be given the nod to play as the solitary striker for Liverpool. The impressive Kolo Toure should keep his place in the squad after doing well in recent games and will be partnered by Martin Skrtel. Raheem Sterling and Philippe Coutinho would get the wide berths with Henderson and Lucas playing in midfield.
Basel also have a couple of injury problems with Ivanov and Sio ruled out of the game but they would be banking on Streller to score for the team like he did in the reverse fixture. Basel more or less have a fit squad to choose from.
Key Battles:
Sterling vs. Degen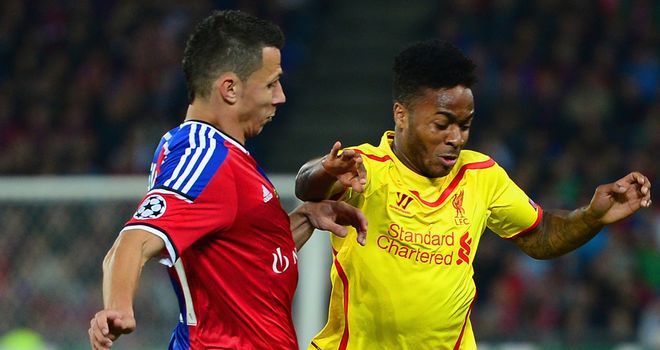 Raheem Sterling showed glimpses of his ability last time against Sunderland and will need to be at his best to give Liverpool some hope of making it through to the next round. He will be looking to create a lot of chances against the Swiss left back, who will be looking to keep Raheem quiet in the game.
Toure vs. Streller
The Ivorian has been one of Liverpool's best defenders and has kept out the big money signing Dejan Lovren in recent weeks, Kolo will be needed this time to guard Streller who gave the Liverpool centre backs a torrid time in Switzerland, whoever wins this battle could help their team get through to the next round.
Gerrard vs. Frei
The onus is once again on Steven Gerrard to perform and help his club make it through to the next round. Gerrard doesn't have to play in the quarterback role and now plays in an attacking role, something that he had done earlier for the Reds.
Stats:
Liverpool have scored 4 goals in the Champions League this season, all against Ludogorets.
Liverpool have never defeated Basel in European competition.
Liverpool have never lost to Swiss opposition at home, winning thrice and drawing twice.
Liverpool have won 6 out of their 11 games against Swiss opposition.
Quotes:
Brendan Rodgers, Liverpool manager
We would have taken [being in this position] when the draw was made. Tomorrow night will be a great night and, obviously, it is up to us to get the job done. This is a competition that has a great history here for Liverpool and it is a chance for the players to qualify and make sure they write themselves into folklore by winning the game and ensuring they get into the next round.
I think we've shown in the last number of weeks that we are starting to come together again after a disappointing spell. We haven't had the consistency this season but slowly, game by game, I can see the differences in the team, in the focus and the concentration. And what we have in the squad is quality. We know it's going to be a tough game but we've seen on many occasions what the crowd do here for the team.
We don't need to win the game in the first minute, I think that is the key. European football is technical and tactical and it is understanding that we just need to win the game – we have 90 minutes plus to do that. We have to maintain our patience, play a good technical game – which is what this team has been used to in the past couple of seasons – and, for the tactical element, we always have to have our concentration and focus. If we can do that, I believe we have a great chance, aligned with the supporters and the passion they put in.
We don't underestimate the opponent. Paolo has done an excellent job. They are the top side in Switzerland and they show that in their performances. So, we respect them but our objective is to win the game and our focus and our concentration is purely on ourselves to do that.
Paulo Sousa, Basel coach
We know the realities. We know they are a historic club and we know about everything around them – the investments, the quality of the players and the number of years Brendan Rodgers has been here, so he knows the environment. But despite that, our club year-by-year is having success. We have the ambition and courage to keep being successful. We want to do things how we usually do things, with happiness in our game, putting them under pressure and then hopefully we can have another magical night and another historic step for this fantastic club.
As a coach, I am always looking forward. With that in mind, we have a plan for the game, and hopefully that plan is the correct one, with the help of a fantastic team performance. Rodgers has been here for a while and is passing on his football philosophy, but in the end it is up to us because I want to be the protagonist. Our players are more solid and clearer in everything we do and we are in a good moment, and hopefully we perform well and put Liverpool under pressure.
If we achieve qualification it is a dream. It is something we are looking for, we are working for that, it is something we deserve. If it happens we will go looking for another achievement.
Possible line ups:
Liverpool starting XI: Mignolet, Johnson, Toure, Skrtel, Manquillo, Lucas, Henderson, Gerrard, Coutinho, Sterling, Lambert
Basel starting XI: Vaclik, Degen, Schar, Suchy, Safari, Diaz, Delgado, Frei, Gonzalez, Streller, Gashi
Prediction:
It is going to be a tough game for Liverpool and they will be buoyed by the home crowd. Basel will make it tough and with Liverpool having problems in goal scoring, the game could come down to the support of the fans and that is why Liverpool could just sneak past Basel but expect a lot of drama, a huge amount of drama.
Quotes courtesy: UEFA.com
Picture courtesy: BBC sport, Sky Sports, Liverpool FC & The Express