Talking about the power couples of WWE, fans may undoubtedly pick Triple H and Stephanie McMahon or even Seth Rollins and Becky Lynch who'd soon embrace parenthood. But one pair who didn't get the limelight is of Brock Lesnar and Sable. These two have been married for more than fifteen years, now. Considering Lesnar's spot at the top of the food chain in the WWE roster, these two should have received recognition.
But there's a couple of reasons behind not happening so as these two had a topsy-turvy relationship with the WWE in the past. Plus, both Brock Lesnar and Sable are extremely private persons in real life who was never really bothered about bringing private life in public. Besides, they're a unique couple where the male is ten years younger than his partner.
The interesting love story started all the way back in the Ruthless Aggression days within WWE. But it's less acknowledged, owing to the above-mentioned reasons. In this story, we'd like to have a flashback on the less heard saga between Brock Lesnar and Sable.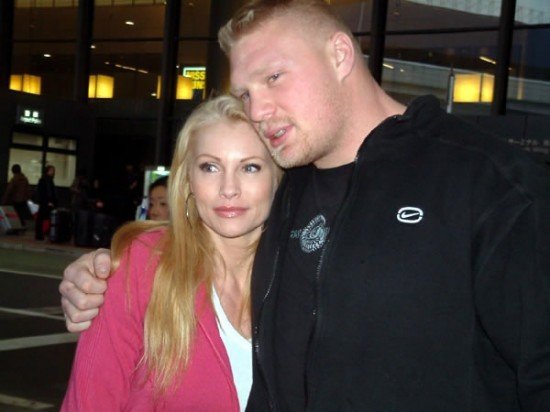 Initial Days For Brock Lesnar and Sable
Born as Rena Greek in 1967, Sable was born and brought up in her hometown of Jacksonville that is beside the beautiful Atlantic coastal side in Florida. Rena was heavily involved in extra-curricular activities, such as horseback riding, gymnastics, and high school sports, such as softball. She also drew a nag in participating in beauty pageants, which in turn landed her in the world of modeling.
Brock Lesnar was just a kid yet to be in high school when Sable had her first marriage with a man named Wayne Richardson in 1987. They also had a daughter named Mariah. The happy marriage came to an end as Wayne died in a car accident related to DUI charges against him.
Moving on in 1993, Sable met boxer cum professional wrestler, Marc Mero, and the duo instantly hit it off. They got married in 1994 as Mero was elevating his in the WCW. Sooner, she realized to have a potential future in this males dominated industry and started training with Mero.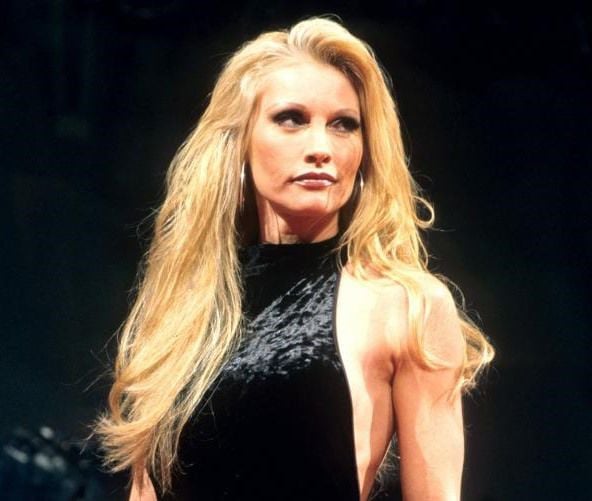 Soon after leaving WCW due to some creative stuff, Marc Mero and Sable received a lucrative contract from the WWE fka WWF. At Wrestlemania 12, the latter made her debut as the escort for Triple H who was going up against the returning Ultimate Warrior. In 1996, Mero also debuted in WWE, and starting from the following year, he formed a tandem alongside his wife.
People gradually became fond of the Sable character making Mero as a natural heel on TV. In the first two years of her career in WWE, she managed to present herself as the sex symbol of the company for whom fans would love to watch episodes of Monday Night Raw. In 1998, Sable captured the WWF Women's Championship at Survivor Series, by defeating the former champion, Jacqueline.
In 1999, she received a ton of mainstream attention while becoming the cover star of Playboy Magazine. The self-centered on-screen mentality was then reflected in her attitude as she alleged WWE of foul work practices, including sexual harassment and filed a $110 million lawsuit against them. It also marked the exit of Sable from WWE and the professional wrestling circuit.
Meeting of Brock Lesnar and Sable
Brock Lesnar and Sable's partnership was far from reality as Lesnar was a teenager at that point, was attending the University of Minnesota who gradually became a standout athlete. He became a two-time All American wrestler in Minnesota who also won a Big Ten Championship. Before joining the University of Minnesota, Lesnar also won the Junior College Heavyweight Championship at Bismark State College.
Four years later, Sable made her return to the WWE on an April episode of the show to reclaim the throne from the top lady on SmackDown, Torrie Wilson. Fans expected the least to witness her back in the WWE but she did settle the lawsuit dispute by having meetings with Vince McMahon, outside the court. She also found out the youngster in the WWE locker room named Brock Lesnar.
Brock Lesnar and Sable initially began dating shortly after the latter's 2003 return. She was already having a rocky relationship with Marc Mero at that time. Later Mero found out that Sable was cheating him with an unknown person. Here's more of his experience, as stated on the Steve Austin podcast,
"So I remember, she didn't answer the phone one night, so I really cut this promo on her cell phone and I was like, 'how could you do this, not answer your phone? We had an agreement that we talk at night.' And I hung up the phone and I thought, 'what a jackass I am. Why would I do that? She's out there trying to earn a living. She's out there doing something she loves.
"So I think I called back her phone. I knew her password because we were that close. We knew each other's passwords and stuff. So I thought, 'let me delete this before she hears it, right?' So I called back her number and punched in her code. It says, 'you have two unheard messages.' And okay, I have to listen to the first one to get to mine and it was another wrestler talking about them two. And I was like, 'oh my God,' Steve, I'll tell you, we've all been in this position before.
My heart was broken. You can't sleep, you can't eat, you're sweating. And I remember thinking, 'when I find out who this guy is, I'm going to kick the living tar out of this man!' And then, I found out it was Brock Lesnar! Steve, this gives forgiveness a whole new meaning! Our marriage was over. We ended up getting divorced, but God bless them! They got married. They have kids." Mero stated, "they live a happy life and kudos, man!"
In 2004, Mero was legally divorced with her wife Rena as she had jumped into a new relationship with The Next Big Thing in the WWE. Unfortunately, there's been some dispute in Sable's creative direction as she was released from her WWE contract, the same year. Brock Lesnar had his own issues with the company who also chose to leave in the same year in April.
Brock Lesnar and Sable – Dating & Marriage
Brock Lesnar and Sable would then leave for a stint in Japan. For the next couple of years, The Beast reached the top of the Japanese wrestling scene while winning the prestigious IWGP World Heavyweight Championship. The two also made on-screen appearances for the NJPW wrestling promotion. WWE wasn't happy about these appearances as Lesnar started competing going against the non-compete clause. However, no in-court procedure was followed as the two parties came to a settlement.
Brock Lesnar and Sable tied the knot on May 6, 2006, after dating for more than a couple of years and despite the age gap. The next year, he'd go on to make debut in the world of Mixed Martial Arts and eventually reach the top of this industry, too.
Brock Lesnar defeated Randy Couture at UFC 91 to become the new UFC Heavyweight Champion. He would dominate the Heavyweight Division for the next two years, before dropping the belt to Cain Velasquez at UFC 121. After enjoying a few years in MMA, he found a way to be back in the WWE in 2012 and that stint continues, to date. The Conqueror has indeed conquered the world of pro-wrestling since then seizing the world title on eight different occasions.
Sable, in the meantime, turned into a perfect housewife who took herself away from the wrestling or modeling industry, completely. She is extremely happy with her husband and the spent times at a farmhouse in Minnesota, away from public life. They raise five children.
Sable had one child heading into the relationship named Mariah who's now 28 years old. Brock had prior to marrying Sable, Brock Jr., and Mya Lyn, 14 years old. Brock Lesnar and Sable together have two sons, 7-year-old Turk and 6-year-old Duke.
They're a happy family together who are constantly growing and thriving together. The best thing about the couple is that they manage to keep themselves and the children away from the public so that they can enjoy their childhood. Brock Lesnar draws the biggest paycheck from WWE while working in a limited schedule, anyway which does make things easy for Brock Lesnar and Sable to be ideal parents for the kids.
Get the latest news and updates from Indian Premier League, ICC World Cup 2019, Match Prediction & Fantasy cricket. Follow SportzWiki for all cricket news, WWE News & Sports News.