Bangladesh fans make another nasty photoshop image
Bangladesh cricket fans are still not stopping to make nasty photoshopped images and sharing those on the social media.
During the Asia Cup T20 2016 which was held just before the start of WT20 2016, a photoshopped image went viral on social media which depicted Bangladesh pacer Taskin Ahmed holding a severed head of Indian limited-over skipper MS Dhoni on the backdrop of the Hollywood movie '300'.
See the photoshopped image in the following: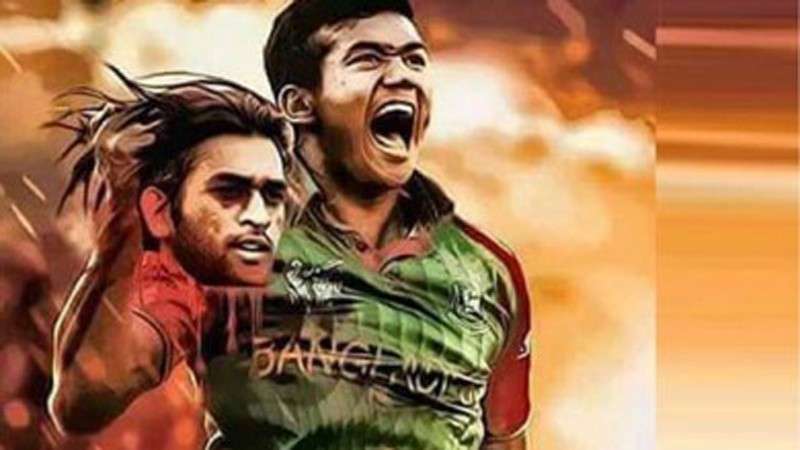 However, some Bangladeshi fans claimed that it was actually made in the middle of 2015 when Bangladesh had defeated India in the ODI series at home. They also admitted that it was made by Bangladeshi fan(s).
However, recently Indian cricket fans replied them with a "Mauka Mauka" video by trolling Bangladesh fans' photoshop skills. Watch the video in the following:
Now another photoshopped image is going viral on the social media sites just ahead of the clash between India and Bangladesh in WT20 2016.
Watch this image in the following:
In this photoshopped image, it can be seen that Bangladeshi left-arm pacer Mustafizur Rahman is firing at the back of Indian batsman Ravindra Jadeja. The simple meaning of this image is the Bangladeshi pacer is firing against the Indian batsmen which to many Indian fans seem nasty and offensive. Bangladeshi fans claimed that the new photoshopped image is the reply of India's trolling video to the Bangladesh.
However before these incidents, a photoshopped image had gone viral in the social media in the middle of 2015 after India's series defeat against Bangladesh in Bangladesh. It had been published by a local newspaper where Mustafizur Rahman was holding a cutter and Indian cricketers Ajinkya Rahane, Rohit Sharma, Virat Kohli, Ravindra Jadeja, MS Dhoni, Shikhar Dhawan and Ravichandran Ashwin were standing under him with half-shaved heads.
Well, after receiving huge criticism, some Bangladeshi fans toned dow a bit but did not change or pull back their nasty and offensive photoshopped images of Indian cricketers.
However, these images have no relations with the international cricketers of both teams. None of them are involved in making or supporting these images.