Top 5 incredible innings in ICC WT20
It is very tough to choose top 5 innings in ICC WT20. There are many innings that have been played which can be called sensational and outstanding. But some of them proved as game-changer. The match results surely would have been different if those innings were not played at that moment.
Today we are talking about those innings.
Top 5 incredible innings in ICC WT20
Herschelle Gibbs 90* vs West Indies at Johannesburg (WT20 2007 – Group A): It was the very first match of ICC WT20 history. West Indies opening batsman Chris Gayle hit a superb century and made 117 runs after South Africa sent them into bat first by winning the toss. With the help of Gayle's giant 117 runs, West Indies put a massive 205 runs on the board after losing 6 wickets in 20 overs.
It was the big total in T20 format but South Africa once again showed their never defeat attitude on the ground. The Proteas opener Herschelle Gibbs played a superb knock of unbeaten 90 runs in 55 balls and made the match comfortable for South Africa as Proteas team won the match by 8 wickets with 14 balls to spare. Gibbs roared with his batting on the pitch and almost single-handedly took away the match from West Indies hands. In his 90* run knock, he hit 14 fours and 2 sixes.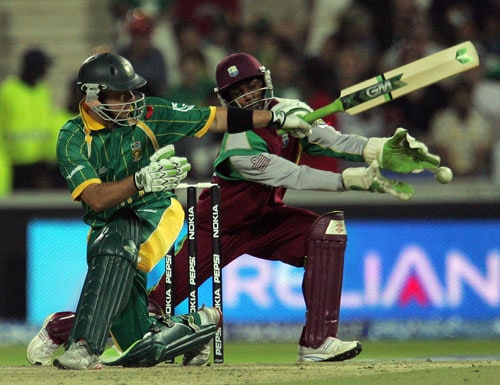 Alex Hales 116* vs Sri Lanka at Chittagong (WT20 2014 – Group 1): It was one of the best T20I knocks in a pressure situation. After winning the toss, England sent Sri Lanka into bat first where the Asian team put 189 runs on the board after losing 4 wickets in 20 overs.
In reply, England lost 2 wickets in the very 1st over of their innings without opening their account. From 0/2 in 1 over, England chased successfully and comfortably that big total with the help of opener Alex Hales's incredible unbeaten century. Hales played a superb knock of unbeaten 116 runs in 64 balls with the help of 11 fours and 6 sixes. For the third wicket, Hales put 152 runs partnership with Eoin Morgan (57 runs in 38 balls) which became a game-changer at the end. However, Morgan was dismissed but Hales did his job until the end of the match as England won that game by 6 wickets with 4 balls to spare.
Michael Hussey 60* vs Pakistan at Gros Islet (WT20 2010 – Semi-final): It was one of the insane finish in T20I cricket history. Chasing 192 runs against Pakistan in the WT20 2010 semi-final, Australia were struggling due to wickets falling at regular interval. Australian batsman Mike Hussey came to bat at the no.7 position where Australia was struggling at 105/5 in 12.3 overs. The match was getting tougher and tougher for Aussies as once Australia was 144/7 in 17.1 overs. At that time, Australia still needed 48 runs in 17 balls with 3 wickets in hand and Hussey was batting on 16 runs in 11 balls.
From Then Mike Hussey took the responsibility and brought an unbelievable win for Australia. After managing 14 and 16 runs from the 18th and 19th overs, Australia still needed 18 runs in the last over where world class spinner Saeed Ajmal came to bowl. In that over, Hussey hit 6, 6, 4 and 6 in 2nd to 5th ball respectively. Hussey made that unbelievable win for Australian team by 3 wickets (with 1 ball still left) after remained unbeaten at 60 runs off 24 balls with 3 fours and 6 sixes. It could be easily called that Hussey single-handedly took Australian team into the final from the semifinal in WT20 2010.
Umar Akmal 43* vs South Africa at Colombo (RPS) (WT20 2012 – Group 2): It was the important Super Eight stage clash at Group 2 in WT20 2012 between Pakistan and South Africa at Colombo (RPS). After restricting South African team to 133/6 in 20 overs, Pakistan too were struggling to chase that total as they were losing wickets regularly. Once Pakistan was 76/7 in 14.3 overs and South Africa was close to winning that game. But Pakistan batsman Umar Akmal showed his talent along with tail-ender Umar Gul. Umar Akmal made unbeaten 43 runs off 41 balls while Umar Gul scored 32 off 17 balls and scripted a dramatic win by 2 wickets with 2 balls to spare.
Marlon Samuels 78 vs Sri Lanka at Colombo (RPS) (WT20 2012 – Final): It was the 2012 WT20 final between West Indies and Sri Lanka at Colombo (RPS) where one innings change the whole game. It was a turning track where every batsman felt tough to score runs except Marlon Samuels. When other batsmen were failing to score runs on that pitch, Samuels made 78 runs knock in 56 balls with 3 fours and 6 sixes. With the help of that innings, West Indies managed 137/6 in 20 overs on that track which Sri Lanka failed to chase that target (101/10 in 18.4 overs). The Caribbean team won the first ever WT20 tournament and regained their international cricket reputation after a long time.