Contract updates from Liverpool: Steven Gerrard and Glen Johnson situation
Saiyed Adeem Karim, 6 years ago
3 min

read
108
Bloodied and bruised, that is something that Liverpool fans expect when a player puts that Red shirt on before they go on the field, Liverpool fans expect their players to give it all when they go out and that is exactly what Glen Johnson did on Saturday night when Liverpool beat Stoke City 1-0 thanks to a late winner by Glen Johnson, he ran in to head the ball from a header off the post from Rickie Lambert in the 85th minute.
Johnson got kicked in the head and laid with his head busted open, Rodgers ran towards the Kop to celebrate Liverpool's first win in November while Johnson was being stapled to stop the bleeding from his head.
Relief at Anfield and for Liverpool was later turned on its head when Johnson in an interview revealed his situation at Liverpool, there were reports earlier that the 30 year old, who is out of contract at the end of the season had been offered a contract by Fenway Sports Group at half his salary but that has been dismissed by Johnson.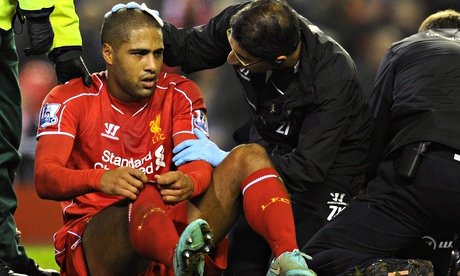 "It hurts a lot less when the ball hits the net, that's for sure," said the England international after his first Liverpool goal in almost two years.
"We fought hard from the beginning and I would have been very upset if we had only drawn the game. We have given ourselves a platform to build from now. We have just got to stay together as a squad, as we have been doing."
Johnson is free to sign a contract with a non-English club in January and has been linked with a few clubs including AS Roma, Johnson has been criticised for his performance for Liverpool and is often at the end of a lot of stick from the Liverpool supporters.
"First and foremost I want to play for a club that wants me," said Johnson when asked about his future. "It is as simple as that. I have seen stuff in the press that I have been offered half the money I am on. That's not true. I haven't been offered anything. We are not speaking [about a contract] at the moment.
"I have enjoyed the majority of my six years here but if I haven't got a contract, I can't stay. It does play on your mind but that is when you have to be professional and do your best for the team."
While one saga is set to continue with Johnson, there have been developments in Steven Gerrard's contract situation as well. Gerrard is also out of contract at the end of this season and is looking at his options for next season. There were problems being reported between Rodgers and Liverpool and those went into overdrive when Gerrard was kept on the bench on his 16th year at Liverpool when the team played Stoke City.
Gerrard however took a step to reassure that there were no problems between him and the manager by posting on instagram
"Just to set the record straight, talk of a fall-out between us two is nonsense," he wrote on his Instagram account, and followed it with #together #solid #ynwa.
According to reports, Liverpool have begun formal talks with Gerrard for a contract extension but the Red's skipper is in no hurry to sign a contract yet and is willing to see how the season progresses for the Reds, he probably is being offered a one year rolling contract, either way it would be good news for everyone if both the contract talks are done fast so that it does not affect the performance of the players and weighs them down.
Quote courtesy: The Guardian & The Mirror
Picture Courtesy: The Guardian
Get the latest news and updates from Indian Premier League, ICC World Cup 2019, Match Prediction & Fantasy cricket. Follow SportzWiki for all cricket news, WWE News & Sports News.
Related posts
BCCI Nominates Rohit Sharma For Rajiv Gandhi Khel Ratna Award
The Board of Control for Cricket in India has nominated India's limited over vice-captain for the prestigious Rajiv Gandhi Khel Ratna award. Rohit Sharma has been in prolific form in the last few years and he was the highest run-getter of the 2019 World Cup…
Kumar Sangakkara Feels ICC Men's T20 World Cup 2020 Can Be Postponed
Former Sri Lankan captain and present President of the Marylebone Cricket Club (MCC), Kumar Sangakkara recently commented about changing the cricket world after coronavirus pandemic. He also talked about the postponement option of the ICC Men's T20 World Cup 2020. Australia will organise the seventh…