There seems to be trouble in Parisdise, sorry for the bad pun but all is not good at Paris St. Germain, although they might be one of the richest clubs in the World and often end up paying their star players crazy wages, some players want more, not money but a move away from the French capital.
The big bad man of Argentinian football, Ezequiel Lavezzi, who does have a history of throwing tantrums and nearly choking out his coaches, ask Argentine coach Sabella about it decided that it would be the best time to take a holiday from a holiday.
As the French league is on a break, most teams have actually shifted bases to more warmer climates and PSG are no different with the club training in their retreat in Morocco but Lavezzi did not join up with his team mates and it seems that he will not be joining them any time before the 2nd of January after he finishes partying somewhere.
I don't like the Blanc French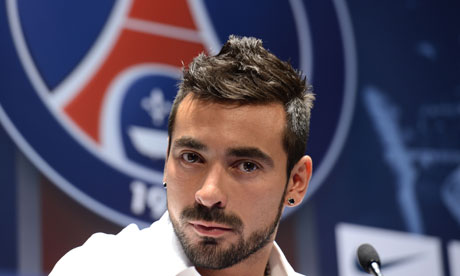 There is no love lost between Lavezzi and Laurent Blanc, the PSG coach, although they haven't had major fallout there is no secret that Lavezzi does not like the Frenchman and has been on a warpath for a transfer away from the club.
Lavezzi, who is 29 years old is wanted by quite a few clubs in Europe as he is extremely quick and strong for a winger. He is a different beast down the wings and is completely different from your run of the mill wingers.
Lavezzi made his name while playing in the Serie A for Napoli and there have been rumours of him wanting to go back to Italy, while Napoli might be a happy hunting ground for the Argentine, it could be possible that Lavezzi ends up joining another Italian giant, Inter Milan who seem to be in yet another phase of rebuilding and bringing the Argentine would be something of a coup.
There is a guarantee that this story will not die down and Lavezzi will face some sort of disciplinary action but what would his next move be? That is something that we have to wait and see in the soap opera that is Lavezzi in Paris, one thing is for sure a lot of drama and madness will ensue pretty soon, watch this space.
Picture courtesy: The Guardian and the Express.
Get the latest news and updates from Indian Premier League, ICC World Cup 2019, Match Prediction & Fantasy cricket. Follow SportzWiki for all cricket news, WWE News & Sports News.