Real Madrid Greatest XI of All-Time
Saiyed Adeem Karim, 5 years ago
8 min

read
859
The most successful team in Champions League/European Cup history with 10 titles and with the most La Liga titles, 32 to their name, Real Madrid are the club that most people dream about playing for. The Galacticos as they have been called over the past couple of decades because of their ability to have star players all the time really made a difference to how people see teams and how football is played, especially in Madrid.
Real Madrid always are made into a team that wants to entertain its fans, people will remember certain times when managers won the league but were sacked simply because they did not bring in a more attractive form of football, the best example was Fabio Capello. Currently they might be the best side in the world, although Bayern Munich may have a thing to say about that and with Ballon d'Or winner Cristiano Ronaldo firing on all cylinders, they could end up with a lot of silverware in the years to come.
We continue our series to look at the greatest Real Madrid XI of all time and with so many names to choose from, it certainly is a hard task but someone has to do it.
Goalkeeper: Iker Casillas (1999- Present Day)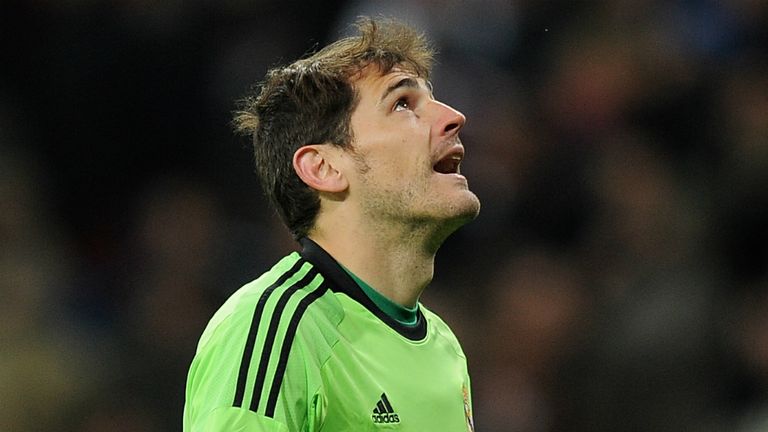 Iker Casillas has been one of the best goalkeepers in the present day but has been a rock for the Real Madrid squad since he started playing for them in 1999. Iker or as he is called St. Iker for his performances and his ability to continually do well season after season, might have had a bit of a tumultuous last season with Jose Mourinho but he has again started to do well for the team from Madrid this season.
He has made over 700 appearances for the club and has won 3 UEFA Champions League titles and 5 La Liga, this is not including his amazing run of championships with Spain.
Left Back: Roberto Carlos (1996-2007)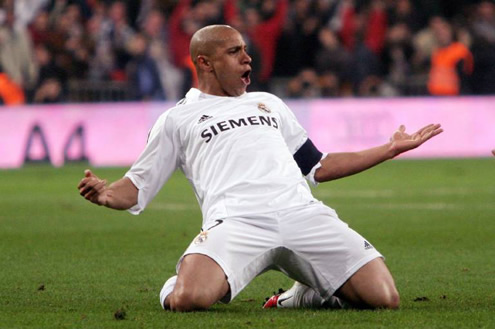 One of the most iconic defenders in the world, Roberto Carlos was known for his marauding runs up and down the left flank and he has a bullet of a shot as well. He was known to score some rather astounding goals, especially free kicks when he could thunder a ball in with some great swerve, ask France about his infamous goal.
During his time at Real Madrid, he was part of the Galacticos team which included a ton of amazing players like Zidane, Figo, Raul, Beckham, amongst others. He won 4 La Liga titles and 3 Champions League titles with the Madrid giants.
Central Defender: Fernando Hierro (1989-2003)
The Spanish defender is currently an assistant coach under Carlo Ancelotti and had made more than 500 appearances for the Spanish giants during his time at the club. Hierro was known for his exceptional defensive skills and positioning, in a team filled with attacking talent, it was Hierro who always shone in trying to keep the defence safe from conceding goals.
He also had a great scoring record for a defender, having scored more than 100 goals for Madrid and Hierro won 3 UEFA Champions League titles and 5 La Ligas with the team. Hierro is often considered as one of the best defenders ever to play the for Real Madrid and he right deserves his place in this all-time greatest team.
Right Back: Jose Camacho (1974-1989)
Primarily playing as a left back, we had to shift Camacho to the right just for some balance. Camacho was one of the best players defensively for Real during his time at the club. He won a massive 9 La Liga titles with Real during his 15 years with the club.
Camacho played nearly 600 games for Los Blancos with 414 coming in the league alone. Camacho won 2 UEFA Cups at Real Madrid and post his career as a player embarked on a rather successful stint as a manager, he even got to manage Real Madrid in 2004.
Central Midfield: Alfredo Di Stefano (1953-1964)
Probably the man most responsible for making Real Madrid the household name they are right now. Di Stefano was a powerful player who could just about play anywhere on the field, he was that versatile. He was responsible for Real winning their first 5 European Cups and he formed an amazing partnership with Puskas as they pair led them to glory.
Many players still refer to Stefano as the most complete player ever and with 307 goals in 396 games, he carved out a legacy at Real. Alfredo won 8 La Liga titles to go with the 5 European cups and is the second highest goal scorer in Real Madrid history.
Central Midfield: Pirri (1964-1980)
Pirri was extremely versatile during his time for Real Madrid. He started off as a central midfielder before he was shifted to a sweeper and was also the captain for a club for a while. He won an astonishing 10 La Liga titles with the team and he even could play as a forward if it was required.
Pirri won the European cup in 1966 and won 4 Spanish cups during his time with Real. He scored 123 goals in 417 appearances in the league for Los Blancos.
Central Midfield: Zinedine Zidane (2001-2006)
Some might say that spending just 5 years at a club doesn't make it enough to make it into the best team ever but Zidane was in a league of his own during his time at Real Madrid. It was pure joy to watch him play and Real got the best out of him when they signed him for the highest transfer fee from Juventus. Everyone should check out his goal in the UEFA Champions League final against Bayer Leverkusen to just get a glimpse of what the gifted French midfielder was all about.
Although Zidane only scored 49 goals in 227 appearances, his sheer presence and creativity on the field is more than enough to keep him in the list. He is now the manager of Real Madrid B and even his son is playing football at Real. A legacy for sure.
Left Wing: Cristiano Ronaldo (2009- Present Day)
Arguably the best player in the world today, Cristiano Ronaldo has done it all for his club and he has reached new heights ever since he joined Real Madrid after a big money transfer from Manchester United. The 29 year old Portuguese is the centre piece for the Real of 2010. Ronaldo has been smashing all sorts of scoring records for Real as he and Messi seem to be taking their goal scoring exploits to new heights.
Fast, tricky, strong and a great finisher, there is nothing that Ronaldo cannot do at the moment. He just won his third Ballon d'Or award and it seems he is a sure shot to win the award again next year thanks to his incredible form this season.
He has scored 288 goals in 276 games for Real and has won the most important cup, the 10th UEFA Champions League title last year and who knows, he could be leading Real to win a few more titles.
Right Wing: Francisco Gento (1953-1971)
Paco Gento as he was widely known was a tricky winger for the Spanish club during their heydays. He was an exceptional talent down the right wing and was known for his trickery and pace which made him hard to deal with. He scored over 170 goals in just over 600 appearances for the club but more importantly it is the number of titles he won.
Gento won a staggering 12 La Liga titles during his time with Real and the brilliant winger also won 6, yes that it is right, 6 European Cups with Real, he was so integral to the side, he started each and every final which Real won.
Striker: Raul (1994-2010)
A Spanish legend who was born and brought up to play for Real. Raul should be well known to most of our readers as one of the players in Real Madrid who was always seen scoring for the club, although he spent a couple of years at German club Schalke after his 16 year career in the senior squad for Real. Although he was part of the youth setup at Atletico, Raul became a legend for his exploits for Real.
He is Real's all time top goal scorer, in front of the legendary Alfredo Di Stefano, Raul had scored 323 goals in 16 years at the club. He won 6 La Liga titles and 3 UEFA Champions league titles for the Madrid club.
Striker: Ferenc Puskas (1958-1966)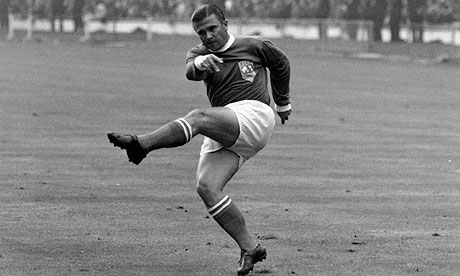 The Hungarian is widely considered to be one of the greatest strikers to ever grace the game. He came to Real Madrid after a long association with Hungarian team Budapest Honved, he was known to be one of the greatest scorers in the Hungarian league and he brought his goal scoring record to Spain as well.
Puskas won 4 top scorer awards in Spain and scored 7 goals in 2 European cup finals. In recognition for his goal scoring exploits, FIFA introduced the Puskas Award which is handed out to the best goal scored in the year.
He scored a staggering 374 goals in just 358 games for Real Madrid as he won 5 La Ligas and 3 European cups with the Spanish giants.
Captain: Alfredo Di Stefano
Manager: Miguel Munoz
Miguel might not be known to most football followers but he would be the ideal candidate to coach this star studded team. Munoz helped the team win 9 La Liga titles, 2 Copa Del Reys, 2 European cups during his 14 years at Real.
Picture courtesy: The Express, Sky Sports, Ronaldo 7, UEFA, Biensports, Fanbase, Marca, ESPN FC, Golden foot, the Telegrph & the Guardian
Get the latest news and updates from Indian Premier League, ICC World Cup 2019, Match Prediction & Fantasy cricket. Follow SportzWiki for all cricket news, WWE News & Sports News.
Related posts
Bayern Munich Inch Closer To The Bundesliga Title As They Crusie Past Fortuna Duesseldorf By 5-0
Bayern Munich have taken another step in their journey to the Bundesliga title this season. Taking on Fortuna Duesseldorf in the Bundesliga on Matchday 29 at the Allianz Arena, Bayern Munich showed no intention of calming down after their win over Borussia Dortmund last week…
Misbah-Ul-Haq To Select Pakistan's New Fielding Coach
Pakistan's chief selector and head Misbah-ul-Haq has been given an additional responsibility to select the fielding coach for the national team. Grant Bradburn, who was appointed as the fielding coach in 2018, has left the post vacant as he has been appointed to the High-Performance…