Bitter rivals from the WWE Raw roster, Seth Rollins and Matt Riddle are all set to settle their differences, this weekend. They will collide in a highly personal rematch at Extreme Rules in a Fight Pit Match. To build things up, the duo once again engaged in a chaotic brawl once the latest red brand episode of the WWE went off the air.
According to the fans at the Xcel Energy Center in St. Paul, Minnesota, Seth Rollins came out and cut a promo after the tapings for WWE Raw were over. He noted that the "no contact clause" in the contract for his Fight Pit match with Riddle has "officially expired" and hence he was already ready to throw down with his current nemesis.
WWE Raw: Daniel Cormier Appears To Confirm His Presence At Extreme Rules 2022
The Original Bro didn't waste any time as he ran down to the ring and the two Superstars started brawling all around the ringside area for several minutes, much to the delight of the fans in attendance of WWE Raw. After they finally took the fight to the ring, Rollins got the upper hand and hit a Stomp. The crowd in Minnesota was highly behind Rollins and gave him a babyface reaction despite being a heel.
WWE Raw 2022 Season Premiere: The Bloodline To Appear; Title Match Confirmed
Seth Rollins and Matt Riddle Get into a Brawl after WWE Raw went off the air #WWE #wweraw #wwenxt #SmackDown #Sethrollins #Mattriddle #Extremerules #WWEMainEvent pic.twitter.com/R5JOKxQdZd

— Wrestlemania (@wwemania___) October 4, 2022
WWE Raw: Rollins and Riddle involved in a personal feud
Seth Rollins and Matt Riddle originally came face-to-face on WWE Raw ahead of their Fight Pit Match set for Extreme Rules 2022. As Seth threatened to knock Riddle out, Daniel Cormier appeared on the titantron and said that things have gone too far between the two. Now, he is fed up and will try to lay down the law so that one man walks out as the definitive winner at the PLE, this Saturday night.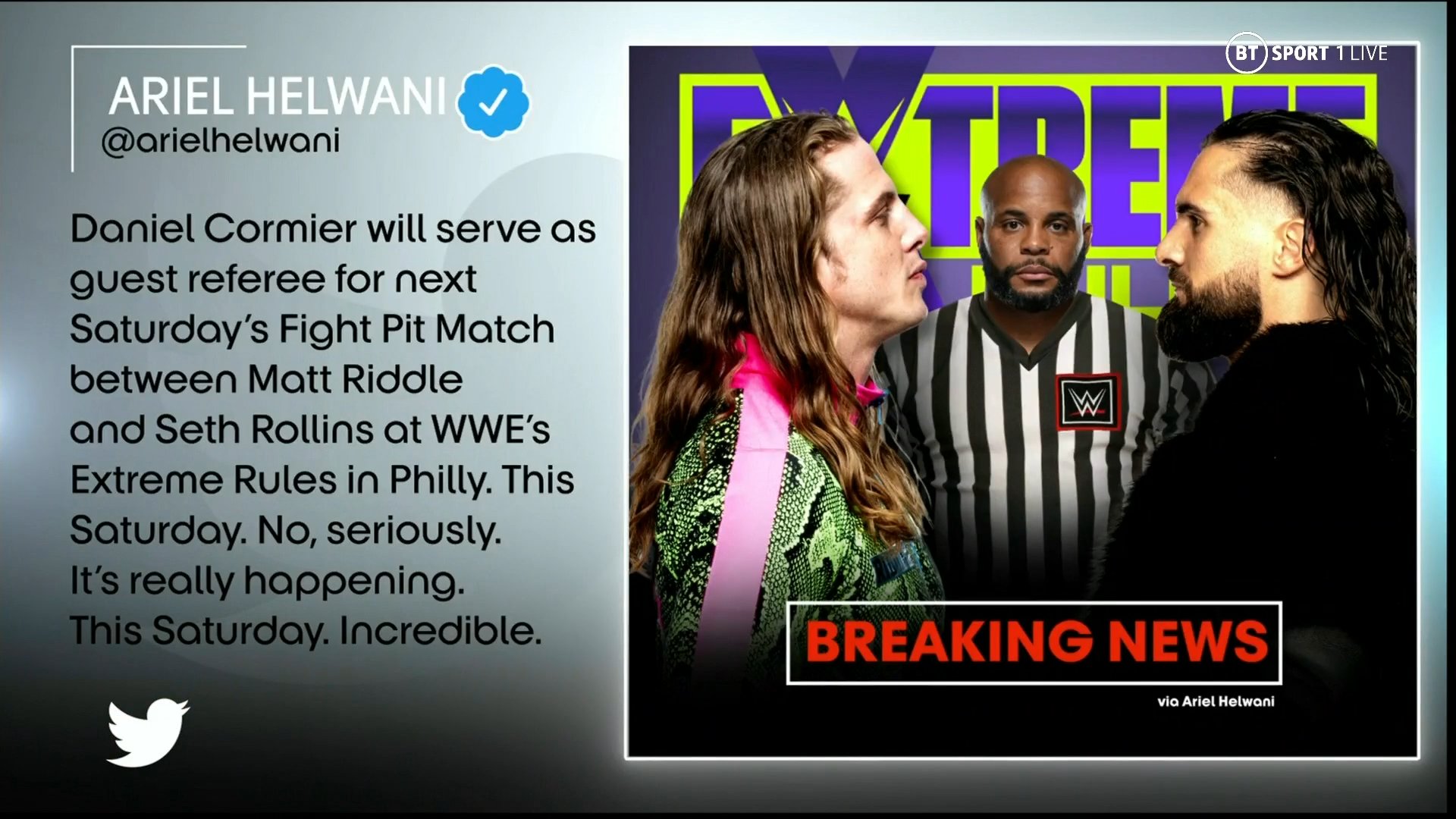 That being said, Daniel Cormier will serve as a special guest referee for the Fight Pitch match set between Seth Rollins and Matt Riddle at Extreme Rules. The news was first broken by Ariel Helwani and Cormier's involvement will act as a major attraction for the WWE.
Rollins and Riddle have already made things very personal in their latest heated promo exchange, where references were made to Riddle not being able to see his kids after splitting up with his wife. Riddle also accused Rollins of being outshined by his wife, Becky Lynch, and Roman Reigns. Plus, it was pointed out how Rollins hasn't held any championship gold in WWE since 2019.