Sohail Tanvir always rates India – Pakistan high octane blockbuster clashes as high-pressure games. The India-Pakistan match is different from other fixtures since emotions run high given the history and rivalry between the two neighboring nations.
Sohail Tanvir, a former Pakistan seamer was one among a handful of Pakistan players who received a chance to feature in the Indian Premier League (IPL). Sohail Tanvir represented Rajasthan Royals (RR) in the inaugural edition of the T20 Championship in IPL 2008 and scripted history by claiming the Purple Cap. He picked up 22 wickets in 11 matches including a best of 6 for 14- which stood as the best figure record for many years.
Sohail Tanvir: Even While Growing Up We Heard Pakistan vs India Is A Big Match Which Is There In Mind While Taking The Field
India has a 12-0 win-loss record in World Cups against Pakistan in World Cups-T20Is, ODIs. The two arch-rival teams had met at the ICC Men's T20 World Cup for the first time in the group stages in 2007 when India won in a bowl-out. India won the 2007 T20I World Cup by beating Pakistan in the final, while Pakistan won the next T20I World Cup in 2009.
"When it comes to India-Pakistan, it's always a high-pressure game. People from both the countries are more pumped up than they are when it comes to a different opponent. So, that energy automatically passes on to the players as well. Even while growing up we used to hear (Pakistan versus India is a big match ), so this thought is always there in your mind when you are out on the field playing the match," Pakistan left-arm seamer said.
The 36-year-old from Rawalpindi was a part of the playing XI during the 2007 T20 World Cup and knows well the pressure of playing against India, particularly in a marquee tournament like World Cup. But he acknowledges that the build-up and the pressure that comes along with facing India is also 'the most entertaining aspect of it'.
"And that is why the players look at it in a positive way and enjoy being a part of that contest. And when you are pumped up, you give your 100 percent and perform better," he said.
"There is always advice from the management to keep a check on nerves. Nothing much changes when it comes to team meetings or briefings. But yes, somewhere at the back of your mind you know it's a high-pressure game, so during the team discussion it is always mentioned  (don't take much pressure) and keep your nerves in check," Sohail Tanvir shared from his experience in Pakistan dressing room.
Sohail Tanvir has sounded a warning to other teams, saying Pakistan should not be taken lightly.
"I don't think Pakistan are underdogs. We have played enough cricket in the UAE and we are the ones who have played here the most. Players know the nature of pitches. I feel Pakistan is a strong contender to win the World Cup."

"In the context of India, people will say the lopsided win-loss ratio puts Pakistan on the back foot in the World Cup games, but I don't think past performances matter much. I feel it will be a neck and neck competition. Indian players are fresh from playing the IPL, so they also know what to expect from the wicket. So it is all about absorbing the pressure," Sohail Tanvir added.
Sohail Tanvir played 2 Tests, 62 ODIs, and 57 T20Is picking 5, 71, and 54 wickets respectively. He debuted in 2007 and his last T20I appearance came in 2017.
Sohail Tanvir: Pakistan's Middle Order Batsmen Haven't Got Enough Chances To Prove Themselves
Putting his weight behind Pakistan's middle-order, Sohail Tanvir said the players have not got enough chances to prove themselves.
"On most occasions, the players in the middle-order have got to play a few overs where the demand is to go for the kill immediately or perish. This gives an impression that our middle-order is weak, which is not the case. But yes, Pakistan's top-order is strong and the team is dependent on it," he said.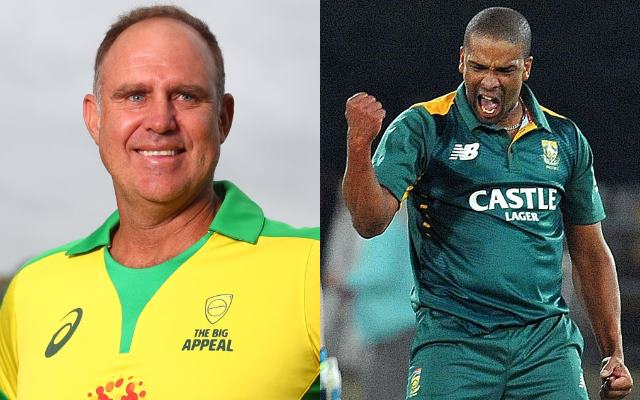 Pakistan has Mathew Hayden and Vernon Philander as their coaches/consultants who entered the system barely a month ago. The Pakistan pace bowler, who is an active player in leagues around the globe, feels gelling with the new coaching staff need not be a problem as franchise cricket has groomed the players to deal with such situations.
"I don't think adjusting with the new coaches can be an issue. These days everyone plays league cricket and it teaches you how to adjust and adapt quickly with new people around. League cricket has brought a lot of flexibility, (that is why the players adjust easily to the new surroundings)," Sohail Tanvir signed off.
Pakistan has won only one out of eight clashes from their neighbours in T20Is overall. This is a lot worse than Pakistan's overall record of 106 wins in 177 matches, with just 63 losses. In the United Arab Emirates, Pakistan has played 36 matches with 21 wins.