Who is better Test batsman Virat Kohli or Joe Root?
The romance of Test cricket is back in the cricket's calendar. Pakistan is trying to salvage their pride in England, while India launched an onslaught over the weak West Indies and Sri Lanka is set to host Australia in an interesting series from July 26. New Zealand is about to start their African safari in Zimbabwe.
The three virtues of Test cricket: success, record, respect is at stake. In a four-match series, India's golden boy Virat Kohli is leading his team from the front in Antigua. In the first Test of the Caribbean tour he scored a fine paced double hundred, the first of his Test career, and kissed the turf of the Sir Viv Richards stadium. The great man, after whom the stadium is named, was present in the commentary box and was overwhelmed by the Indian batsman's stroke play and heart touching celebration.
Kohli's double hundred help India to score a massive first innings total which gave bowlers the confidence to went through the West Indies batting attack asked them to follow on.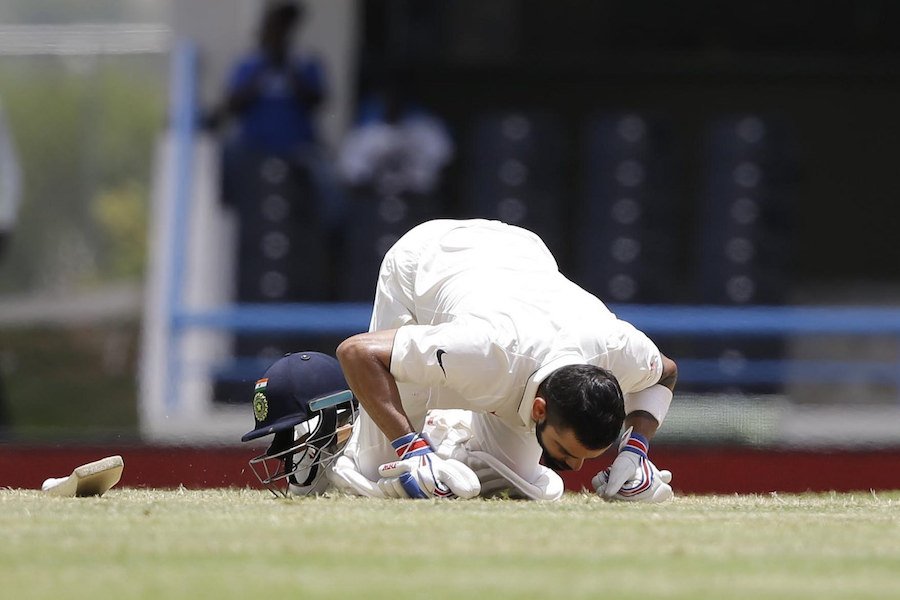 Meanwhile, on the other end of the Atlantic English star, Joe Root gave Pakistan's bowling attack a strong reply after the first Test defeat at the Lord's with his flurry of stroke play. He notched up his second double ton.  His 254, a personal best score, helped England to post a colossal first innings total which proved too much Pakistan, who are currently leading the series 1-0.
Micheal Vaughn believes Root is better than Virat
Root's innings prompted former England captain Michael Vaughn to draw a comparison with Indian star Virat Kohli.  Vaughn in a tweet wants to prove  England batsman Root is a better Test batsman than Virat Kohli. He said, "The numbers don't lie …".
Lara or Sachin?
Is Root really better batsman than Virat Kohli or it is only a buzz?  This question resembles the debate when Sachin Tendulkar and Brian Lara were rising stars in international cricket. There was a time when legendary batsman Lara was a competitor of Sachin Tendulkar. There was a debate in the cricket sphere. But Sachin was a right-handed batsman and Lara was a left-handed batsman so they were best in their own ways.
While Sachin is the great of all time in both ODI and Test cricket; Lara has a princely batting career in Test where nobody can make a claim or raise question because, in the history of cricket, Lara is one of the greatest batsmen for his ability to convert hundred into a big innings and played both Shane Warne and Muttiah Muralitharan brilliantly along with fast bowlers. His footwork and picturesque cover drive are still the best in the history of cricket.
But Sachin has a weakness against Murali and failed to convert his 100 into a big innings for which he was often criticized.
Virat has Sachin's problem
Now, back to Kohli and Root debate. In the limited-overs cricket, Kohli has exhibited that he is bound to break every cricket record with his superhuman batting display. In ODI cricket,t he gets a competitor in Hashim Amla and AB de Villiers. But, Kohli's attitude made him different from others. While Kohli has become a mega star in ODI and T20 cricket, he is yet to emulate his limited-overs success in Test cricket.  He has scored four hundreds in the four-match Test series against Australia Down Under. He got a good chance to win the first Test of the series , but his aggressive batting cost India a match in Australia, be careful to not blame Kohli only, as other batsmen failed to cope with Nathan Lyon's spin at Adelaide. But Kohli's batting helped India to draw two matches as well. He has so far scored 12 hundreds and a double hundred. Out of his 12; nine hundred has gone in vain, as either India lost the match or drawn.
Kohli failed to convert his hundred into big innings. So far he has seen his career high in Australia when he scored four hundred in a series, but his problem to soak the pressure is still invisible and awkwardness is apparent.
Kohli failed to emulate his limited over success in Test cricket. He has played 73 innings so far and has an average of 46. 28. It is right that over the time his average will improve, but will he be able to overcome the problem Sachin has – inability to convert hundred into double hundred?
Meanwhile, Joe Root, who unlike Virat Kohli made his limited over debut a year after the Test debut, is a proven star in Test cricket. Root made an impressive Test debut in 2012 when England was touring India. A 21-year-old Root in the Nagpur Test scored 73. The match was drawn. Virat scored a hundred in the same match, but England batsmen nullified India's toothless bowling attack and carried the moral victory to the next Test.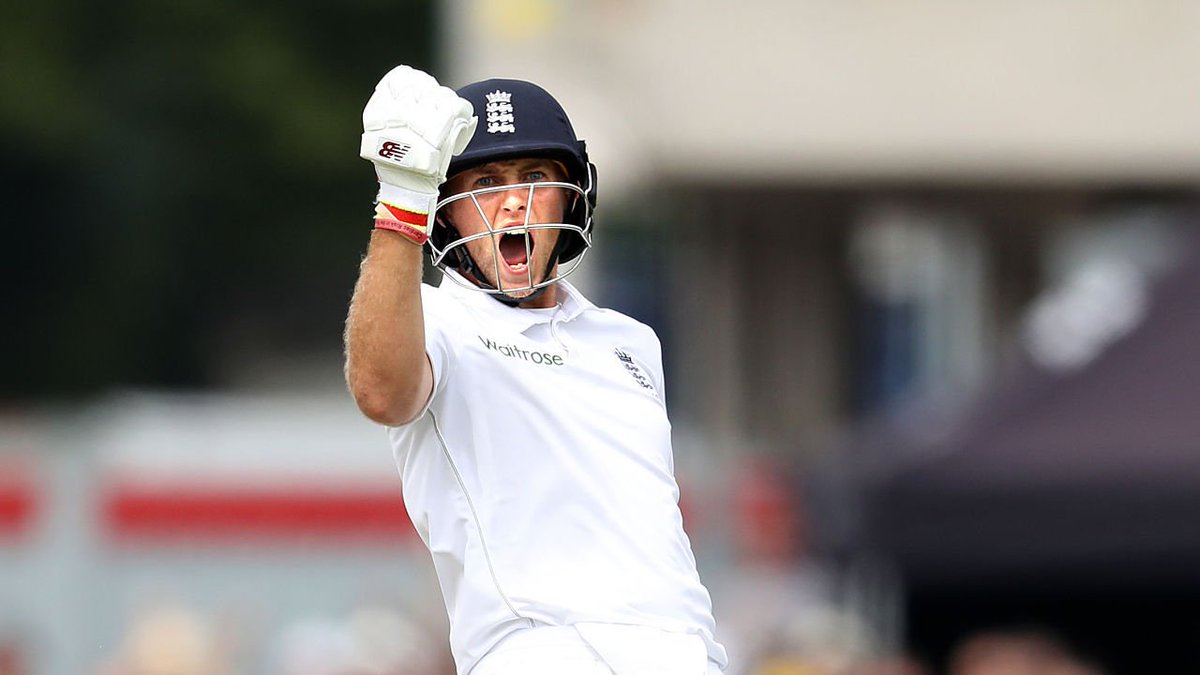 Root scored his first hundred against New Zealand at Leeds. Root's eight hundred have come at home, and other two he scored are against West Indies at St. George, and against South Africa's  at New Wanders in Johannesburg in earlier this year (2016).
Root is yet to earn a certificate in overseas conditions 
But unlike Virat, he failed has failed to succeed on the foreign soil. While Virat scored his eight hundred on overseas conditions Root's six hundred came at home. During India's disastrous tour of Australia in 2012 Virat was thrown to the wolves of Australia led by Starc but the young Indian batsman showed his gut and scored his maiden hundred.
Root may have 50 plus Test average he is yet to prove his skills in overseas conditions. Root also got a good psychological support as England has a good batting and bowling attack in their ranks. So, on suitable conditions scoring hundred is not much difficult. However, there is no doubt Root batting skill at seam and swing friendly conditions is brilliant, but he has grown up playing at these conditions.
Virat has scored a hundred almost every country, whereas Root has scored his overseas hundred against South Africa and West Indies playing more innings than Virat. But Root is just 25 now so his age will help him to grow and improve his overseas records and with Kohli, two years older than him  have to keep more patience while playing Test cricket.
In comparison to Root, Virat's India average is decent 46.04 and at the same time, Root has an astonishing average of  60 in home conditions. But if you compare the overseas record of both you will have to say Root is nowhere close to Virat for the time being.
Look at this chart:
| | | |
| --- | --- | --- |
| Virat Kohli (India) | Overseas conditions | Joe Root (England) |
|  62 (8 matches) | Australia | 27.42 (4 matches) |
| 71.33 (2 matches) | New Zealand | 17.60 (3 matches) |
| 68 (2 matches) | South Africa | 55.14 (4 matches) |
| 46 (4 matches) | West Indies | 89.50 (3 matches) |
| 13.40 (5 matches) | England | 60 (26 matches) (home) |
| 46.04 (17 matches) (home) | India | 93 (1 match) |
However, Virat Kohli has to improve his home record, but this West Indies series may change his career as against the feeble bowling attack Virat has a chance to improve his batting average.  He proved himself in overseas conditions, but Root is yet to do so against three big teams in Test cricket, Australia, South Africa and New Zealand.
Micheal Vaughn may think Root is a better batsman than Kohli, but Root is yet to show his skill in overseas conditions. My opinion is Virat and Kane Williamson debate is more valid than  Root and Virat.
(UAE records are not considered as India boycotted to play Pakistan, but Root has  57.40 average at the spin-friendly conditions and Virat has played at Sri Lanka and Bangladesh, and Root is not).