Ronaldo is not as talented as Messi. Let us accept this fact. Even if you are a die-hard fan of Ronaldo, accept this fact. You know it is true.
How is it then possible for Ronaldo to emulate Messi? How could he win two successive Ballon d'Or trophies beating Messi to second-place each time?
Finally a new face winning the Ballon d'Or trophy in successive years after a 4 year dominance by Messi. It looked all too easy, but was it really? No. It wasn't. Not even one bit.
Ronaldo had to slog and tear himself apart to win the last two Ballon d'Or trophies. Does that mean Ronaldo is not talented? Ofcourse, he is. It is just that he is not as talented as Messi.
Remember the lines, "Hardwork beats talent when talent doesn't work hard"? That is kind of what happened in this case.
Messi works hard but Ronaldo works like a beast. He would have never won another Ballon d'Or if he had not trained like a beast. His physique says it all. His dedication and commitment to win titles and be the best is reflected in his lifestyle.
Ronaldo from being a promising young kid with Manchester United has turned into a goal machine with Real Madrid. The transformation into a champion from being just another skilled footballer, did not happen overnight.
Here are 5 reasons why he is successful and clicks as a footballer
#1 Messi
The number 1 reason for Ronaldo to be successful is Messi.
Nothing is as healthy as a good competition and you could not thank anyone more, than your best competitor.
Messi pushed Ronaldo to be what he is today. If it weren't for Messi, we would not have seen today's Ronaldo. So, thank Messi.
Ronaldo all through his career was compared to Messi and was always handed the sweet second spot behind the Argentinian. This made Ronaldo rise up. It added an extra motivation to do better and push limits. That is how the Portuguese star found a new dimension to his career.
It is no time to look back for Ronaldo. It is true that he has to sweat everyday, to stay where he is, but he is used to it now.
#2 Passion
Ronaldo is passionate about Football. He is more passionate than a lot of footballers. He wants to win and does not want to lose. He is not scared to show emotions on field. That makes Ronaldo a better player.
Have we seen him cry? Yes. A lot of times. Heartbroken and fire in eyes. That makes him a better footballer.
He does not wake up everyday with the same broken heart. Ronaldo doesn't want people to see him weak. He wants him to be remembered as someone who is strong and unstoppable. That makes him work everyday towards success.
A footballer willing to die for winning. That makes Ronaldo successful. His tears of success after winning the Ballon d'Or 2013 assured him that he was on track and he will be, for years to come. We will see an improved, skilled, faster and stronger Ronaldo every new day.
#3 Dedication
Ronaldo never misses training. His former manager at Manchester United, Sir Alex Ferguson said that, in the 6 years that Ronaldo was with them, he never missed a training session.
His dedication to excel makes him successful. Ronaldo takes his training sessions seriously to push his limits. He never shies away from hard work.
He has his training sessions almost everyday. He knows that he has to do them to stay successful.
Ronaldo's teammates at Real Madrid have said that he never plays during training. He however is all fun after a commited training session.
Guess, all work and no play makes Ronaldo a dull boy too!
#4 Workout & Physique
Fitness programs featuring the tag line, "Train like an athlete" is now being replaced by a different, all suitable "Train like Ronaldo" tag line. This just affirms the athletic abilities of Ronaldo and his fitness level.
One of the major reasons for Ronaldo's success is his physique and fitness. His giant lungs and a perfectly shaped athletic body can take on any bodily obstacles, come what may.
Ronaldo himself has said that physical strength is as important as mental strength. He takes care of his body and understands it. He works out, lets his muscles relax and recover. He then feeds them again.
He has been the target of the opposition for long and if he does not concentrate on his fitness, he is doomed. His rough and tough game with sprints and high altitude jumps would never be possible with a body like Messi's.
Ronaldo also maintains a strict diet plan and sticks to it. He is commited to succeed and never goes off diet.
The combination of athletic endurance and perfect diet has turned Ronaldo into a superhero. His hardwork and discipline has made him taste success, sweet.
#5 Skill
No wonder Ronaldo is skilled. He has won three Ballon d'Or trophies. He could not have won three with just plain luck or good grace. He is skilled, if put right, he is super-skilled.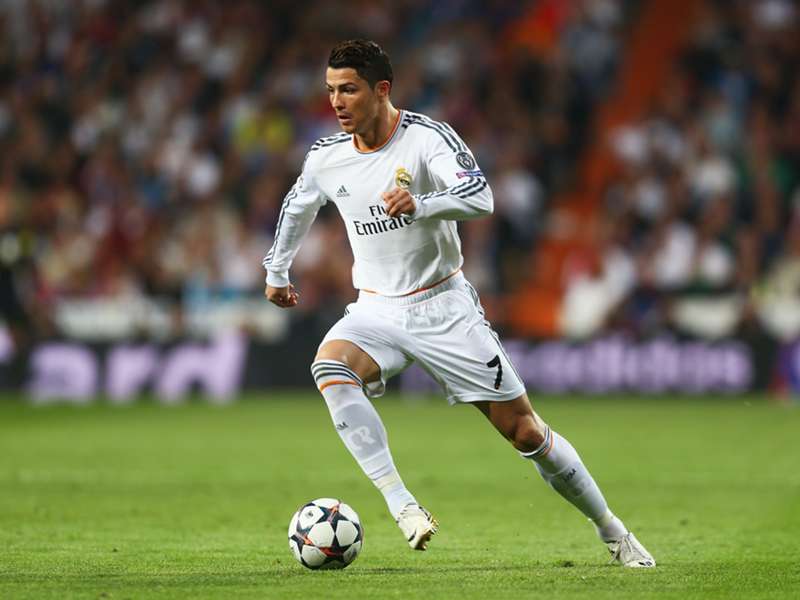 But, what is more appealing to see in Ronaldo is that he does not stay stagnant. He does not get satisfied with himself. He searches for more and looks for ways to improve him and his game. This has made Ronaldo evolve into the cyborg as we know him today.
His tackles, dribbles, deceptions, kicks and headers are all top-notch. His game has only kept improving and reaching new levels each year. His ability to introspect and do more has won him more. Not just titles but also hearts.
He is one rare breed of footballers willing to do anything to win. His insatiable hunger for goals and unquenchable thirst for success have made him the most feared player on planet.
No wonder a goalkeeper gets so nervous when he sees Ronaldo approaching the goal………………………………………reeeeaaaall fast!!