Aakash Chopra has expressed grave concern over Indian pacer Bhuvneshwar Kumar's indifferent form for the Sunrisers Hyderabad (SRH) in IPL 2021. He added that the swing bowler is unlikely to make Team India's starting XI at the upcoming T20 World Cup if he continues in the same vein.
Bhuvneshwar Kumar conceded 34 runs in his four-over spell and failed to pick up a wicket in SRH's loss to the Chennai Super Kings (CSK) in last night's Indian Premier League encounter. He conceded 13 runs in the penultimate over when the MS Dhoni-led side required 16 to win off the last two overs.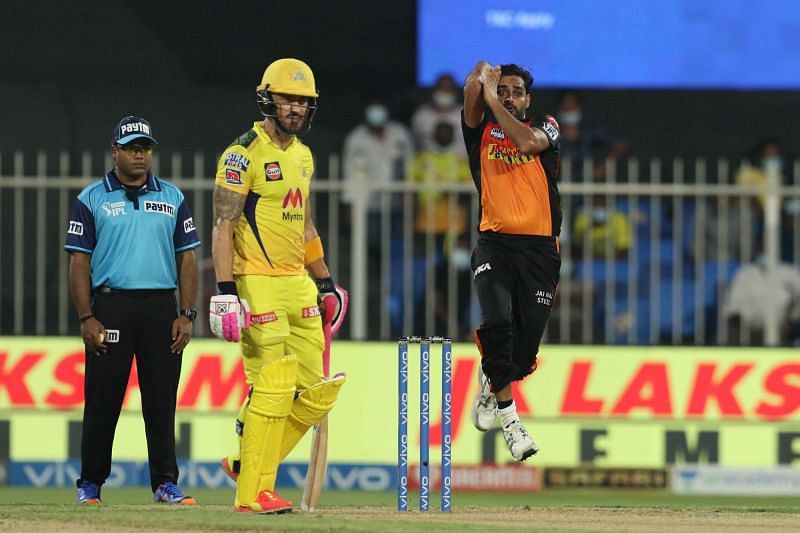 Aakash Chopra Concerned About Bhuvneshwar Kumar's Insipid Bowling
While reviewing the SRH-CSK encounter in a video shared on his YouTube channel, Aakash Chopra highlighted that Bhuvneshwar Kumar's insipid bowling will be a matter of huge concern for Team India.
"I am getting a little concerned about Bhuvneshwar Kumar's form. If the World Cup were to start tomorrow, you would not play Bhuvneshwar Kumar in the XI because the form is just not there," said Aakash Chopra.
The former India cricketer added that Bhuvneshwar Kumar has slipped down the pecking order of Indian seamers.
"He is struggling a lot and we have only three fast bowlers in the Indian team – Shami, Bumrah and Bhuvi. Bhuvi was my second choice with Bumrah but at this moment, he is no longer second but has become the third."
The Indian selectors will be watching Bhuvneshwar Kumar closely during SRH's remaining three matches in IPL 2021. They could even consider replacing the 31-year-old pacer with either Shardul Thakur or Deepak Chahar, who are currently in the reserves named for the T20 World Cup. SRH is out of the IPL 2021 playoff race and will likely make changes that give some of the players much-needed rest.
Bhuvneshwar Kumar has a massive haul of 141 wickets in 130 IPL games averaging 25.12, which is much better than IPL 2021 bowling average- a below-par 58.
Aakash Chopra: Bhuvneshwar Kumar Isn't The Same Bowler At This Moment, But Hopefully He Will Bounce Back
Aakash Chopra signed off by stating that Bhuvneshwar Kumar is far from his best and needs to raise his game.
"He is not the same bowler at this point in time. There is a lot of class, they say form is temporary and class is permanent and he will bounce back. Let's hope that he bounces back but at this point in time, he is looking a patch on who he was and it is a sad story."
Bhuvneshwar Kumar's form is really concerning. He really needs to take his game a notch higher. Going by the current form of players, the Indian team has really slim chance of winning the T20I World Cup.
Besides, the likes of Suryakumar Yadav, Ishan Kishan, Hardik Pandya, and Rahul Chahar are not in great form to speak of in IPL 2021 at UAE. While the squad discards like Yuzvendra Chahal and Shikhar Dhawan are playing well, it will be seen whether India changes the team within the October 10 deadline.
Bhuvneshwar Kumar has been laid low with multiple injuries lately, has consistently bowled in the 120-130 kph range and has not got the ball to move much either. He has also struggled to nail the yorkers at the death, which has compounded his misery. As a result, he has picked up only five scalps in IPL 2021 from 9 games averaging a disappointing 58 and leaking runs at more than 8 per over.