Arun Dhumal, BCCI treasurer spoke on IPL 2021 being suspended indefinitely in a chat with The Indian Express,  and several other issues pertaining to IPL.
The BCCI officials endured some sleepless nights with Covid-19 cases coming over the last few days. With several members among IPL franchises testing positive, the Board had no option but to postpone the tournament.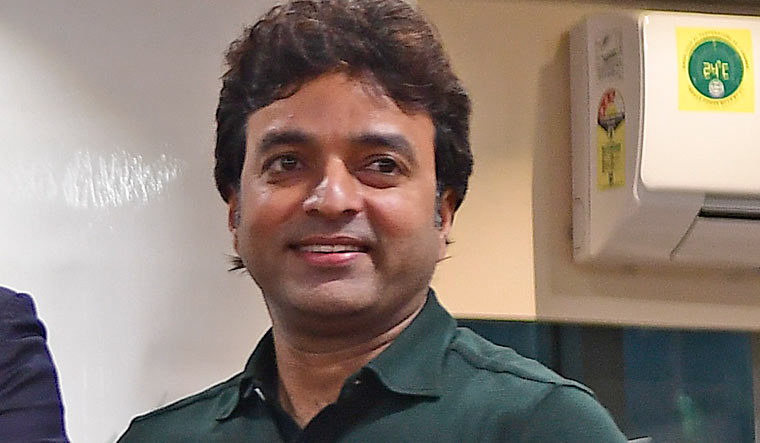 Arun Dhumal: Safety Was The Paramount Concern
The latest development to trigger a total rethink on the ongoing IPL 2021 tournament is the positive COVID-19 test result of Sunrisers Hyderabad's Wriddhiman Saha and Delhi Capitals' Amit Mishra.
The development comes after the Wednesday game between Chennai Super Kings and Rajasthan Royals was postponed after CSK bowling coach Laxmipathy Balaji tested positive. On Monday, the match between Kolkata Knight Riders and Royal Challengers Bangalore was also postponed after KKR bowlers Sandeep Warrier and Varun Chakravarthy tested positive.
"We were continuously reviewing the situation with regards to Covid-19 and safety of the players. We had two cases first and then got news that an official and another member of the franchise had been infected. So, keeping health and safety in mind, it was best to postpone the tournament. Nothing else matters for us other than safety, it's the paramount concern," said Arun Dhumal on last few days.

"The BCCI was worried and we were trying to find out how it happened. The first case we got to know was of Varun Chakravarthy. He was supposed to go for a scan. We felt he might have got infected. Then a second case came in. Now rather than finding out how it happened, all felt that first, we should make everyone safe and secure. Safety, at this moment, is paramount for us,"said Arun Dhumal on the reaction of BCCI when it was learned Covid had entered bio-bubble.
"BCCI secretary (Jay Shah) was in touch with everyone, so was IPL chairman (Brijesh Patel). The secretary briefed us about the situation. He told us what was happening and what we can do now. He suggested that looking at the situation, it was better to postpone. Everyone agreed with the secretary's view," said Arun Dhumal on discussion in the emergency meeting.
On Monday, two members of the Chennai Super Kings' IPL contingent too – bowling coach Laxmipathy Balaji, and a bus cleaner – had tested positive for Covid-19. CEO Kasi Viswanathan's second report came negative in the evening. However, Laxmipathy Balaji and the team driver continued to be positive.
Arun Dhumal: IPL Could Have Been Held Overseas If BCCI Had Known Condition Would Deteriorate After A Successful England Series
IPL 2021– the 14th edition of the Indian Premier League was played across 6 venues in India from April 9 to May 30. Chennai, New Delhi, Kolkata, Mumbai, Ahmedabad, and Bengaluru were the venues selected by the BCCI.
"In a normal scenario, we would have had more venues, like Indore and Pune. They also used to host IPL games. When we were conducting the England series, everything went so smoothly that we thought that it's time to take cricket back to each zone."

"We all thought that after what the country went through in 2020, the IPL will boost the spirit of the country. When the England series was conducted in Ahmedabad, Chennai and Pune, the situation was far better. As things went so smoothly, we all were quite confident that we will be able to conduct the IPL smoothly. Had we known, we could have held the IPL overseas," said he on picking several venues.

"It was never discussed then because nobody knew what was coming. When we started, Mumbai was the worst- affected city. Then too, there would have been criticism. At that point in time, this was the best option we had," said Arun Dhumal on helding IPL in one city only.

"Shifting the IPL back to Mumbai wasn't viable or possible in such a short span of time. Setting up a new bubble takes around 14 days. Any city can see a spike at any point, "said Arun Dhumal rejecting any discussion held regarding shifting of IPL to Mumbai after positive cases arising.
"There are people who are experts in criticizing. We believe in doing the best we can. It's a hallmark of BCCI and we tried our best. We don't go by people's criticism. We gave it our best shot," said Arun Dhumal on criticizm of having IPL during Covid-19.
"The IPL is not complete until our players and officials reach their homes safe and secure. We are working on that and will come out with a detailed plan in two days," on sending foreign players home.

"We haven't discussed anything as all our focus is now on ensuring players, support staff and officials reach home safely. When a window is available, we will hold it," on resumption of IPL 2021.

"At this point, it's the least of our concerns. We are not thinking about it," on revenue loss.
The IPL 2021 season had to be suspended after 29 games in the campaign. IPL Governing Council chairman, Brijesh Patel, has confirmed that the BCCI is looking at pre and post-T20 World Cup windows to organize the remaining IPL 2021 games. Brijesh Patel said that the remaining 31 games of IPL 2021 are likely to either be held before this year's T20 World Cup or after it. BCCI vice-president Rajiv Shukla has clarified that IPL 2021 has not been cancelled, it has only been suspended indefinitely.