The young wrist-spinning duo of Kuldeep Yadav and Yuzvendra Chahal has done tremendously well in South Africa. India banked on them to script their historic series win in the Rainbow Nation. Further, India defeated South Africa 5-1 to decimate the host.
However, this has sparked a debate over Ravichandran Ashwin and Ravindra Jadeja's comeback into the Indian limited overs squad. With the 2019 ICC World Cup looming ahead, team India will look to settle their squad.
Kuldeep and Chahal's fearless approach and wicket-taking abilities, especially on adverse conditions, has impressed cricket fans across the globe. They are lauded by the cricket professionals for their attacking quality.
The rise of wrist-spinners:
Since 2015 World Cup, the cricketing fraternity witnessed a shift from finger spinners to wrist spinners. Also, the top three most successful spinners in ODIs have been wrist spinners. England's Adil Rashid, Afghanistan's Rashid Khan, and South Africa's Imran Tahir took 60-plus wickets in this period.
However, New Zealand's Mitchell Santner was the highest wicket-taker among finger spinners.
With Ravichandran Ashwin and Ravindra Jadeja having a poor show in the Champions Trophy, India drafted in unorthodox left-arm leg-spinner Kuldeep Yadav for the Windies tour, right after the Champions Trophy. Kuldeep returned with eight wickets from the four matches which almost sealed his spot.
Chahal, who featured in the T20Is till then was called up for the ODI series against Sri Lanka. He continued his T20 form and immediately became a go-to bowler for Virat Kohli.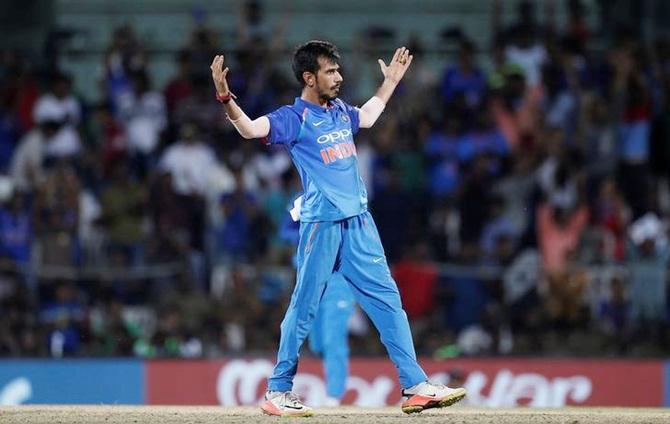 Growing in stature:
India continued with Yuzvendra Chahal and Kuldeep in the Sri Lanka series. However, many thought that the Indian team management has decided to give Ashwin and Jadeja rest with Sri Lanka going through a transition period. The duo grabbed the opportunity with both hands as they tore apart the Sri Lankan batting line-up.
The team management shocked everyone when they sidelined Ashwin and Jadeja from the Australia series. However, to everyone's surprise, the young duo came victorious over a star-studded Australian batting line-up. They did the bulk of the job leading the wickets tally.
It was followed by New Zealand and Sri Lanka series and the success story of India's wrist-spinners continued. Although they leaked here and there, overall they bowled some top spells foxing the batsmen.
Even, Chahal finished 2017 as the highest wicket-taker in T20I cricket.
South Africa series:
Kuldeep and Chahal's success in an alien surface in South Africa has earned them praise from the cricketing fraternity. However, many raised question when team India decided to go with these two young sinners for all-important South Africa series.
The duo single-handedly tore apart the South African batting line-up. They bagged 33 wickets as a pair, the most by Indian spinners in a bilateral series. While Kuldeep returned with 17 scalps, Chahal bagged one short of him. Also, this is the most number of wickets picked up by spinners in a bilateral series against South Africa in South Africa.
South African batsmen have found hard to tackle them. South African batsmen lost the series trying to find an answer to India's young wrist-spinning duo. Kuldeep and Chahal's top show was the highlight of the ODI series.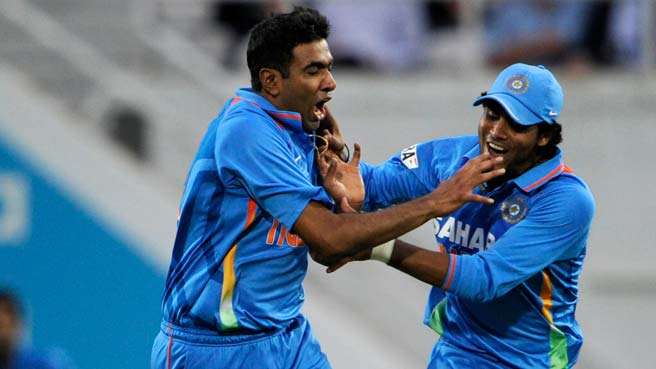 Ashwin-Jadeja's comeback:
With numbers against them, it is very unlikely the premier spinning duo from Test cricket will make a come back in the limited overs cricket.
Ashwin's last One-day International came in June 2017 while Jadeja previously played an ODI in July same year. This was during the tour of West Indies.
The 2017 ICC Champions Trophy saw the beginning of the end of Ashwin and Jadeja in colored jersey. Jadeja finished with four wickets in the tournament at an average of over 62. While Ashwin returned with a sole wicket which came at a painful average of 167.
Overall, Ashwin averages around 33 with a strike-rate of 40 after 111 matches while Jadeja averages 35.87 with a strike-rate nearing 44 after 136 matches. These statistics talk a lot about their lost dominance in the white-ball game.
Former India pacer Atul Wassan also joined the debate and dismissed any chances of India's experienced spin pair of Ashwin and Jadeja being in India team for the 2019 Cricket World Cup in England.
'X-factor' in the World Cup:
Recently, India skipper Kohli showered heaps of praise on the young duo. Further, he added they are match-winners and will be a massive x-factor in the upcoming World Cup.
"The thing is very simple," Kohli said. "They are told to go for wickets at all times. When you are going for wickets you are bowling in areas that are uncomfortable for the batsmen and more often than not they end up defending. When you bowl wide and try to save runs then you give an opportunity to take singles also.
"They might get hit for 70-odd in the next game. But there is no problem in that because you know that if they bowl attacking lines then they will end up picking two-three wickets every game. In these conditions now and we are going to play the World Cup away from home, that I think is going to be the massive x-factor for us," Kohli said after wrapping the series.
Former India skipper Sourav Ganguly recently stated that if Kuldeep and Chahal keep picking wickets like this then no one will be able to defeat India anywhere.
With few important series lined up ahead of the World Cup, they will gain some more experience. With trust and support of the captain and team management behind their back, they can be India's 'X-factor' in the upcoming World Cup.