Things might not be going well in England for Ben Stokes, but the flamboyant all-rounder is having a good time in New Zealand, as hours after Avon and Somerset Police confirmed it had transferred the player's case file to the Crown Prosecution Service for advice on charging, Canterbury signed stokes.
The controversial player has been signed, as the club's overseas recruit for the ongoing domestic season. Stokes is currently suspended from playing international cricket by the England and Wales Cricket Board, but the English board has given the player the No Objection Certificate (NOC) to ply his trade in New Zealand's domestic cricket. The 26-year old will be available for the defending champions in their Ford Trophy match against Otago, scheduled to be played on December 3.
Gary Stead, director of Canterbury Cricket Association, while confirming the developments welcomed Stokes in the club and said that the star allrounder would bring the much-needed international to 'a relatively youthful changing room'.
"After the approach from Ben's representative's everything has happened very quickly for us to the extent that we are now delighted to welcome Ben into the team," said Stead. "Ben will bring international experience to what is a relatively youthful changing room. He will also bring depth to our seam attack which has been affected by a string of injuries and provide more balance and firepower to our batting line up.
Stead further said the player, while awaiting the outcome of the ongoing investigation, wants to stay fit and remain in touch with the game.
"While Ben awaits the outcome of an investigation underway in the UK, he wants to maintain his fitness and his connection with the game. He is a brilliant all-round player, and we are really pleased to have secured one of the world's best players in our domestic competition. His experience will be invaluable to our young cricketers as we look to defend our Ford Trophy title and improve performances in the Burger King Super Smash. The team have expressed their excitement about the opportunity to learn from and play with Ben," Stead added.
The England star landed in New Zealand on Wednesday (November 29), raising speculations that he might join England's Ashes squad after getting some match practice in the friendly conditions. On the very day, the Avon & Somerset police announced it has completed its investigation into Stokes' alleged brawl outside a Bristol nightclub and has transferred the case to the Criminal Prosecution Service, thus dealing a big blow to Stokes' hopes of playing in the ongoing Ashes.
Stokes got arrested in the early hours of September 25 on suspicion of causing actual bodily harm. He was, however, soon released, while being under investigation.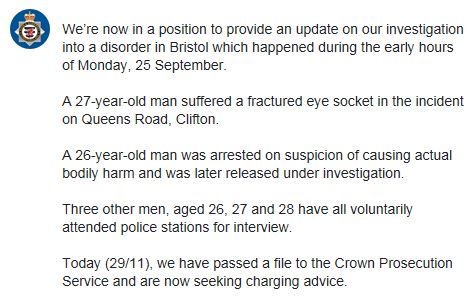 Meanwhile, Canterbury's decision to sign Stokes has come after former New Zealand batsman Peter Fulton, the Kings' all-time leading run-scorer, had questioned the move, stating that how could the player be permitted to play for Canterbury if he was suspended from national duties.
However, Jez Curwin, Canterbury Cricket Association chief executive, has insisted the clubs have decided since Stokes is still not charged for his actions.
"While it would be easy to draw direct comparisons between the position taken recently with another player, we have to reiterate that in that situation the player was free to play until such time as he pleaded guilty to the charges," Curwin said.
"We believe Ben has the right to be treated the same way as other players. It is also our understanding that Ben would be free to play county cricket in the English domestic competition were they in season. Of course, as with all players, we can reassess the situation should it change.

"Whilst we have spoken to the ECB there are a lot of sensitive facts around Ben's matter that we have not been privy to however having spent time with Ben we are very comfortable that he wants to come to play for Canterbury for all the right reasons and get back on the park," Curwin added.
Also Read: (Breaking: Ben Stokes Case File Passed On To Crown Prosecution Service)
(Ashes 2017/18: Ben Stokes Should Not be Allowed to Play the Ashes – Shane Watson)
Video of the day:
Get the latest news and updates from Indian Premier League, ICC World Cup 2019, Match Prediction & Fantasy cricket. Follow SportzWiki for all cricket news, WWE News & Sports News.
Prince Singh
An avid sports lover, i always wanted to pursue a career in football. But just like the millions out there i did not put in the hard work needed to achieve my dream and now i have become a fan instead of the player. Anyway, writing for sports has kept me closer to this field. One more thing, yours sincerely is a die-hard Liverpool fan. You will never walk alone.
Related posts
ICC Cricket World Cup 2019: Virat Kohli Congratulates The Champions England
Indian captain Virat Kohli congratulated England cricket team for winning the 2019 ICC Men's Cricket World Cup. Kohli enjoyed the…
WWE Releases Emotional Video Involving Seth Rollins & Becky Lynch After Extreme Rules Went Off-Air
WWE Extreme Rules 2019 ended on a controversial note as Brock Lesnar, accompanied by Paul Heyman – Raw's Executive Director…