Cheteshwar Pujara, an Indian batsman has said that the entire team is really proud of how they performed in the second Test against England.
At the start of Day 5, England looked like the favourites to win the match. But Jasprit Bumrah and Mohammed Shami showed class with the bat, and then an epic bowling performance sealed the deal for the visitors.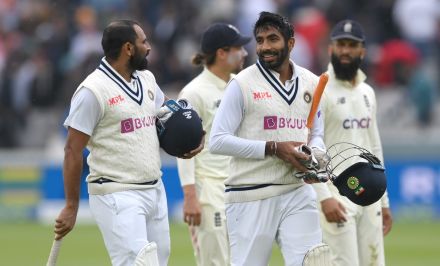 Cheteshwar Pujara Feels Great As Winning Any Test In England Is Special
Ajinkya Rahane(61) paired with Cheteshwar Pujara (45) to put up a solid 100-run stand for the fourth wicket to put India in a comfortable position. In their second innings, India was in a spot of bother at 181 for 6, when stumps were drawn on day four, leading by 154 runs. India lost 2 more wickets and was 209/8 before the duo's arrival.
The pair of Jasprit Bumrah and Mohammed Shami added an unbeaten 89-run stand for the ninth wicket as India declared at 298-8; setting up a stiff 272-run target for Joe Root-led England which proved more than enough.
"It is a great feeling, winning any Test in England is special. We had our chances in the first Test, but we won this one, we are really proud of how we played in this Test. It was a team effort, everyone contributed. It is a great start to the series, but there is a lot to play for. We are really proud of how we played in the first two Tests," Cheteshwar Pujara said in a video posted on bcci.tv.
On his 100-run partnership with Ajinkya Rahane, Cheteshwar Pujara said: "The most important thing was to stay at the crease and see out good spells, we knew it would be easy to bat when the ball gets soft."
Day 5 of the Lord's Test, between India and England, started with only two results looking possible. Virat Kohli-led India had to bat really well and take the lead beyond 220 or so, with only four wickets in hand coupled with a long tail, as England started as overwhelming favourites to wrap up India's batting and post a win.
Ajinkya Rahane: India Isn't Complacent As There Are 3 More Tests To Go
Resuming from 181-6, leading by only 154 runs, India was soon reduced to 209-8, losing both their overnight batsmen in the form of Rishabh Pant and Ishant Sharma before the pair of Mohammed Shami and Jasprit Bumrah's partnership changed the course of the match, tilting it in favour of India.
Talking about the win against England, vice-captain Ajinkya Rahane said: "This win means a lot to us, but this is just one Test, there are three more to go. We are not complacent, we just want to enjoy this win. I am really happy."
England battled hard, but their top order failures led to their downfall with the team being steamrolled for just 120 in the second innings, handing visitors a win by 151 runs.
The experienced duo of Cheteshwar Pujara and Test vice-captain Ajinkya Rahane have not been at their best of late, averaging in the 20s this year. Despite the knock of 45 in the second innings, Cheteshwar Pujara averages 28.93 in 2021 while Ajinkya Rahane who scored 61 in the 2nd innings in the Lord's Test averages 22 playing 9 Tests in 2021.
Mohammed Siraj (4/32) and Jasprit Bumrah (3/33) came up with brilliant bowling performances as India bowled England out for 120 to clinch victory by 151 runs. Mohammed Siraj picked up 8 wickets in the two innings combined in the Test and proved to be a game-changer for the side.