Dinesh Karthik revived his international career in early 2018 with his 8-ball unbeaten 29 knock which helped India beat Bangladesh in the Nidahas Trophy final. Dinesh Karthik made his debut for India in 2004, earlier than MS Dhoni. However, unlike the latter, he failed to cement his spot in the Indian team.
There have been periods in his international career when he has done exceedingly well but in some time, his form dropped and he was left out. Something similar happened to him after the 2019 World Cup.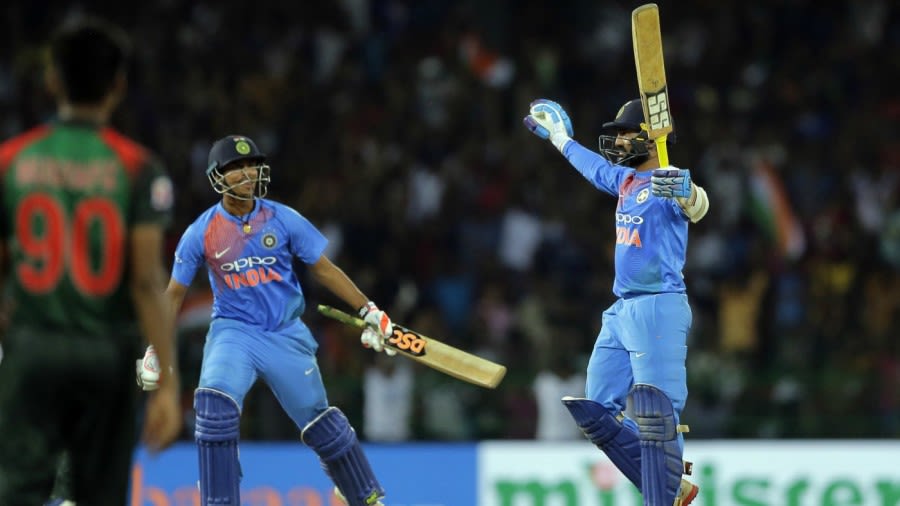 Dinesh Karthik Hopeful Of A Comeback In The Indian Squad For T20I World Cups In 2021 And 2022
He played for India in the semi-final, where he batted at no. 5, with minimal returns. This resulted in him getting dropped, which seemed like a decision taken by the selectors considering Dinesh Karthik's age. However, the Tamil Nadu wicketkeeper-batsman has revealed that he is hopeful that he can make a comeback in the Indian squad for the T20 World Cups which are scheduled in 2021 and 2022.
Dinesh Karthik hit an unbeaten 29 off just eight balls to get India past their 167-run target in a tense chase of a dramatic final at the R. Premadasa Stadium against Bangladesh in the 2018 Nidhas Trophy. This gave him a reputation as a finisher and T20 specialist. Since then, he has done well in the format. He has emerged as one of the more skilled T20 batsmen in the IPL and Syed Mushtaq Ali Trophy, where he led Tamil Nadu to a title win earlier this year.
Dinesh Karthik's Aim Is To Play For India In The T20I World Cups As He Feels Selectors Want To See Fitness Rather Than Age
Dinesh Karthik played 26 Tests, 94 ODIs, and 32 T20Is. His last Test came in 2018, while his last limited-overs appearance came in the 2019 World Cup.
"What they want to see is not the age but how fit you are. If you can get through the fitness tests, it means you are ready to play for the country. My aim is to play for the country in the T20 World Cups. There are back-to-back T20 World Cups, this year and the next year, and I am doing everything I can to be a part of that," Dinesh Karthik told Cricket Next in an interview.
Dinesh Karthik's run in the IPL 2020 and 2021 hasn't been that great but as an experienced player, he could be a valuable asset for India in the middle order during the T20 World Cup.  He expressed that he did well in T20Is until the 2019 World Cup.
"I know I have done really well in the past and even when I got dropped from the team after the World Cup, I thought I had done phenomenally well for India in T20s up till then, but because the World Cup did not go well, I got chucked out of the T20 as well."
The cricketer further noted that there are finishers in Hardik Pandya and Ravindra Jadeja, but he is eyeing the role of the middle-order specialist batsman who can also finish the game, a role which he has been perfecting in T20s since he revived his career.
Dinesh Karthik, who gave up KKR's captaincy during the last season of the IPL mid-season, has been serving as Eoin Morgan's deputy since. However, 2019 World Cup winner England's Eoin Morgan's captaincy hasn't been fruitful for the Kolkata franchise as they have won just 5 out of 14 games they have played under his leadership.
Dinesh Karthik has said that he is ready to captain the Kolkata Knight Riders (KKR) once again when the IPL 2021 edition in case regular captain Eoin Morgan doesn't get permission from the England and Wales Board (ECB) to travel to UAE for the tournament.
The IPL 2021 was suspended in May by the BCCI after COVID-19 cases got out of hand in the teams' bio-bubbles as multiple players, coaches, support staff, and ground staff caught the virus. Recently, the BCCI announced that the remainder of the IPL 2021 consisting of 31 matches will be played in the Sept-Oct window in UAE.