India is a prominent name in the world for its culture, heritage and sports, and sportsmen who visit the country for their sports schedule often come back to explore more of it. These players, not only got bowled over by the scenic locations of India, were swept off their feet by the Indian beauties as well.
Here goes the list of the most talked-about ones:
1) Shaun Tait and Mashoom Singha:
The 'Wild thing' of world cricket met his love of life Mashoom Singha while playing for Rajasthan Royals in the year 2010. 3 years later he proposed this Mumbai-based beauty in Paris. Fast as his deliveries are, they tied the knot within a year in Mumbai dressed up in Indian traditional outfits.
Mashoom Singha, a model and wine entrepreneur herself, is heard to settle down with her speedster Australian husband in South Australia.
2) Glenn Turner and Dame Sukhinder Kaur Gill Turner:
A truncated tour becomes the most important one in the Kiwi opener's life and how. One of the best cricketers the world has ever seen, Glenn Maitland Turner, while touring India for the first time as the member of New Zealand cricket team,  met his better-half to be in a social gathering in the city of Mumbai. The year was 1970 and lady Turner, then Sukhinder Kaur Gill was studying in the university. "It was pretty difficult for two young people to socialize during those days, especially for a boy and girl," Glenn later quoted in an interview.
Though difficult at that time, they managed to hold onto their relationship and finally the both got married in the year 1973 and are happy parents of two children. Sukhinder later became the Mayor of Dunedin ( 1995-2004 ) after settling down in New Zealand and is a known Indian face in New Zealand politics.
3) Mike Brearley and Mana Sarabhai:
Who will learn a completely different language for around four years for his lady love? Mike Brearley will! The '81 Ashes hero married Mana Sarabhai, daughter of famous industrialist Gautam Sarabhai and to match up to the requirements of his father-in-law of having "a son-in-law who has sound knowledge about Indian culture", Brearley hired eminent Gujarati poet Saroop Dhruv.
The couple met for the first time when the English team toured India during 1976-77. Mr and Mrs Brearley are blessed with two children.
4) Zaheer Abbas and Rita Luthra:
The legendary Pak cricketer met Rita while playing county cricket for English club Gloucestershire. Rita, an interior designing student dated Abbas till they got married in the year 1988. Both their fathers being friends the union saw no obstacles and they settled down in Faisalabad. Later, they shifted to Karachi to support wife Abbas' interior farm.
5) Mohsin Khan and Reena Roy:
The political barriers were broken on 1st April 1983 as Reena Roy from India married Mohsin khan, Pakistan. The successful and gorgeous Bollywood actress found in the very talented batsman her ideal man and they tied the knot. However, the union didn't last for long and both separated. Their only girl child named Sanam Khan lives with her mother.
6) Muttiah Muralitharan and Madhimalar Ramamurthy:
Chennai's renowned heart specialist Dr Ramamurthy's daughter melt when she saw him, smile. Muralitharan, the stalwart Sri Lanka bowler, who holds the record of taking maximum wickets both in Test and ODI formats, married Chennai based Madhimalar Ramamurthy on 21st March 2005. They are blessed with a baby boy born in 2006.
7) Shoaib Malik and Sania Mirza: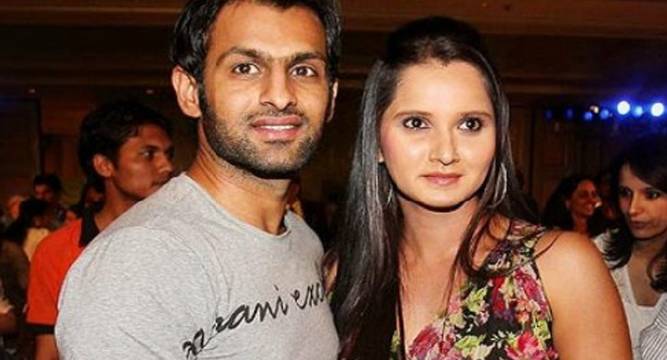 The most talked-about marriage of 2010 happened when India's tennis sensation Sania Mirza broke her engagement with childhood friend Sohrab Mirza and married dashing Pak cricketer Shoaib Malik. Rumours soon broke after their marriage as the cricketer got accused of already being married to a Hyderabadi girl named Ayesha Siddiqui. The rumours were turned down primarily but later Malik family confirmed the news produced copies of marriage and Shoaib had to get a divorce. Shoaib and Sania are happily married till date.
To add a conclusion here is a one which wasn't quite official but is still alive- Not really married:
Sir Vivian Richards and Neena Gupta
It was a new kind of a relationship from India's point of view when Windies legend confirmed Masaba Gupta to be his daughter with Neena Gupta, the famous Indian actress, without marriage. During the 1980s, their relationship became the talk of the nation but they never felt like getting married, their relationship had never been hidden from the public though. Masaba, a celebrated fashion designer now, happens to have a decent relationship with her father and was caught saying- "Not everyone gets to be Sir Viv's daughter".
Get the latest news and updates from Indian Premier League, ICC World Cup 2019, Match Prediction & Fantasy cricket. Follow SportzWiki for all cricket news, WWE News & Sports News.
Paulami Chakraborty
Lover of sport, mostly Cricket, Tennis and Football. Trying to catch up to hockey and Kabaddi recently. A photographer by hobby.
Related posts
Afghanistan Vs Windies 2019/20: Third ODI – Centurion Shai Hope Guides Windies To Complete Whitewash
Windies completed clean sweep after winning the third and final ODI of the series against Afghanistan on Monday (11th November) at Lucknow. Opener Shai Hope's unbeaten century guided the team to the brilliant five-wicket victory. With this defeat, Afghanistan have now suffered 12 consecutive ODI…
Virat Kohli Can Be The Headache For Modern-Day Coaches: Ian Chappell
The debate on labelling the best between Virat Kohli and Steve Smith continuous. Both the players give each other a tough fight in scoring runs. Notably, both the right-hand batsmen have a different style of batting. Former Australian cricketer Ian Chappell agrees of differences in…