Glenn Maxwell has declared he still wants to play Test cricket and hopes that the opportunity comes next year when Australia has three tours through Asia.
There had been confusion in Victorian ranks as to whether he still wanted to play red-ball cricket. He had suggested that he had bid adieu to Tests but Victorian coach Chris Rogers, who last week said he had been surprised by Glenn Maxwell's comments.
Chris Rogers (Getty Images)
Glenn Maxwell Keen To Play Red Ball Cricket
Ahead of the 5 matches of the T20I series in New Zealand, Glenn Maxwell could not have been clearer about his desire to return to the Test ranks, after having played the last of his seven Test matches in a Baggy Green back in 2017 in Bangladesh.
"I am certainly keen to still play red-ball cricket, still push my case forward to still play Test cricket. I feel like I am still very much in the prime of my career. I am only 32, there is still a fair bit in me," he said.
"I am fit, young – feeling still anyway. I feel I still have a lot to give in the red-ball game so I am not done and dusted there."
Glenn Maxwell played the last of his seven Tests, all overseas, in 2017. Averaging a modest 26.07, he posted a maiden Test century against India in Ranchi in 2017 and later played in the two Tests in Bangladesh but hasn't been given the opportunity to play in Tests since. He is seen by some to have a weakness against the short ball, which is an area of his game he has worked to combat.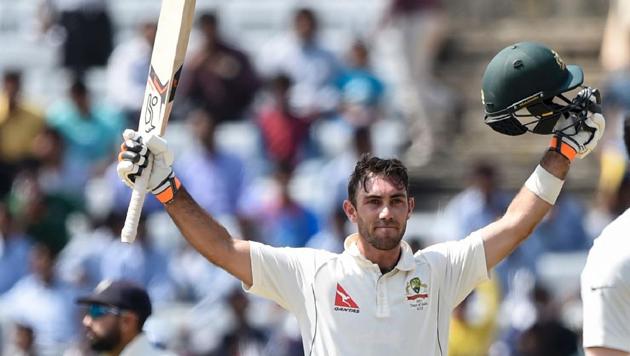 Ausralia's slated tours of Pakistan, Sri Lanka, and India next year, where pitches are likely to be slow and help spinners will suit his sometimes unorthodox style and could give him the opportunity to display his all-round abilities for he also offers handy off-spin and brilliant fielding.
"Next year there are quite a few sub-continent tours. I feel I could certainly add something to that Test squad if I was selected. I will certainly be doing everything in my power to try and get on those tours," Maxwell said.
Despite remaining one of Australia's most important white-ball limited-overs players, he had little chance in recent years to play red-ball cricket for Victoria because of international and IPL commitments. His last first-class match was in October 2019. He missed the opening Sheffield Shield matches this season because he was in the rescheduled IPL 2020 in the UAE, and is one of 35 Australians seeking a lucrative contract in the latest auction for IPL 2021.
Glenn Maxwell: To Pick A Test Side Based On Sheffield Shield Cricket Is A Little Bit Difficult As Pitches In Asia Will Offer More Spin
The T20I series in New Zealand, and the new IPL season 2021 which will begin in the second week of April, will mean Glenn Maxwell should be drafted and play the matches and thereby will have little time to represent his state. However, he made a salient point in that the skills required to handle pitches on the sub-continent are different from those traditionally required when playing red-ball cricket in the home conditions.
"I think even watching this current Test [India v England in Chennai], you are not facing these conditions in Australia, so you are not probably learning a whole lot off Sheffield Shield cricket in Australia," he said.

"You are not really getting a gauge on what guys are going to be like under that sort of pressure with the ball spinning square, keeping low, bouncing over your head. It's just a different beast completely."
"To pick a Test side based on Sheffield Shield cricket is probably a little bit more difficult. I think you are probably going to dial in with a lot more specialists who can adapt to spinning conditions and find a way to score in those spinning conditions."
"I am hoping that can put me in good stead even if I don't have the time on field with the Sheffield Shield. [Hopefully] I can still find a way to play a few more series in the sub-continent over this year [IPL and Twenty20 World Cup] or however long and put my name forward, put up some good numbers and show that I am still a good player of spin."
While there is a strong white-ball focus for Glenn Maxwell given that there are two T20 World Cups lined up for India (Covid-19 permitting) in 2021 and Australia in 2022, he admitted on Monday that he had discussed the possibility of a Test return with the selectors, as two Tests in Pakistan, two in Sri Lanka and four in India are all on the calendar for the next year. Australia has not played that many Tests in Asia in one year since 2004.