Ishan Kishan was just five when his father, Pranav Kumar Pandey, introduced him to coach Uttam Mazumdar at the Moin-ul-Haq stadium in Patna. Uttam Mazumdar, just like he used to do with other students, asked Ishan Kishan to go to the nets and face a couple of deliveries. Watching a young Ishan Kishan batting with confidence, coach Uttam Mazumdar decided to take him under his wing.
Ishan Kishan Has Struggled Putting In A Lot Of Hard Work: Coach Uttam Mazumdar Credits Him For Playing A Match Winning Knock
Now, after almost sixteen years, Uttam Mazumdar was heard cheering while sitting in front of his television set at his residence, watching his student playing for the country and smashing the England bowling attack with ease.
The 22-year-old Ishan Kishan made his debut in the second T20I against England on Tuesday in Ahmedabad and smashed 56 runs off 32 balls which was studded with 5 fours and 4 sixes. He became the second Indian batsman, after Ajinkya Rahane, to score a fifty on his T20I debut. His tally of four sixes is the highest for an Indian batsman on debut in a T20I. He also walked away with the 'Man of the Match' award.
"It's sixteen years of hard work put in by Ishan and me. He has struggled a lot and put in a lot of hard work to reach this level. It was a proud moment for me to see him debut for India and play a match-winning knock. I was in tears when he dedicated that knock to my father who passed away recently," Mazumdar told Timesofindia.com."He was five when he came to the stadium with his father. I took him to the nets and bowled a couple of deliveries to him. I realized he was talented and agreed to coach him. I told his father – this guy is a prodigy and that he will go a long way," he said.
Ishan Kishan was handed his debut cap by India captain Virat Kohli. Apart from him, his Mumbai Indians' teammate Suryakumar Yadav also made his debut, but he didn't get a chance to bat. He was emotional and called his childhood coach and expressed his emotions and excitement.
"Ishan called me ahead of the match and said Virat bhai came and said you are making your debut today. He was very emotional at that moment. I just said, everyone makes a debut but there are very few who make their debuts unforgettable," Mazumdar further told TimesofIndia.com.

"I told him to stay calm and be composed and relaxed. I told him – 'you have faced world-class bowlers in the IPL and you have smashed them all over the park'. So, go with the same mindset and intent."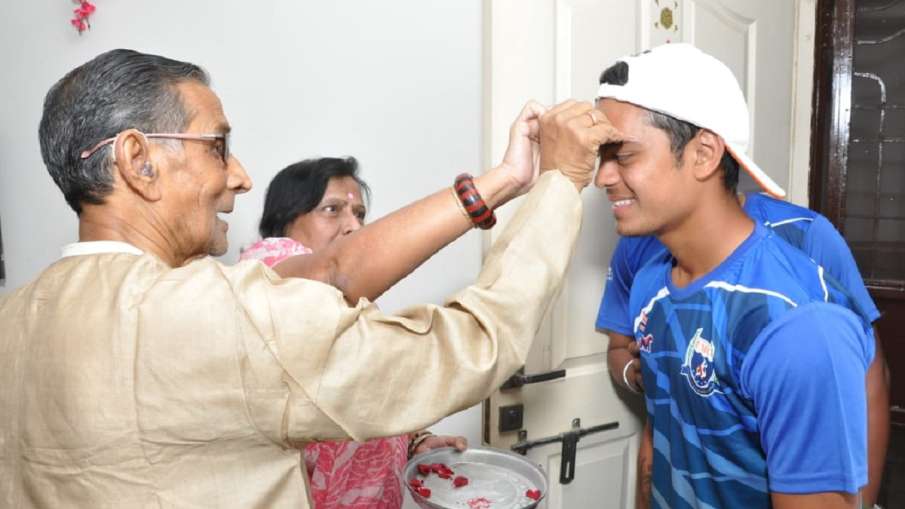 Ishan Kishan was adjudged Man of the Match for his valiant half-century. The Jharkhand batsman dedicated his maiden MoM award to his childhood coach's father, who passed away recently.
"My coach's dad passed away a few days back and this inning was for him," Ishan had said during the post-match presentation.

"I was waiting for his call. He called me at 1 am. He was really happy. He was very close to my father. Ishan always loved my father. My father always blessed him. In 2019, Ishan came to my place after a domestic match and sat with my father. My father predicted that Ishan will play for India in 2021. And his words came true. That was a huge blessing," Mazumdar said.
When Ishan Kishan was batting on 42, he smashed England spinner Adil Rashid for back-to-back sixes to bring up his half-century. After completing his half-century though, Ishan Kishan forgot to raise his bat and acknowledge the crowd. Non-striker Virat Kohli told him to raise his bat.
Narrating the incident, coach Mazumdar said: "Ishan said 'Sir I forgot to raise my bat after the half-century'. He said 'Virat told me to show your bat'. Then he raised his bat and greeted the crowd."
The left-handed debutant reached his fifty without realizing that he had reached his first little milestone in T20I cricket. It was
Virat Kohli
who said 'top innings' making him realize about the fifty. His 56-run knock helped India seal a comfortable 7-wicket win over World No. 1 England.
Ishan Kishan Has Got A Lot Of Confidence From Rohit Sharma: Coach Uttam Mazumdar
Ishan Kishan plays under Rohit Sharma's captaincy in the Mumbai Indians team in IPL. He also opened the batting alongside Rohit Sharma during the last edition of the IPL at UAE. In the 14 matches he played for Mumbai Indians last season, he scored 516 runs at an average of 57.33, including four half-centuries. He also narrowly missed out on a century when he was dismissed for 99 during a match against Royal Challengers Bangalore.
"Ishan has got a lot of confidence from Rohit. He has played a lot of cricket under Rohit's captaincy. Ishan has learned the art of playing fearlessly from Rohit. Ishan is fortunate to have a captain like Rohit," Ishan's childhood coach Mazumdar further told TimesofIndia.com.
He was the captain of the Indian team in the 2016 Under-19 World Cup. He led a team that had the likes of Rishabh Pant, Washington Sundar, and Khaleel Ahmed – all players who made their India debuts before him.
Ishan's coach Mazumdar said: "They all respect each other. They have played cricket at the junior level together. The best part is that Ishan has spent more time in the domestic circuit in comparison with others. So he can handle pressure more than anyone else."
"Cementing a place in the Indian team is very tough and challenging. I have asked him to take it one step at a time. The best part is that Ishan, Washington, and Rishabh were all groomed under Rahul Dravid sir. He has polished these cricketers and the results are in front of us." Mazumdar signed off.
Ishan Kishan and Virat Kohli added 94 runs in 9 overs for the 2nd wicket in the 2nd T20I as Virat Kohli roared back to form by hitting an unbeaten 73 off 49 balls. Rohit Sharma who was rested for the first two T20Is asked Ishan Kishan, who was due to open for India, to play as freely as he does in the IPL.