Pat Cummins, Australia vice-captain might be in the Maldives right now, but the Kolkata Knight Riders (KKR) pacer cannot wait to get back home after IPL 2021 was postponed as he and his fiancee Becky Boston are expecting the birth of their first child this spring.
Pat Cummins's long-time girlfriend who he got engaged to last year in February announced on Instagram that the couple is expecting a baby.
Pat Cummins Excited For Birth Of The 1st Child
Pat Cummins and the rest of the Australian contingent have moved to the Maldives as a transit point on their journey back home following the postponement of IPL 2021.
"I can't hide this happiness any longer!! Baby Boston Cummins will be joining us in Spring we are SO excited to meet you!!!" Boston captioned the post while sharing the baby bump.
Pat Cummins too is excited for the little one to arrive.
"We're happy and healthy and we'll get married when we can, but we've got a little one on the way and I'm delighted, I'm pumped," the Sydney Morning Herald quoted Cummins saying.

"We're moving and Becky is doing a brilliant job of organising things. Hopefully it's all sorted by the time I get home," he added.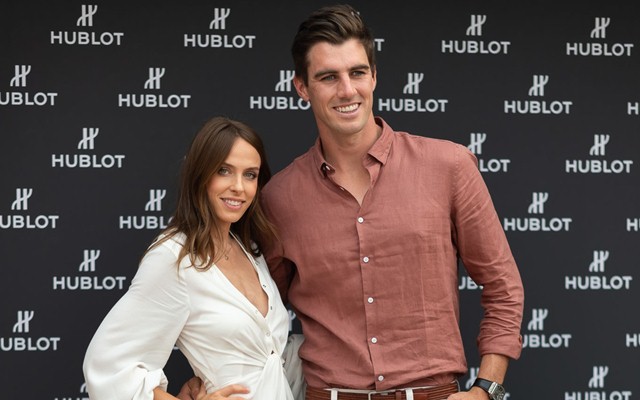 The lanky Australian fast bowler hasn't looked back since making his first-class debut in 2011 for New South Wales. He picked seven wickets on his Test debut and topped the wicket-takers chart in his maiden Big Bash League, with 11 wickets at 14.09. Sure enough, he became the youngest player to receive a central contract with Cricket Australia.
He has picked 164 scalps in 34 Tests and 111 ODI wickets in 69 ODIs. He also has 37 scalps in 30 T20Is. He is currently the No. 1 Test bowler. Pat Cummins' KKR teammates Prasidh Krishna, Varun Chakravarthy, Sandeep Warrier, and Tim Seifert have tested positive for Covid-19 and are in India undergoing treatment.
Pat Cummins Congratulated By Franchise Kolkata Knight Riders
KKR on Sunday shared the news of the cute couple on Twitter.
"What a fantastic piece of news on #MothersDay! Send your love and good wishes for the couple in below," KKR had tweeted.
The Australian pacer is missing his better half but for the time being the couple Facetime each other.
"We've been sorting stuff on Facetime. She wants to throw stuff out but I keep saying, 'We'll find a use for it', even though I haven't used it for three or four years. It's the same with old t-shirts. I want to keep them and she tells me that I'm not 12 anymore," said Cummins.
The Australians will remain in the Maldives until the conclusion of the travel pause pertaining to flights from India to Australia. As previously stated, CA and the ACA are not seeking an exemption from the Australian Government. The safety of every individual involved in the IPL was one of the major reasons for the BCCI and the IPL Governing Council to unanimously decide on the postponement of the league last week.
Pat Cummins was the most expensive buy in the 2020 IPL Auction after being bagged by KKR for a whopping 15.50 crores. It was back to purple and gold for pacer Pat Cummins who picked 12 wickets in 14 games that included a 4-wicket haul in the 2020 IPL season. He bowled well in IPL 2021 picking 9 scalps in 7 games averaging 26.33 besides scoring 93 runs averaging 31.
Pat Cummins recently donated $50,000 to help India fight against the COVID-19 pandemic. Later he issued a clarification from his official Twitter handle that he had decided to donate $50,000 to UNICEF Australia's India COVID-19 Crisis Appeal and not to PM Cares fund.