The background:
Contrary to the popular speculations, Ravi Shastri's appointment as Team India coach has failed to calm downthings in Indian cricket. Anil Kumble's acrimonious exit as Team India coach following the reports of rift between him and captain Virat Kohli led the latter to face severe criticism. And it only escalated when Shastri was appointed the head coach. Kohli's liking for Shastri is well-known among the cricket fraternity and many felt that the latter was appointed ahead of the likes of Virender Sehwag, Tom Moody, Richard Pybus and Lalchand Rajput on the recommendation of the captain. Moreover, with Shastri joining the race for head coach after the board shockingly invited applications for the second time, speculations were rife that it was done to appoint the former India allrounder as Kumble's replacement.
However, the controversies are in no mood to leave Indian cricket with recent reports suggesting that Shastri was not Kohli's first choice for India head coach.
The Story:
As per a BCCI official, Virender Sehwag and not Shastri was Virat Kohli's first choice. Sehwag was one of the front-runners to bag the job after being persuaded by the BCCI officials to apply for the job.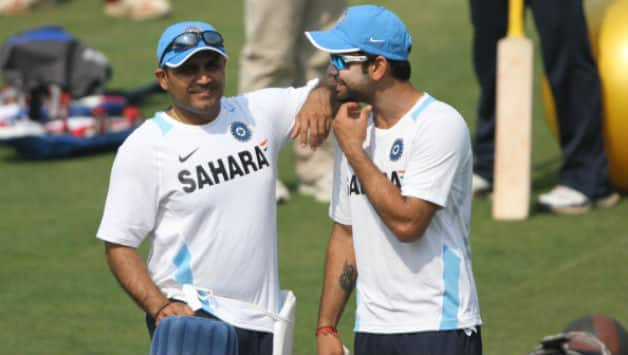 "After his stint as mentor of Kings XI Punjab, Viru was growing more confident by the day that he had the potential required to work at a higher level in a similar capacity. It was then that a senior BCCI official asked him to apply (for the role of India coach) if he could make up his mind," someone in the know of things told The Times of India.
"The CAC did a fair job in assessing all candidates and came with the best possible decision," the source added.
Sehwag, after applying for the post, had approached Kohli to get "a feel of things". And while Sehwag had Kohli's backing, things fell apart after Sehwag proposed to bring along with him a team of support staff that would include physiotherapist Amit Tyagi and Kings XI Punjab assistant coach Mithun Manhas.
"Paaji, I have a lot of respect for you for what you can bring to the table but you have to understand that there is a professional set-up in place, therefore this cannot happen. The rest is up to the CAC," Kohli had told Sehwag as per the official.
"There is a support staff in place and has worked with this team for a while now. In fact, there are individuals who understand the needs of team members on an individual basis," the Indian skipper had added.
Get the latest news and updates from Indian Premier League, ICC World Cup 2019, Match Prediction & Fantasy cricket. Follow SportzWiki for all cricket news, WWE News & Sports News.
Prince Singh
An avid sports lover, i always wanted to pursue a career in football. But just like the millions out there i did not put in the hard work needed to achieve my dream and now i have become a fan instead of the player. Anyway, writing for sports has kept me closer to this field. One more thing, yours sincerely is a die-hard Liverpool fan. You will never walk alone.
Related posts
PKL 2019
[pkl_srttable maid="2″ id="wordcup-sw" ]
Everybody Will Be Respected Till I Am Around: Sourav Ganguly On MS Dhoni
The appointment of Sourav Ganguly is all set to revolutionize BCCI's working and with a former captain being the board's…
WWE News: Brie Bella Reveals Amazing S*X Toy Story Of Sister Nikki Bella
The Bella Twins are undoubtedly the most socially active WWE superstars of this generation. With their own YouTube channel, they…