Ray Illingworth, the former England cricket captain, has revealed he is receiving treatment for cancer. Ray Illingworth remains one of England's enigmatic Test captains during his playing days.
The Yorkshireman played 61 Tests for England, scoring 1,836 runs, including two centuries and five fifties. An off-spinning all-rounder, he also claimed 122 wickets, including three five-wicket hauls. He lost just five of his 31 Tests as captain of the side, claiming 12 victories and 14 draws.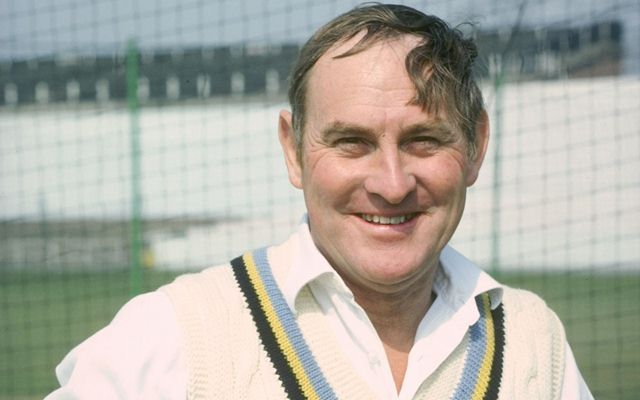 Ray Illingworth Is Receiving Treatment For Cancer
The 89-year-old, who led England to an Ashes series victory in Australia in 1970/71, is undergoing radiotherapy for oesophageal cancer.
"They are just hoping to get rid of the last bit (of the tumour) with extra double doses. I will see how these next two doses go, keep my fingers crossed and hope I have a bit of luck," Illingworth said.
The former England captain is currently undergoing radiotherapy treatment for oesophageal cancer. Speaking on his travails over the last one year or so, the 89-year-old said that he doesn't wish to go through the pain his wife, Shirley, went through. Earlier this year, Ray Illingworth's better half passed away after a prolonged battle with cancer.
Ray Illingworth's Wife Shirley Died Earlier This Year
Ray Illingworth's wife Shirley died earlier this year after battling cancer, and he has offered his support for law changes over assisted dying.
"I don't want to have the last 12 months that my wife had," he said. "She had a terrible time going from hospital to hospital and in pain. I believe in assisted dying. The way my wife was, there was no pleasure in life in the last 12 months, and I don't see the point of living like that, to be honest." 
Ray Illingworth remains one of England's enigmatic Test captains during his playing days. Back in 1970-71, England won the Ashes in Australia. After the first two Tests were drawn, the third match in Melbourne had to be abandoned. England won the 4th and 7th Test respectively to win the series 2-0. The 5th and 6th Tests ended in a draw.
Ray Illingworth was also impressive on the personal front as he scored 333 runs from six matches at an average of 37 with one half-century to his name. He also picked up 10 wickets at an excellent economy rate of 1.98. Ray Illingworth played 61 Tests and three ODIs in a 15-year-old career that lasted from 1958 to 1973.
He scored 1841 (Test and ODI combined)runs with two tons and five fifties. Moreover, he picked up 126 wickets for the Three Lions in his career (Test and ODI combined). He also notched over 26,000 runs combining first-class and List A cricket.
A combative Yorkshireman who captained England in 31 test matches between 1958 and 1973 and played in the first-ever one-day international in 1971, Ray Illingworth also had spells as an administrator and the coach of the national team. He was awarded a CBE for his services to cricket in 1973.
Under the 1961 Suicide Act, anyone helping someone take their own life in this country could face a 14-year prison sentence. There was a proposed change to the law, the Assisted Dying Act, which was debated in the House of Lords in October.