The legendary fast-bowler Waqar Younis, who is currently working as the mentor for Sylhet Sixers in the ongoing Bangladesh Premier League (BPL) in a chat with Dhaka Tribune talked at length about his career, his partnership with Wasim Akram, BPL 5 and Sylhet. With 789 international wickets behind his name, he was a nightmare to many batsmen with his quality reverse swing.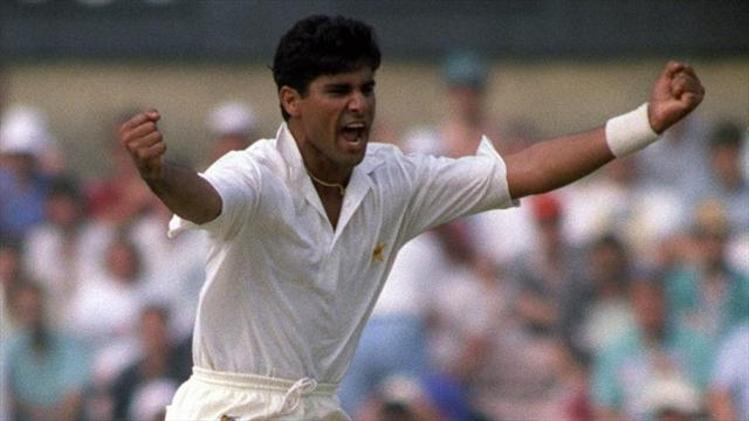 Talking about his child, Waqar revealed that he was a very hardworking kid and he used to play all kind of sports which helped him as an international player. Waqar further admitted he started fast bowling due to inspiration from individual players, certain people, certain heroes and luckily he was skilful, so he only had to put hard work into it.
The 46-year-old Waqar while talking about getting picked by the legendary Pakistani cricketer Imran Khan said:
"Yes I was picked by Imran Khan. Yes, he watched me playing on TV. At that time I was selected for 22-member Pakistan national camp. During that time I was playing for United Bank and United Bank was playing against a first-class team from Delhi. In those days there was Wills Cup in Pakistan and in India also. The winners of both the first-class tournaments from the two countries played each other in a one-off match called Super Wills Cup. So in that Super Wills Cup match, I played for United Bank and the match was played in Lahore. Imran Khan was injured then and he was not there. Later he watched my game on TV as it was my first game being shown on TV. He saw me and liked my bowling. And later I was picked for the national team."
Talking about the secret behind Pakistan so many world-class fast bowlers, the right-arm fast bowler, admitted that, although he can't reveal the exact reason, he mentioned that as a kid everybody looks up to a role model, and probably there were too many role models in the form of fast bowlers. He also stated that he doesn't regret missing out on the 1992 World Cup as injuries are part and parcel of a fast bowler's life.
"I think it came naturally to me. My action was suitable for reverse swing. That's why probably I was more effective on reverse swing compared to others in that era. There were many good fast bowlers and we all knew how to bowl reverse swing. And all of us were quick fast bowlers, like around 150 or even 150-plus km/h speed with reverse swing. And that's why we got success," Waqar was heard saying when asked about how he developed the reverse swing.
However, Waqar did not agree that T20 cricket is fully destroying fast bowlers; but at the same time, he reminded that it is tough for the fast bowlers these days. Waqar further admitted that Brian Lara, Sachin Tendulkar, Steve Waugh and Ricky Ponting as the toughest batsmen he has ever bowled to.
Talking about BPL, he said that the organisers should look to involve more and more local players as they are getting better playing with international cricketers. He also felt that they should keep going without trying to do much more.
"He was a left-armer and I was a right-armer. We were different because we were competing against each other. That's why it helped the team and it also helped the individuals as well. That's why we have got so many wickets together. I think we were both quick, different and knew how to swing the ball and also reverse swing the ball. Everything was perfect for us. Both of us were in very good rhythm. We had a good chunk of eight-10 years together for Pakistan cricket and we did our best in our time," Waqar signed off talking about his all time bowling partner Wasim Akram.
Get the latest news and updates from Indian Premier League, ICC World Cup 2019, Match Prediction & Fantasy cricket. Follow SportzWiki for all cricket news, WWE News & Sports News.
ankush
I am an accountant by qualification, my parents thought their obedient son would study further to become a CA, but I had other things in mind. An ardent Cricket fan is following his passion and making a living watching and working around his favorite sport.
Related posts