The 40-year-old World Cup history has seen a lot of wonderful batting performances from several legends in the name of Sachin Tendulkar, Ricky Ponting, Allan Border, Sir Viv Richards. But on many occasions, some batsmen literally blew apart the opposition's bowling and remained unbeaten quite a few times.
Let us take a look at players with the highest batting average in World Cup history:
1. Lance Klusener (South Africa)
'Zulu', one of the world's best all-rounders, has the highest batting average across all 10 World Cup's. Klusener played a total of 171 ODIs for South Africa and also represented them in ICC World Cup 1999 and 2003. In his 14 matches at the World Cup, he hit 372 runs in 11 innings at a massive average of 124.00 with three half-centuries. Out of these 11 innings, he remained unbeaten on 8 occasions. One thing that separated Lance Klusener from the others' was his ability to amaze the world with his pyrotechnics with the bat and the best example of this is his unbeaten knock of 31 off just 16 balls against Australia in the semi-finals of the ICC World Cup 1999, where he almost took South Africa on the verge of a victory.
2. Andrew Symonds (Australia)
'Roy', one of the controversial cricketer's of all-time, has the second-highest batting average in World Cup history. Symonds played a total of 198 ODIs for Australia and represented them in ICC World Cup 2003 and 2007, both of which Australia won. In his 18 matches at the World Cup, he scored 515 runs in 13 innings at a brilliant average of 103.00 with a century and three half-centuries. Like Klusener, he also remained not out 8 times out of the 13 innings. In a league stage match against Pakistan at ICC World Cup 2003 at Johannesburg, Australia was in deep trouble as the early strikes from Wasim Akram reduced them to 86/4 in 16 overs. Symonds then held the Aussie middle and lower order together and with his unabashed hitting, he brought up his maiden hundred in ODIs (143* with 18 boundaries and 2 sixes) and saved Australia from the blushes.
3. Michael Clarke (Australia)
'Pup', the current Test and ODI captain of Australia, has the third-highest batting average from all the World Cup. Clarke has played 238 ODIs for Australia till now and has represented them in ICC World Cup 2007 and 2011. If fit, he'll captain his country in the ICC World Cup 2015. In his 18 matches at his two mega-events, Clarke has scored a total of 669 runs in 15 innings at a substantial average of 83.62 with six half-centuries. He has also remained unbeaten on 7 occasions including his 93-run knock against the Netherlands in the ICC World Cup 2007 at Basseterre, which is also his highest score in the World Cup.
4. Sir Viv Richards (West Indies)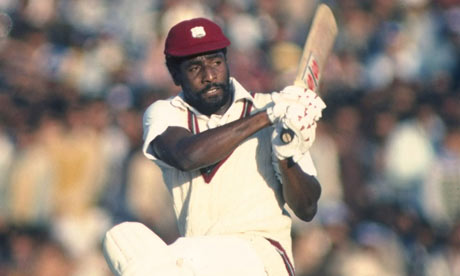 "King Viv", one of the finest batsmen of all-time, has the fourth-highest batting average in World Cup. Sir Viv Richards played 198 ODIs for West Indies and represented them in Prudential World Cup 1975, 1979, 1983 and Reliance World Cup 1987, out of which, Windies won the 1975 and 1979 edition. In his 23 matches, he scored 1013 runs in 21 innings at a significant average of 63.31 with three centuries and five half-centuries. In the 1987 World Cup, his 181-run innings literally flayed Sri Lanka in a group stage match at Karachi. He smacked six sixes and 16 fours in his blazing innings that spanned just 125 balls.
5. Shane Watson (Australia)
'Watto', one of the most talented but injury-prone all-rounder has the fifth-highest batting average in World Cup history. Till now, Watson has featured in 180 ODIs for Australia and has also represented them in the ICC World Cup 2007 and 2011. In his 15 matches at both these events, he has scored 435 runs at a considerable average of 62.14 with four half-centuries. What's more interesting than this that Watson has a great chance to score heavily and win the ICC World Cup 2015 for Australia, which also might be his last for them.
Here's the statistical data table for each of the five players:-
| | | | | | |
| --- | --- | --- | --- | --- | --- |
| Player | Matches | Innings | Runs | Average | Highest Score |
| Lance Klusener (SA) | 14 | 11 | 372 | 124.00 | 57 |
| Andrew Symonds (AUS) | 18 | 13 | 515 | 103.00 | 143* |
| Michael Clarke (AUS) | 18 | 15 | 669 | 83.62 | 93* |
| Sir Viv Richards (WI) | 23 | 21 | 1013 | 63.31 | 181 |
| Shane Watson (AUS) | 15 | 12 | 435 | 62.14 | 94 |
*Stats updated till January 27th, 2015 
Get the latest news and updates from Indian Premier League, ICC World Cup 2019, Match Prediction & Fantasy cricket. Follow SportzWiki for all cricket news, WWE News & Sports News.
Sidharth Gulati
While spending good 22 years of my life, I found my passion in India's unofficial national game, Cricket.
Related posts
Harbhajan Singh Disagree That Day-Night Test Match Will Bring More Crowd
Everyone is excited to see India playing the first day-night Test match. The number also say the same. In 66,000 seated Eden Gardens ground, 65,000 people will come to watch the match at each day of the first three days. Veteran Indian spinner Harbhajan Singh…
WWE News: Movie Released Based On Ronda Rousey's Life
Ronda Rousey is nowhere near in the WWE when it comes to the much-anticipated return. But she has been able to feature on WWE TV, on a regular basis. Total Divas is the main reason behind this which gives an up-close and personal look on…