Sandeep Patil, a former Indian cricketer, has hit out at the national selectors for picking Hardik Pandya in the T20 World Cup squad despite the latter being unsure of bowling in the tournament.
Hardik Pandya has been jostling with injury concerns for quite some time, due to which he has refrained from bowling. As a result, he came into the World Cup, having not bowled a single over for Mumbai Indians in the 2021 IPL.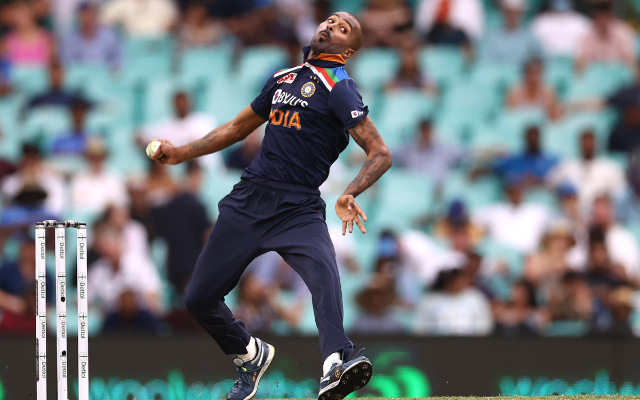 Sandeep Patil: If Hardik Pandya Didn't Bowl In IPL 2021, Selectors Should've Taken Call Asking For A Fitness Test
Footages of Hardik Pandya bowling on Wednesday in Dubai ahead of the 2nd game against the Kiwis did the rounds, but whether or not he bowls during match-time remains to be seen. Sandeep Patil said that the selectors should have conducted a fitness test before taking a call on Hardik Pandya's selection in the national squad.
The team management is unlikely to play all-rounder Hardik Pandya as a pure batsman if he doesn't get fit enough to bowl at least a couple of over every game in the ongoing T20 World Cup 2021. The team management is keeping a close eye on Shardul Thakur, who replaced Axar Patel in the main squad ahead of the tournament. Shardul Thakur is tipped to be Hardik Pandya's replacement if the latter fails to make the cut.
"His selection in the XI is up to the captain and the coach, and only the BCCI will know about it. But basically, if a player is not fit, then it comes to the selectors. If he didn't bowl in the entire IPL, the selectors should have taken a call," Sandeep Patil said.

"They should have asked for a fitness test before including him in the team for the World Cup," Sandeep Patil was quoted as saying.
"Someone has to be accountable. There's no comment from (India coach) Ravi Shastri. Rohit Sharma and Ajinkya Rahane said that he's fit. How can you say he's fit if he became unfit during the match? I mean, this is the World Cup, not just any series or match," Sandeep Patil added.
A source said that the selectors wanted to send Hardik Pandya back home, but MS Dhoni, Team India's mentor for the World Cup, believed in his finishing skills.
Dilip Vengsarkar: All The Decision Makers Would Have Assessed Situation Regarding Hardik Pandya
Former Indian skipper and selector Dilip Vengsarkar reckoned that "all the decision-makers in this case, the captain, coach, physio and the selectors, would have assessed the situation regarding Hardik Pandya."
In their first match against Pakistan in Dubai on October 24, India looked short of the 6th bowling option. However, the Men in Green won the game by 10 wickets after Mohammad Rizwan and Babar Azam stitched together a 150 plus run stand. India's second game of the Super 12s is against New Zealand on Sunday, October 31 at the Dubai International Cricket Stadium.
Hardik Pandya has been bothered by multiple injuries lately. The seam-bowling all-rounder did not bowl a single delivery for the
Mumbai Indians
(MI) during both legs of IPL 2021 and even missed a couple of games due to fitness issues. Moreover, Hardik Pandya failed to hit a big knock in the first leg of IPL 2021. In 12 IPL 2021 matches, he scored 127 runs averaging a pathetic 14.11.
Having made his international debut in 2016, Hardik Pandya has gone on to play 11 Tests, 63 ODIs, and 50 T20Is for India. He has played 50 T20Is and has averaged below 20 with the bat despite a strike rate of 145, amassing 495 runs. He has also taken 42 scalps averaging 26.45. As a finisher in the 2021 T20I World Cup, he would certainly look forward to amending his batting average and bowling a few overs, trying to pick crucial wickets.