Shahrukh Khan admitted that it's a big thing for him to be compared with West Indian Kieron Pollard but he wants to create his own identity, after proving his mettle in his debut IPL season in 2021.
Tamil Nadu batsman Shahrukh Khan made a sensational entry to Punjab Kings in the Indian Premier League (IPL) 2021. Following a terrific stint in the domestic circuit for Tamil Nadu, the youngster was bought for a whopping Rs. 5.25 crore at the players' auction for currently suspended IPL 2021.
Shahrukh Khan Needs To Create Own Identity But Felt Good When Anil Kumble Compared Him With Kieron Pollard
The PBKS team management looked for a hard-hitter in him as head coach Anil Kumble compared him with Caribbean all-rounder Kieron Pollard before the start of the tournament.
Shahrukh Khan didn't get many opportunities to play in the season before it got suspended midway. However, the Tamil Nadu cricketer left no stones unturned in leaving an impact. His fiery cameos on multiple occasions made him a go-to middle-order batsman in Punjab's line-up. Shahrukh Khan scored 107 in 8 innings at a strike rate of 127.38.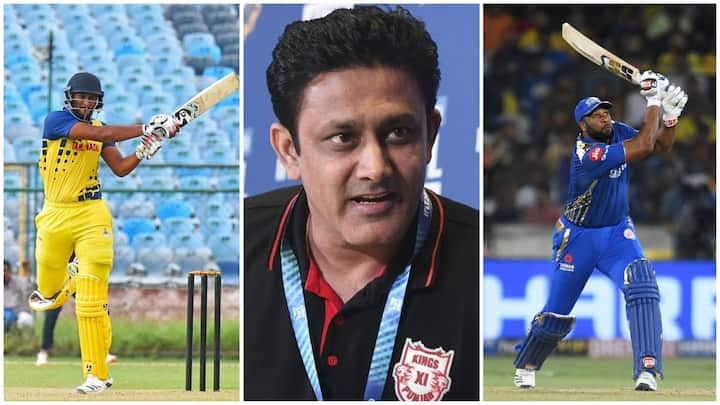 In a conversation with InsideSport, Shahrukh Khan stated that he felt great to be compared with Kieron Pollard but he wants to create his own identity.
"Definitely, that is obviously a big thing when Anil Kumble compared me to Kieron Pollard. But I'm just starting off. So, I feel that I need to create an identity of my own. I want to become what I do, the way I go about. Obviously, it's a wonderful thing that he compared me to Kieron Pollard. He is head and shoulders ahead of me. I'm just starting off. I will get there but him comparing me to Kieron Pollard was pretty good," Shahrukh khan was quoted as saying.
With his batting exploits in the Tamil Nadu Premier League (TNPL), the 25-year-old Shahrukh Khan sparked an intense bidding war for his services in the IPL auction in February. The West Indian Kieron Pollard was picked up by Mumbai Indians for the 2010 season and has remained with them ever since.
Shahrukh Khan Wanted To Bat In IPL 2021 In A Similar Manner Like Tamil Nadu In Domestic Circuit
The 24-year-old further revealed the message he got from skipper KL Rahul and head coach Anil Kumble before going to bat in his debut season.
"It was very simple for me. They just told me to go and do what I do for Tamil Nadu and nothing different, nothing else. They told me, 'You don't need to do anything differently yet. It's just a change in name, but the ball, everything is the same. We'll be very happy with it," said Shahrukh.
Named after a popular Bollywood star, Shahrukh Khan is a right-hand batsman and occasional right-arm off-spinner. At 6 feet 6 inches, the 25-year-old showed plenty of promise in the 2018 edition of the Tamil Nadu Premier League tournament, where he honed his skills and compiled 325 runs in nine games for a new franchise – the Kovai Kings and it paved the way for his comeback into the Tamil Nadu side.
He was part of the Tamil Nadu side that went unbeaten all season on their way to winning the Syed Mushtaq Ali Trophy in 2021. The 25-year-old Shahrukh Khan was one of the star performers in Tamil Nadu's victorious 2020-21 Syed Mushtaq Ali Trophy campaign. He blasted 88 runs in four innings at a strike rate of 220, scoring a best of 40 not out off 19 balls. Subsequently, he was purchased by PBKS in the IPL mini-auction for INR 5.25 crore, becoming Punjab's biggest Indian buy-in IPL 2021.