Shakib Al Hasan, fresh from Kolkata Knight Riders' appearance in the IPL final on October 15, is "tired" but available for Bangladesh's first match against Scotland in the T20 World Cup, confirmed captain Mahmudullah.
In the IPL 2021 second leg at UAE, Shakib Al Hasan has been a silent contributor with his bowling—pulling off spells of 1/20, 1/1, 0/24, 0/28,0/33. Like before, Shakib Al Hasan continues to be indispensable for KKR.
Shakib Al Hasan Is Available But Tired After Playing For KKR In IPL: Mahmudullah
Shakib Al Hasan played 8 matches for KKR in IPL 2021 and picked 4 scalps bowling 26 overs and managed 47 runs.
"Shakib is available. Probably he is a bit tired after coming back from the IPL but he is there with us," Mahmudullah said.
Bangladesh, admittedly missing their full-strength squad, lost both their warm-up games but the captain said that he's not worried about the warm-up losses but is only focused on the upcoming games for now. Bangladesh batsmen failed to get going in the practice games, finishing with scores of 147-7 and 144 all-out against Sri Lanka and Ireland respectively. They eventually lost both the matches, by four wickets and by 33 runs.
"I am not bothered what others are saying and I feel as a team we have the ability. We are not bothered about the practice games as we missed few players and now we know what we have to do," Mahmudullah told reporters ahead of their opening encounter against Scotland.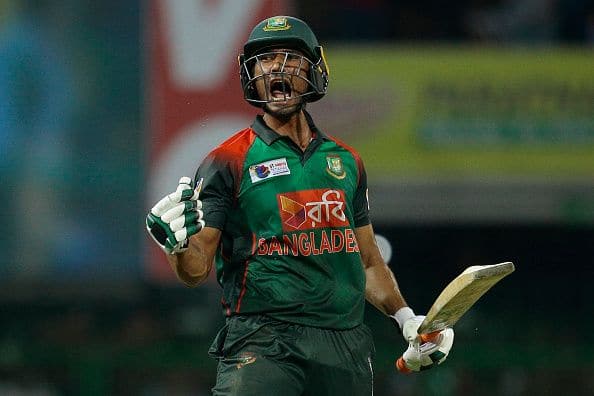 "We will play hard cricket and if we can play to our potential result will take care of itself. We have to cross a few barriers and we want to go step by step and I hope if we can play good cricket tomorrow we can go a long way."
Bangladesh will have to play the qualifying tournament of the ICC T20 World Cup this year. Bangladesh's Twenty20 side defeated hosts Zimbabwe 2-1 in July, beat Australia 4-1 at home in August and completed a 3-2 series victory against New Zealand in Dhaka.
Veteran all-rounder Shakib Al Hasan says that the team will take confidence from series wins against Australia, New Zealand, and Zimbabwe. Bangladesh's star all-rounder Shakib Al Hasan believes that series wins against Australia, New Zealand and Zimbabwe will boost their chances at the T20 World Cup despite a record that shows just one victory at the tournament since 2007.
Mahmudullah Has Full Faith In Out Of Form Mushfiqur Rahim
Mahmudullah added that he has full faith in Mushfiqur Rahim's form and feels that he just needs to have one good match to regain his touch. Mushfiqur Rahim, who failed to be available against Australia at home for failing to report before the bio-bubble deadline, managed to score 39 runs in the five-match T20 home series against New Zealand. Furthermore, he scored 0, 13, and 4 respectively against Oman A, Sri Lanka, and Ireland.
"We are not concerned about Mushfiqur form and he will come back. He just needs one good innings to regain his form and it might be tomorrow. We all know about his capability and we fully back him."
In Group A, Bangladesh is slotted alongside Scotland, Oman, and Papua New Guinea, and looks like they are well-placed to qualify to the Super 12 of the ICC T20 World Cup.
Bangladesh is coming into the tournament with nine T20I wins in the calendar year, only behind South Africa who have 12. In fact, since losing to New Zealand in March away from home, Bangladesh has registered series wins over Zimbabwe (2-1), Australia (4-1), and New Zealand (3-2).
And if they manage to qualify, Bangladesh will join India, Afghanistan, New Zealand, Pakistan, and the Group topper in the Super 12 and that should be incentive enough for Bangladesh.