Ayesha Mukherjee, India opener Shikhar Dhawan's wife, needs no introduction. In this cricket-obsessed nation, the fans treat the players as demigods. As a result, they leave no stone unturned to get all the details of the players' professional as well as personal life.
Not surprisingly, Ayesha Mukherjee also garners a big fan following. Ayesha is seen in the stands cheering her husband and the team every now and then. Dhawan and Ayesha have been giving couple goals to the mass for quite some time now. The couple's love story, nonetheless, is nothing less than a fairytale as Dhawan broke the social barriers to marry the love of his life.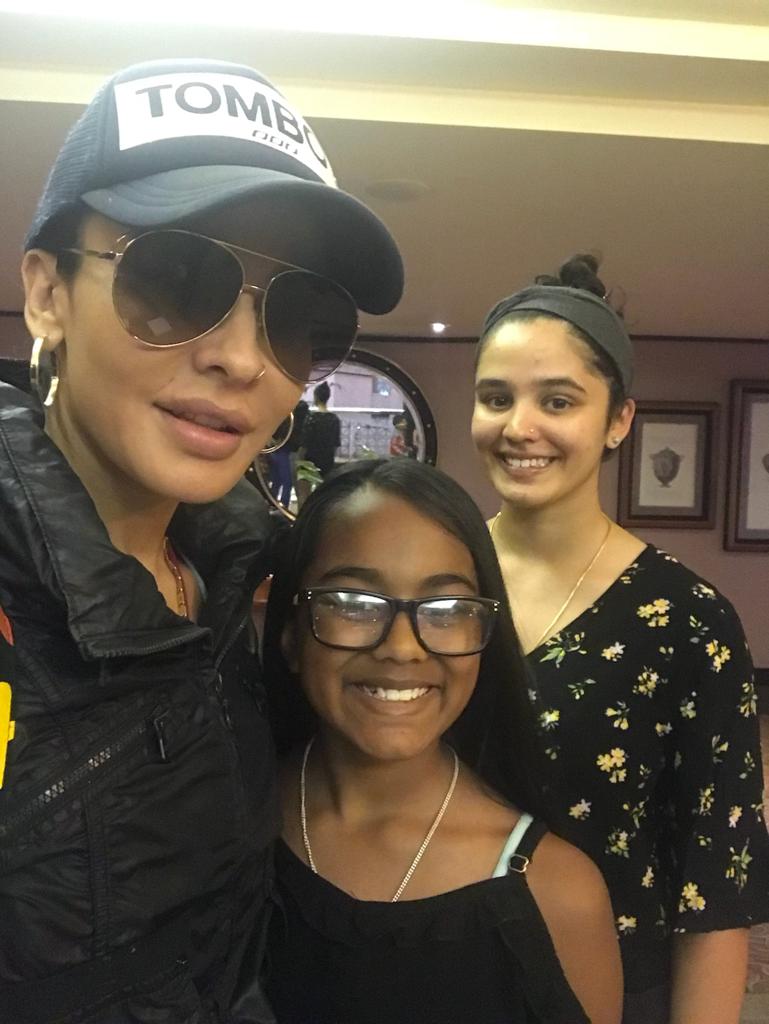 Ayesha Mukherjee: Interesting Facts about Shikhar Dhawan's Wife
The story started taking shape in 2008 when Dhawan was still nowhere close to making it to international cricket. The Delhi star was good friends with the then India spin spearheads Harbhajan Singh. It was one of those lazy days when Shikhar was casually surfing Facebook when the social networking website popped up the name of a certain Ayesha Mukherjee as a 'friend suggestion'.
MUST-READ | Hardik Pandya Hairstyles
A curious Dhawan soon found out that Harbhajan was a mutual friend and there was no looking back from thereon. Blown away by Ayesha's charming looks, Dhawan sent a friend request to Ayesha who accepted it within a few hours. Soon after that, he sent a message to Ayesha, and that marked the beginning of their friendship.
Little did they know then that their Facebook friendship was just the beginning of a journey they were going to cherish for the rest of their lives.
The friendship grew stronger with each passing day as Dhawan learned more about his future wife. Ayesha was born to a British mother and an Indian Bengali father. She was settled in Melbourne and had two daughters – Rhea and Aliyah from a previous marriage, which ended in a divorce. During the course of their conversation, Shikhar came to know that Ayesha speaks fluent Bengali and also loves cooking Indian dishes.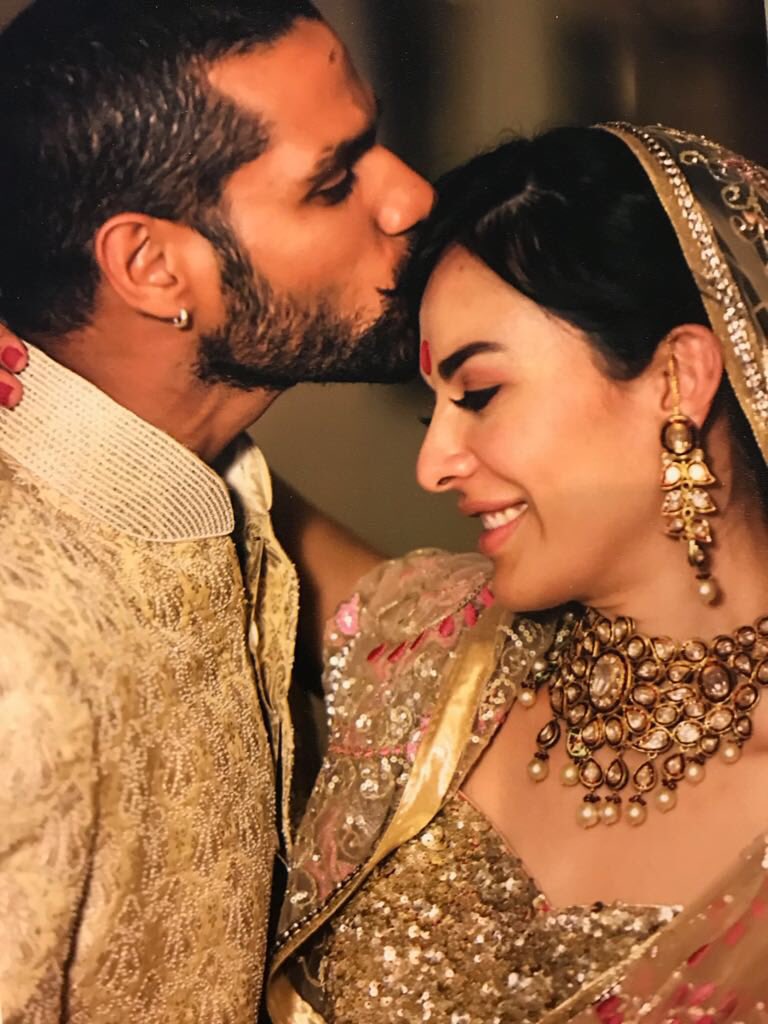 Moreover, she had a keen interest in sports just like Dhawan.  Ayesha was a trained kickboxer and that bit stuck with Shikhar, and he decided to take things to the next level. He requested his friend Harbhajan to help him out. As per reports, it was Harbhajan who broke the ice between the two in person.
Eventually, Shikhar proposed to Ayesha and the two had a private engagement in 2009 in New Delhi. This marked a new chapter in the life of Ayesha and Shikhar.
Initially, the pair had thought of tying the knot the very next year but Shikhar wanted to focus on his career at that time. Despite being a prolific run-scorer, Dhawan was still not close to breaking into international cricket. On the other hand, Ayesha wanted Shikhar to get close to her two daughters Rhea and Aliyah.
The couple eventually tied the knot on 30th October 2012. Dhawan's family, however, was not happy with the wedding due to the Ayesha's age and her past. In fact, Dhawan himself had revealed it, saying how tough a period it was for him.
You know, it's easy to fight the world, very tough to fight your own. I knew my parents were upset, was aware my mother (in particular) was getting hurt. That pained me too. However, my mind was made up and it was about only marrying Ayesha, not anybody else. I'd expected difficulties and difficult it became. See, I've traveled the world and, so, my thinking is different from that of my parents. That is natural I'd say. Generally, the mentality in India is somewhat narrow," Dhawan had told a leading daily.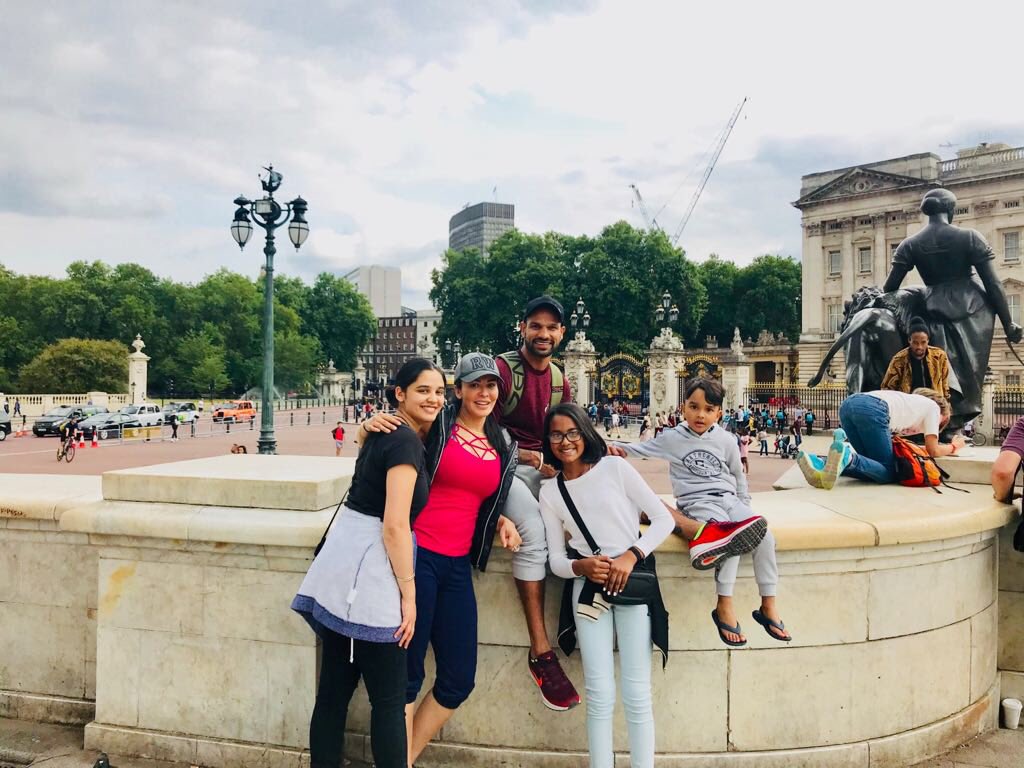 But the wedding kick-started a turnaround in Dhawan's career.  A lucky break saw him making his Test debut in March 2013. He grabbed the chance with arguably the best debut by an Indian batsman, smashing 187 off 174 balls.
He was picked in India's squad for the Champions Trophy soon after and carried his sizzling form into that tournament with two centuries in the side's first two matches.
Dhawan and Ayesha were a match made in heaven. The couple welcomed an adorable son in 2014 whom they named Zoravar. Ayesha makes sure to keep the family intact while Dhawan plays the role of a responsible husband and father to perfection.
"He's always been the same. A caring guy, who nurses dreams to make it big in life… There's cricket also, which he's equally passionate about. He's a responsible guy who knows the art of balancing. I am so happy to be his wife. Also, when he's not playing, he is a domesticated man who loves helping his wife and kids in their tasks," Ayesha had said after the birth of couple's son.
The modern Facebook love story must have made you all curious to know more about Shikhar Dhawan's wife. So without further ado, we take a look at some facts of Ayesha's life which may or may not be known to you.
Here are some unknown facts about Shikhar Dhawan Wife Ayesha Mukherjee
1. Birth:
Ayesha Mukherjee was born on 2nd August in 1975 in India. She is an Anglo-British because her mother is British and her father is an Indian Bengali. Her father and mother used to work in a factory, where they met and fell in love. However, after Ayesha's birth, they shifted to Australia, where she completed her schooling and graduation. Ayesha can speak Bengali very fluently.
2. Dual nationality:
Ayesha Mukherjee holds dual nationality because of her British mother and Indian father.  But Dhawan believes she is more Indian than he is! Ayesha is a very religious person at heart, can speak Bengali very fluently and can cook yummy Indian dishes! Quite the ideal bride, eh?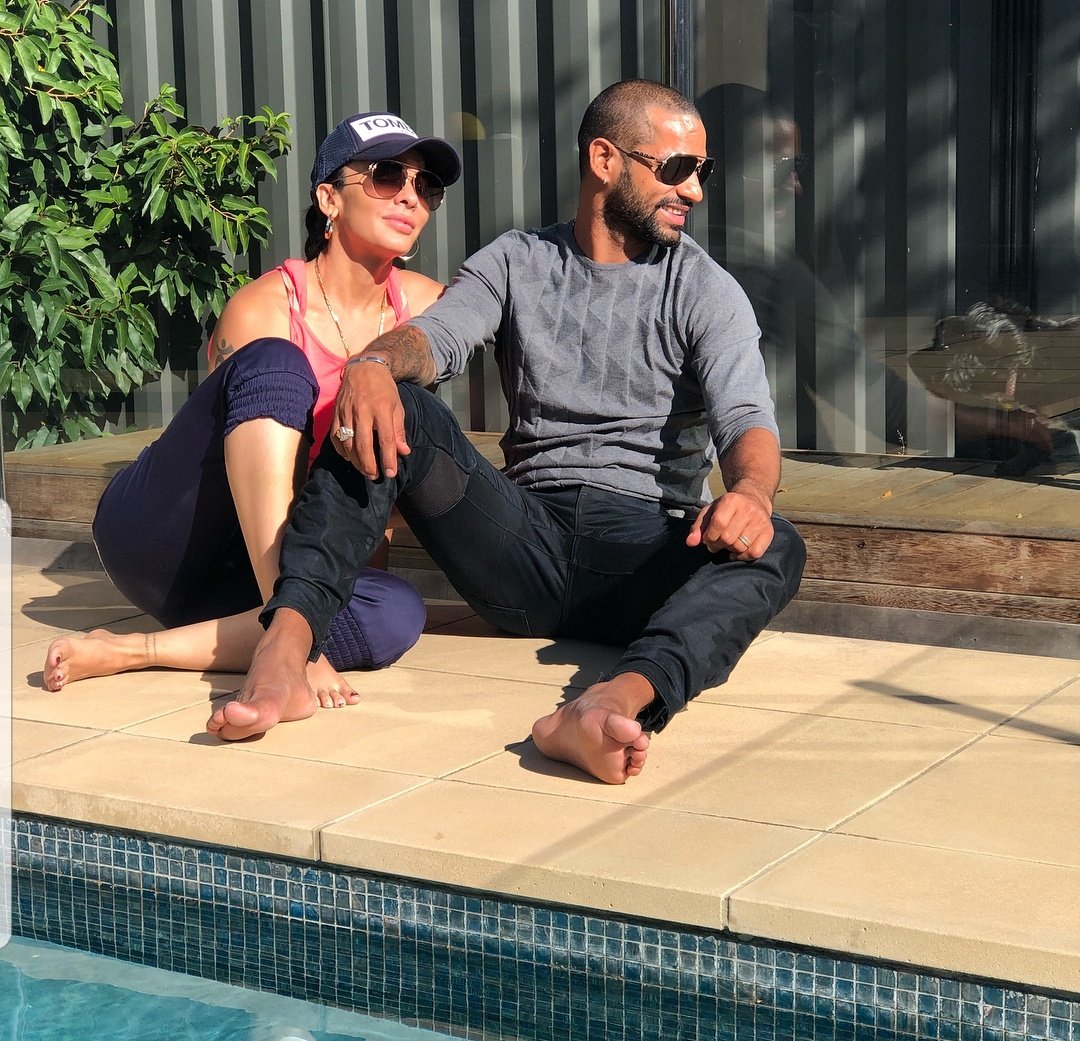 3. Sports background:
Just like her husband, Ayesha Mukherjee loves sports too, She is a trained kickboxer and maintains a similar fitness regime even now. Reports suggest that she has played a big role in improving husband Dhawan's fitness standards as well.
4. Past relationship:
Ayesha Mukherjee's wedding with Dhawan was not her first one. She was previously married to an Australian businessman which ended in a divorce. She has two daughters from her first marriage – Rhea and Aliyah. Their first daughter, Aliyah, was born in 2000 and their second daughter, Rhea, was born in the year 2005.
Both Aliyah and Rhea were born in the Melbourne suburb of Narre Warren, Australia.
5. A modern love story:
As already mentioned, the two came to know each other through Facebook.  Their friendship on the social networking site turned out to be the founding stone of their relationship. Spinner Harbhajan Singh then helped the two take the friendship to a next level.
6. Marriage with Dhawan:
Shikhar and Ayesha got engaged back in 2009 but Dhawan wanted to postpone their marriage until he became a successful cricketer at the international level. They finally were hitched in 2012 in a traditional Sikh marriage on 30th October in presence of many star cricketers like Virat Kohli and other Indian teammates.
7. The eyebrows-raining age difference:
Shikhar Dhawan's wife Ayesha Mukherjee is 10 years elder to the Indian opener, who was born on 5th December 1985. But then age, previous marriage, a divorcee and all other obstacles did not matter at all as the two tied the knot without any hesitation.
8. Children:
Ayesha Mukherjee's daughters from her first marriage, Rhea and Aliyah stay along with her and Dhawan. The couple had a son together in 2014 and named him Zoravar.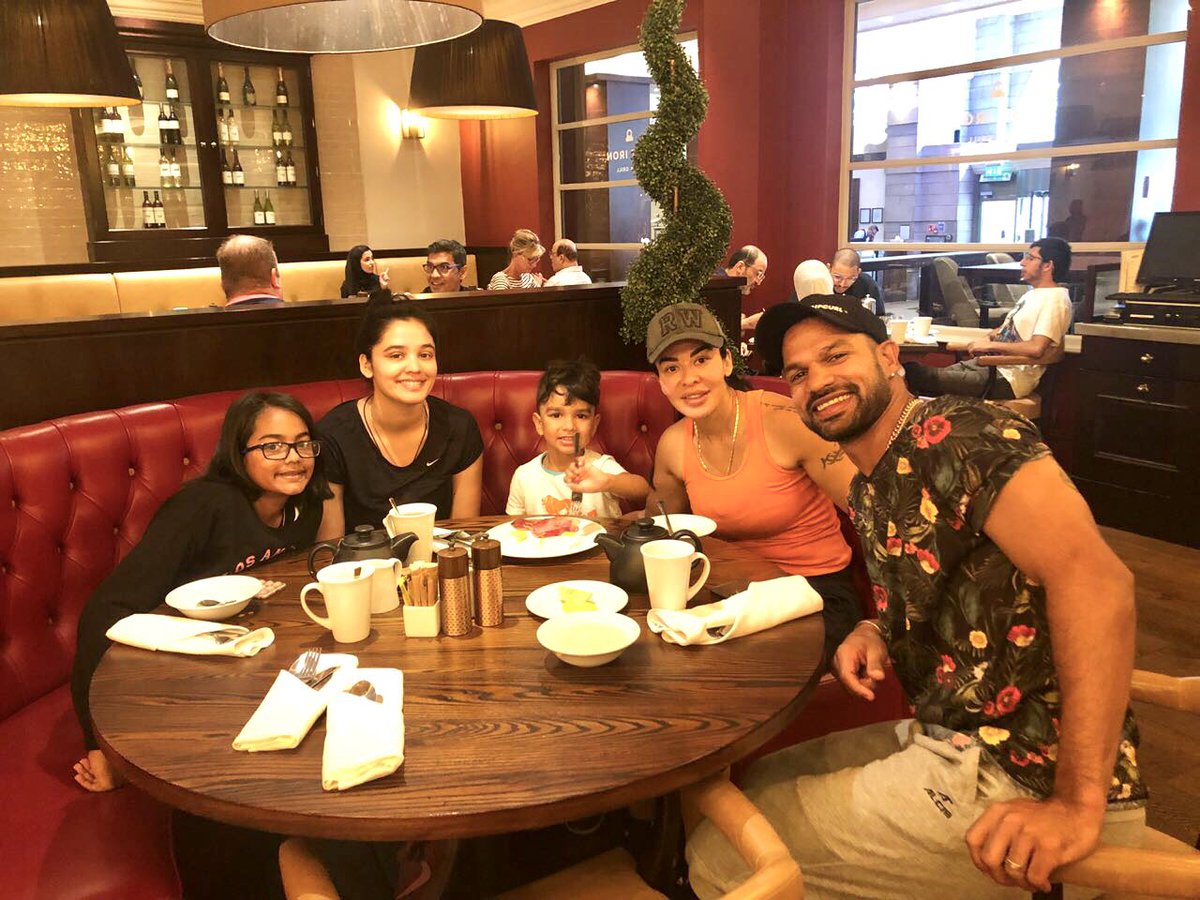 Get the latest news and updates from Indian Premier League, ICC World Cup 2019, Match Prediction & Fantasy cricket. Follow SportzWiki for all cricket news, WWE News & Sports News.