Simon Doull has questioned David Warner's out-of-the-blue sacking of Sunrisers Hyderabad's (SRH) captaincy on Saturday. Simon Doull speculated that the Aussie had a fall out with the team's management and his recent comments on Manish Pandey became the final spark in the rift.
SRH announced early on Saturday that Kane Williamson will take over the saddle from David Warner. Experts initially speculated that the decision was rooted in the team's last-place standing in the points table after almost half of the IPL 2021 season.
Simon Doull: David Warner Paid The Price For Publicly Criticizing SRH Management For Dropping Manish Pandey
However, there is another opinion doing the rounds that David Warner's statement after the match against Delhi Capitals, where he labeled the 'selectors' call to drop Manish Pandey 'harsh', could also be the source of his captaincy axe. Speaking to Cricbuzz, Simon Doull's opinion tilted towards the latter. He believes David Warner wasn't in favor of dropping Manish Pandey and that the Aussie opener 'paid the price' for bringing the matter out in public.
"I think there must have been a falling out somewhere along the lines and not with the team, there has to be a falling out with the coaching structure. After what he said in that game about leaving Manish Pandey out, it was not his decision at all, he didn't want to do it clearly. And basically, you passed the buck, you blamed it on someone else and I think he has paid the price for that," said Simon Doull.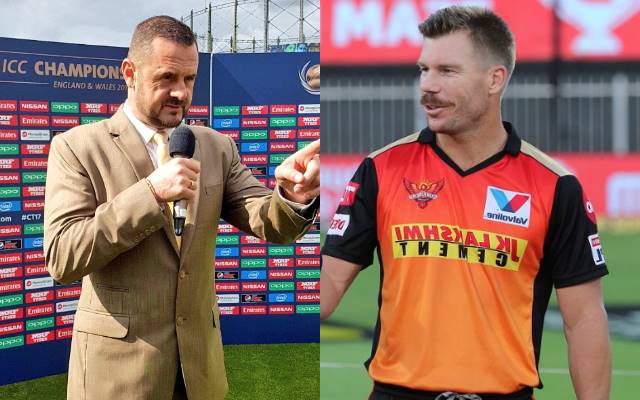 The former New Zealand all-rounder also took SRH's changing coaching dynamic by observing that the relationship between head coach Trevor Bayliss and director of cricket Tom Moody is an unusual one.
"That dynamic… you sack a coach, Tom Moody, you employ Trevor Bayliss and then you bring Tom Moody back to oversee your cricket. I don't know how that relationship can possibly work. And I wonder whether one [win] in 5 (6) is the direct result of that relationship not working… And the press release suggests that he [David Warner] won't even play now that's even more strange!" Doull added.
Simon Doull: David Warner Was A Tactically Superb Skipper
On Kane Williamson's elevation to the helm, Simon Doull remarked that he never considered David Warner as tactically shrewd as Williamson. He argued that David Warner was always more of a 'leader' than a captain.
"It's a funny one for me. I never thought David Warner was a tactically superb captain. David Warner was a leader. He was a guy who would be first across the line out there, take the fight to any team, score runs and leads from the front – [something like] 'follow me and we will be okay.' And what you saw with David Warner in most years was he would field at long-on and long-off and Kane Williamson would be standing there [near the bowlers]. And Kane would be exchanging advice, talking about the tactics with him. So, David Warner, as a captain, I don't think was great but he's an absolute leader," concluded Doull.
The cloud of uncertainty will perhaps clear out when SRH goes head-to-head against the Rajasthan Royals on Sunday, May 2. A day after stripping David Warner of the captaincy role, Sunrisers Hyderabad dropped the opener from the team to play against Rajasthan Royals on Sunday as they seek to revive their Indian Premier League (IPL) campaign under Kane Williamson.
The franchise is languishing at the bottom of the points table after just one win in their first six matches. Hyderabad brought in Afghan all-rounder Mohammad Nabi instead as the fourth overseas player in the playing XI, which also includes Englishman Jonny Bairstow and Afghan spinner Rashid Khan.
In the match, Jos Buttler scored 124- the highest score so far in IPL 2021 and his maiden IPL ton. Rajasthan Royals scored 220/3 in the stipulated 20 overs. Sanju Samson scored 48. Jos Buttler's innings included 11 fours and 8 sixes and came off only 64 balls.