Top 5 Cricketing Pairs Who Had Amazing Understanding Between Them. Cricket is obviously a game of partnerships, be it batting or of bowling. Some batsmen have to endure the toughest conditions and the dangerous bowlers to make things easier for the rest. Meanwhile, some bowlers like to hunt in pairs, one keeping an end quiet and creating pressure for his partner to benefit and the other taking wickets in regular interval.
Over the decades, there have been some amazing batting and bowling pairs who almost had a telepathic understanding when fighting the 22-yard battle shoulder to shoulder. These pairs in turn persistently formed a great shield or a potent force which helped the cause of their team.
Such pairs excelled due to the support they received from the other end and things were rarely ever the same once the partnership was broken.
Here we look at 5 such pairs who achieved great heights together.
Top 5 Cricketing Pairs Who Had Amazing Understanding Between Them
Curtly Ambrose and Courtney Walsh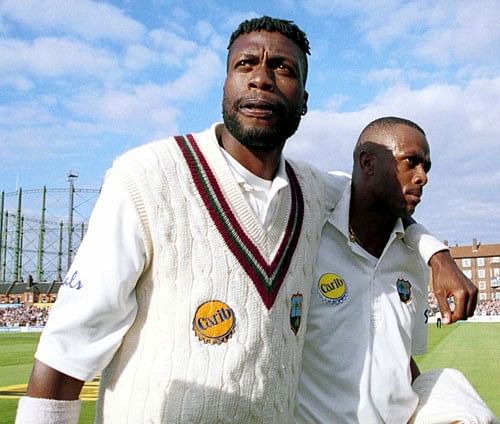 The tall, hit-the-deck bowlers enjoyed terrorizing batsmen during the late 80s and early 90s. Capable of generating lethal bouncer courtesy their height, the two fast bowlers were largely creditable to guide West Indies come up with a substantial fight even after their glory days.
Their amazing partnership brought 762 wickets 203 more than the next pair of Wasim and Waqar, with Ambrose claiming 389 of those and Walsh taking 373, with a deadly average of 22.67. They were also holding another record of being the second-best new ball pair of all-time behind Akram and Waqar with 412 wickets at 22.10.
Walsh this time takes the majority with 226 of those wickets. The pair had 15 wicket Tests too like in Trinidad in 1994, with England the usual victim of their intimidating bowling not lacking for skill at all.