Wasim Akram said that Pakistan needs a bowler of Mohammad Amir's calibre to guide the young generation. Former Pakistan fast bowler Wasim Akram reckons that Mohammad Amir should be included in the national squad for the upcoming T20 World Cup slated later this year.
Back in December 2020, Mohammad Amir announced his retirement from international cricket at the age of 29, and the same created a lot of ruckus in the Pakistan cricket fraternity.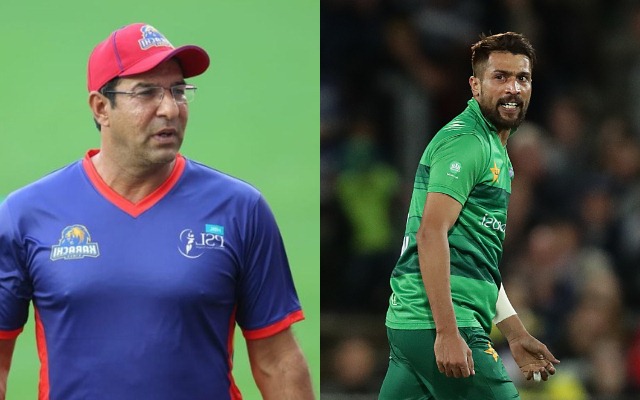 Wasim Akram Surprised At Experienced Mohammad Amir's Retirement And Thinks He Should Be In Pakistan's World T20 Squad
Later he withdrew his retirement, but lashed out, saying that until and unless the current team management is present, he won't be making a comeback. In the meantime, Wasim Akram who is Pakistan's all-time highest wicket-taker, criticized the national team management for keeping Mohammad Amir on the sidelines regarding selection in the Pakistan team.
"I am very surprised because Amir is a very experienced bowler and one of the best in the world in T20 cricket. Personally, I think he should be in Pakistan's World T20 squad," Akram told a TV channel, reported by Firstpost.
Wasim Akram, also a former Pakistan skipper, was clear cut in saying that pacer Mohammad Amir's decision to retire from Test cricket was personal and no offence should be taken from the same.
"Other players have done it but no one says anything about them. So why Amir? I think if he is available for other formats he should be playing for Pakistan."
On 26 July 2019, Mohammad Amir announced his retirement from Test cricket in order to focus on limited-overs cricket. On 17 December 2020, he announced his retirement from international cricket. Mohammad Amir played 36 Tests, 61 ODIs and 50 T20Is before announcing retirement. He claimed 259 wickets across formats.
Mohammad Amir has not played for Pakistan since last year when he had a fall out with the Pakistan team head coach, Misbah-ul-Haq and bowling coach, Waqar Younis and has maintained that he will not play for the national team until they remain in charge.
Wasim Akram Feels Experienced Bowlers Like Mohammad Amir Is Needed In T20I World Cup To Advise And Guide Youngsters
Mohammad Amir is a part of the Karachi Kings in the Pakistan Super League (PSL) where Wasim Akram is the director of cricket and the head coach of the team. Wasim Akram said that Pakistan needs a bowler of Mohammad Amir's calibre to guide the young generation.
"In World Cup events you need experienced bowlers who can also advise and guide the younger bowlers," Akram feels.
Wasim Akram said that too much fuss is being created over Mohammad Amir's personal calls.
Speaking on the same, the veteran said, "Other players also take time off for the birth of their child so what is the big deal."
With the situation in India deteriorating due to the COVID-19 pandemic, there's a chance for the T20 World Cup to be shifted to the United Arab Emirates (UAE). As per Wasim Akram, Pakistan could have the edge if the mega event takes place in the gulf country.
"We need to have more impact players in the T20 squad, those who can play without fear of failure only then can we do well," Akram added.
Pakistan defeated South Africa in Tests and T20Is at home earlier this year and then won the T20I and ODI series in the return series before wrapping up the African safari with T20I and Test series wins in Harare. Pakistan has pacers like Shaheen Shah Afridi, Hasan Ali, Naseem Shah, Wahab Riaz and Mohammad Abbas in their ranks.